2013 Fall anime Part 7: OVA/OAD/SP II
Yozakura Quartet: Tsuki ni Naku (OAD)
Kill Me Baby (OAD)
Seitokai Yakuindomo (OAD)
Senyuu. Dai 2 Ki Special (BD)
Suisei no Gargantia (OVA)
Miyakawa-ke no Kuufuku (OAD)
IS: Infinite Stratos 2 – Long Vacation Edition: Hitonatsu no Omoide (OVA)
Kissxsis (OAD)
Hidamari Sketch: Sae Hiro Sotsugyou-hen (OVA)

<< TV i | TV ii | TV iii | TV iv | TV v | OVA i | OVA ii | Film >>

(October 09)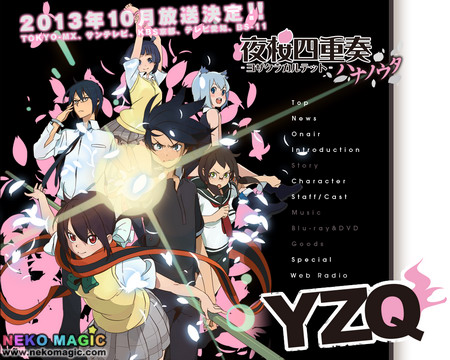 [youtube]wJUsHIaIRNI[/youtube]
The story revolves around a quartet of teenaged heroes: A super-strong girl named Hime, a mind reader named Ao, a conjurer named Kotoha and an ordinary, powerless boy named Akina. The three girls and Akina protect the city of Sakurashin from supernatural threats.

(October 16)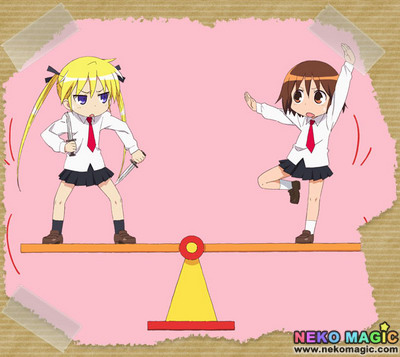 [youtube]51vzL5bl_kw[/youtube]
Sonya is an assassin attending a normal school. Yasuna is an airhead who follows Sonya around, unaware of how dangerous she is. This adaptation of a 4-panel comic focuses on the adorable ultra-violence that erupts when they try to get along.

(October 17)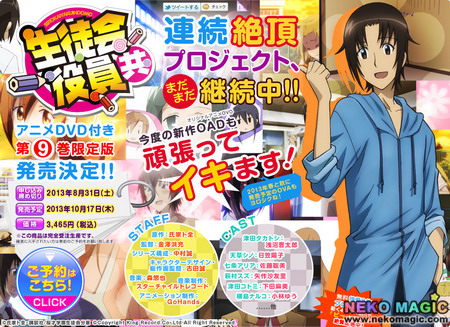 [youtube]n8lqxLuU-AM[/youtube]
It is the start of Takatoshi Tsuda's second year as the put-upon vice president of the student council and his sister Kotomi is entering school as a first year. New friends and double entendres are made.

(October 25; November 22)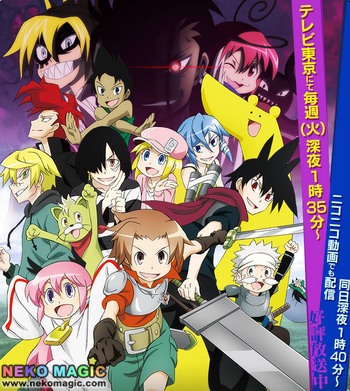 [youtube]NX9ICLKqeh4[/youtube]
Alba is one of the probable descendants of a legendary hero trying to defeat the Demon King who accidentally opened a demon gate while trying to make popcorn. With the assistance of an unhelpful royal guard named Ros, the adventure seems hopeless.
Release Date: October 25; November 22
Studio: Ordet
Note: Special bundled w/ BD vol.3 and 4
Homepage: http://senyu.tv/

(October 25)
[youtube]ZV8SteEEt7Q[/youtube]
While fighting an intense inter-galactic war, a mecha pilot was accidentally warped into a space-time neither he nor the computer of his mecha could recognize. After waking up from a long-time hibernation, he found himself trapped on a planet, with human residents talking in an unknown form of language, using inferior technologies, and — most shocking to him — naturally breathable air.
Release Date: October 25
Studio: Production I.G
Note: Ep.15 included on BD Vol.3
Homepage: http://gargantia.jp/

(October 26)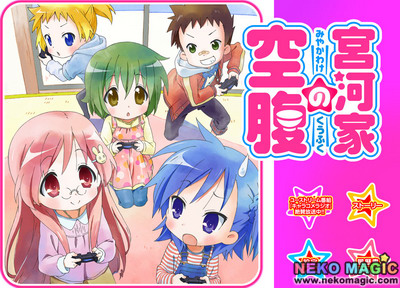 [youtube]qaIB1LVkWLM[/youtube]
The daily hardships of Hikage Miyakawa, a young girl who lives with her sister Hinata. Due to Hinata´s otaku impulsiveness to constantly buy merchandise, the two girls struggle everyday to have something decent to eat.

(October 30)
[youtube]pagnfkCUvZ0[/youtube]
The "Ichika no Omoide" ("Ichika's Memory") original video anime (OVA) will be released less than a month after the anime begins airing in Japan. Both versions of the "Long Vacation Edition" OVA will contain the 40-minute OVA, 30 minutes of extra footage, a special CD, and an exclusive 28-page booklet. The Blu-ray version of the OVA will retail for 5,250 yen, while the DVD version will cost 4,200 yen .

(November 06)
Keita has two older step-sisters, Ako and Riko, but since they aren't related by blood, they love him in a lustful way. After a mishap at school, Ako and Riko finally confess their love to him. Keita dislikes the thought of seeing them other then brother and sister, but as he tries to enter the same school as his sisters, he slowly becomes attracted to them.

(November 27)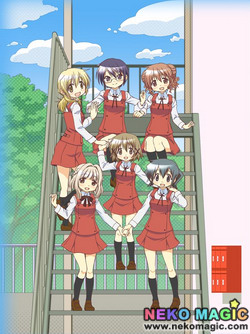 [youtube]OMqY4sjBlSk[/youtube]
Hidamari Sketch's story centers around a high school for the arts and the everyday life of some of its students. Houbunsha's Manga Time Kirara Carat magazine published the original manga by Ume Aoki (Puella Magi Madoka Magica designer) in Japan. Yen Press publishes the Sunshine Sketch manga in North America, and Sentai Filmworks licensed the four television anime series.

<< TV i | TV ii | TV iii | TV iv | TV v | OVA i | OVA ii | Film >>