2013 Fall anime Part 3: TV anime III
Kuroko no Basuke – Season 2 (TV)
Hajime no Ippo: Rising (TV)
Tesagure! Bukatsu-mono (TV)
Seiyuu Sentai Voice-Torm 7 (TV)
Little Busters! ~Refrain~ (TV)
Diamond no Ace (TV)
Phi Brain: Kami no Puzzle 3rd Season (TV)
Sekai de Ichiban Tsuyoku Naritai! (TV)
Gingitsune (TV)
Teekyuu Season 3 (TV)

<< TV i | TV ii | TV iii | TV iv | TV v | OVA i | OVA ii | Film >>

(October 05 @25:58)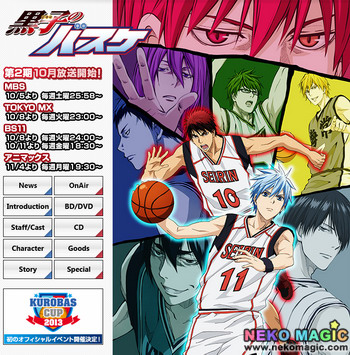 [youtube]5ox9aQTegrU[/youtube]
The TV anime series Kuroko no Basuke is created by Production I.G, based on Tadatoshi Fujimaki's basketball manga. In the story, Taiga Kagami has just enrolled into Seirin High School when he meets Tetsuya Kuroko of the school's basketball team. Kuroko happens to be the shadowy sixth member of the legendary "Generation of Miracles" basketball team. Together, Kagami and Kuroko aim to take their team to the inter-high school championship – against Kuroko's former teammates.

(October 05 @25:35)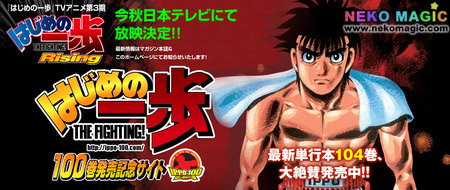 [youtube]dmwzlCwdx3U[/youtube]
The official title for the third season of the Hajime ni Ippo anime is Hajime no Ippo Rising. The staff also unveiled the first image of the series' titular character, Ippo Makunouchi.
George Morikawa's original long-running manga has spawned two television anime series, an original video anime project, and a TV special. Hajime no Ippo: New Challenger, the second season of the anime, aired in 2009. NTV will stream both series for free in Japan from August 3 until September. Hajime no Ippo Rising will premiere this fall.

(October 05 @26:20)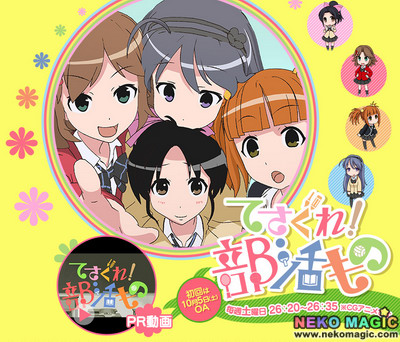 The anime will center around the extracurricular activities of students.

(October 05 @26:05)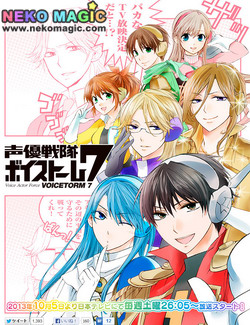 [youtube]UEq8ssu_6Ik[/youtube]
The Seiyū Sentai Voicetorm 7 manga will become what the staff describes as the "first motion comic to air on NTV." Original story concept creator masaki collaborated with the talent agency 81 Produce and artist Sae Matsunaga to create this series about a team of voice-acting heroes who protect the peace for Earth and otaku.
The motion comic will take the original manga and combine it with spoken dialogue, motion effects, and other special effects to create 12 15-minute episodes. The series will premiere on NTV in October.

(October 05 @22:30)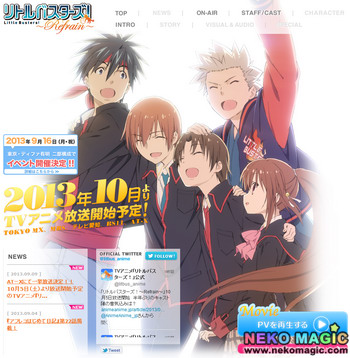 [youtube]uNEQUd7BT_U[/youtube]
Sequel to the Little Busters! TV series. Little Busters is an adaptation of Key's romance adventure visual novel of the same name. Riki Naoe was orphaned when his parents died, but his depression is slowly lifted when he befriends a group of kids calling themselves the Little Busters. The series takes place during his second year of high school.

(October 06 @08:30)
[youtube]n0g7VjpfPq8[/youtube]
The story follows Eijun Sawamura, a pitcher who joins an elite school with a brilliant catcher named Kazuya Miyuki. Together with the rest of the team, they strive for Japan's storied Kōshien championships through hard work and determination.
Release Date: October 06 @08:30
Studio: MADHOUSE/Production I.G
Homepage: http://diaace.com/

(October 06 @17:30)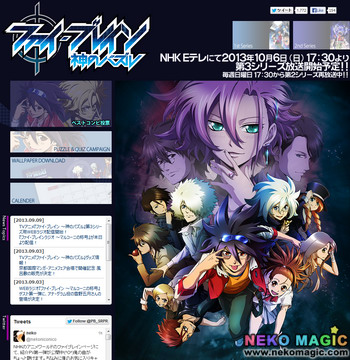 The 3rd season of Phi Brain continues this TV anime series created by studio Sunrise. The original "school adventure" story follows a high school boy named Kaito who loves puzzles.

(October 06 @22:00)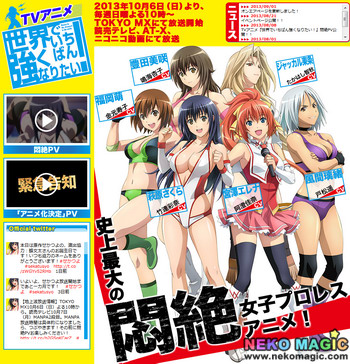 [youtube]YQY8CqAaayI[/youtube]
The TV anime series Sekai de Ichiban Tsuyoku Naritai! is based on a wrestling manga by ESE and Kiyohito Natsuki. The story revolves around Sakura, the main vocalist of the nationally renowned idol group Sweet. Sakura suddenly decides to become a female professional wrestler one day.

(October 06 @25:05)
[youtube]QNsyL_UEh1k[/youtube]
Makoto is the fifteenth generation heiress of a small shrine to the god Inari. Her father is still the shrine's priest, but Inari's divine messenger, Gintarou, has appeared to Makoto, marking her as true successor. Gintarou has the ability to see a short distance into the future and to find lost objects, but is unmotivated and foulmouthed. In spite of this, he becomes friends with Makoto, and together they help those who come to the shrine.

(October 06 @22:27)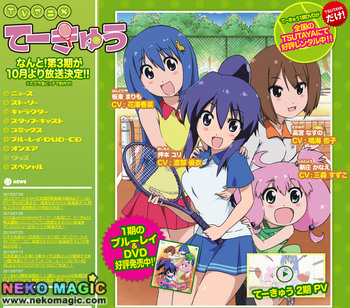 [youtube]r5h8G936W-w[/youtube]
Sequel to the Teekyuu TV series. Slice-of-life story about a group of four girls on the school tennis team. They rarely play tennis. Yuri Oshimoto is constantly baffled by the three queer older members of her school´s tennis club.

<< TV i | TV ii | TV iii | TV iv | TV v | OVA i | OVA ii | Film >>