2013 Fall anime Part 1: TV anime I
Tamagotchi! Miracle Friends (TV)
Super Seisyun Brothers (TV)
DIABOLIK LOVERS (TV)
Saikyou Ginga Ultimate Zero: Battle Spirits (TV)
Oshiri Kajiri Mushi – Season 2 (TV)
Miss Monochrome (TV)
Gaist Crusher (TV)
Pokemon: THE ORIGIN (TV)
Kyoukai no Kanata (TV)
Kyousougiga (TV)

<< TV i | TV ii | TV iii | TV iv | TV v | OVA i | OVA ii | Film >>

(September 05 @18:30)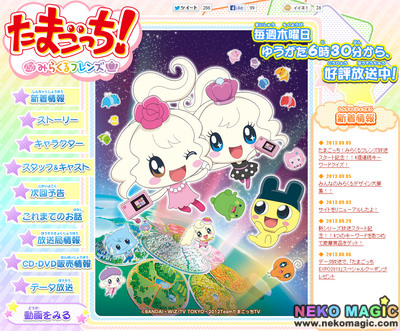 [youtube]ZEY2Xt-7fWA[/youtube]
Tamagotchi! Miracle Friends will premiere on Thursday, September 5 as the fifth television anime series based on Bandai's Tamagotchi virtual pets. Rie Kugimiya returns as Mametchi, one of the Tamagotchi creatures who live in Dream Town. In the new series, Chiwa Saito and Emiri Katō play Miraitchi and Kururutchi, twin sisters who dream of becoming designers.
The twins travel from the future back in time to modern-day Dream Town. (Their names are a wordplay on the Japanese words for "future" and "miracle.") To get back to the future, they must collect all eight Dreambakutchi — mysterious Tamagotchi who have escaped throughout the town. Mametchi joins Miraitchi and Kururutchi on their mission to find the Dreambakutchi, but then, an enigmatic Tamagotchi named X-Kamen (X-Mask) appears.
Release Date: September 05 @18:30
Studio: Oriental Light and Magic

(September 13 @25:53)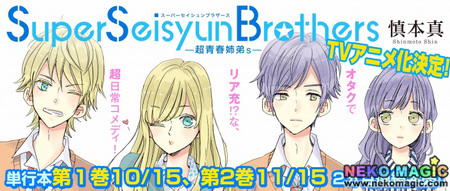 [youtube]lp9CJ7Igsa4[/youtube]
The female-oriented manga website Comic Polaris announced that a television anime adaptation of Shin Shinmoto's manga Super Seisyun Brothers has been green-lit.
The manga tells the story of siblings and their new love. There are two sets of strange siblings — each with an older sister and a younger brother. Because they are so similar, they are all friends with each other. It is a slice-of-life story with a lot of mishaps. The two sets of siblings' lives are full of comedy and otaku humor in this slice-of-life story. Each set of siblings thought they would only have each other, but birds of a similar feather flock together to create this comedy.

(September 16 @23:30)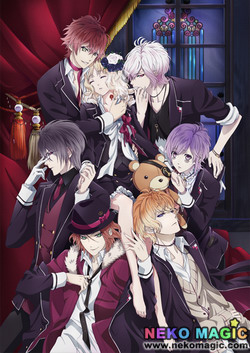 [youtube]YUH-gQ6-BaI[/youtube]
Komori Yui lives her life together with six brothers. Although it is not a common every day life. It's actually quite a radical one, she is oppressed by them, and blood is demanded, as they are all vampires.

(September 22 @07:00)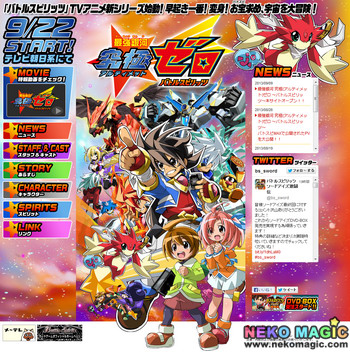 [youtube]a82ldwglAJk[/youtube]
Battle Spirits Saikyō Ginga Ultimate Zero, the sixth and latest television anime series inspired by Bandai's Battle Spirits card game. The television anime series is set to premiere on TV Asahi stations on September 22.
Release Date: September 22 @07:00
Studio: Sunrise

(September 30 @18:25)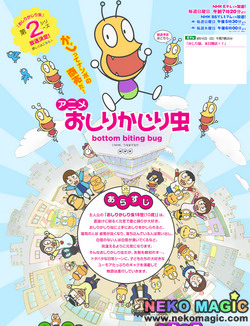 [youtube]G4Wxtujje7I[/youtube]
The TV anime Oshiri Kajiri Mushi (Bottom Biting Bug) is a gag comedy series of 5-minute shorts, based on a Japanese children's song released in 2007. The story follows Oshiri Kajiri Mushi XVIII, a 10-year-old insect who goes to Biting School, to inherit his family's Biting Shop business.

(October 01 @25:35)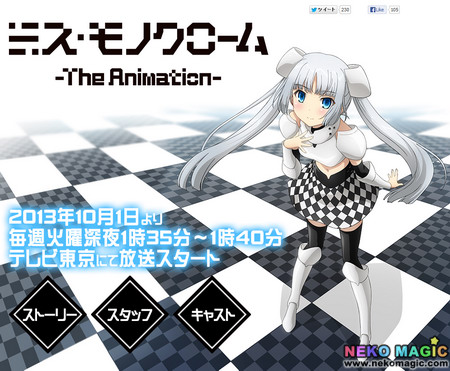 [youtube]2o2H-8F4iqg[/youtube]
In order to be more in the eyes of the public, Miss Monochrome begins working to become a top-selling idol. Spacey Miss Monochrome once again runs around the idol show biz world, being tossed around by others.
Release Date: October 01 @25:35
Studio: Liden Films/Sanzigen

(October 02 @18:00)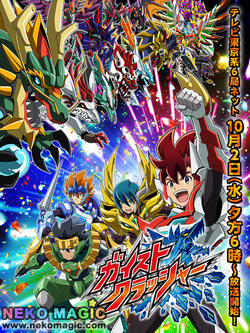 [youtube]k8QlBw56bDw[/youtube]
In the story, Gaimetal, a metal ore with high amounts of pure energy, was discovered 50,000 meters (160,000 feet) underground in 2047, and mining began all around the world. However, Gaist, metallic lifeforms whose bodies are entirely encrusted with Gaimetal, emerged in 2055 and began attacking people. In 2064, Rekka, Hayato, Kurama, and Siren are among those who suit up in Gaist Gear and battle over 100 varieties of Gaist creatures.

(October 02 @19:00)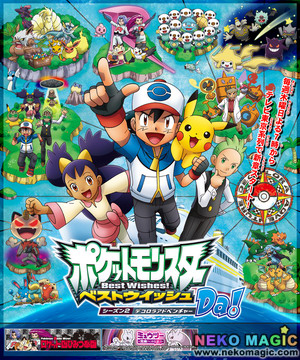 [youtube]_Lyi2RSVxqg[/youtube]
In the anime's story, Red encounters a strange Pokémon in the fierce battle with Team Rocket's leader Sakaki (Giovanni). The characters are based on Nintendo's original Pokémon Red and Pokémon Green (released as Pokémon Blue in North America) video games. Rival Green, Gym Leader Takeshi (Brock), Red's mother, and Team Rocket also appear in this special set in Kanto, the first region ever seen in the Pokémon franchise.
Release Date: October 02 @19:00
Studio: OLM, Production I.G, XEBEC

(October 02 @24:30)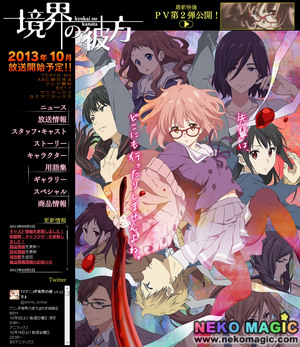 [youtube]BnfeVrAAS2k[/youtube]
Akihito Kanbara is a high school sophomore in the literature club who believes himself to be a "Meganest", and although he appears to be human, he is actually half Yōmu, which makes him invulnerable to wounds, due to the fact that he can heal so quickly, and also immortal. One day, Akihito meets freshman Mirai Kuriyama when it appears as if she is about to attempt suicide by jumping off of the school rooftop. Mirai is isolated because of her ability to manipulate blood, which is considered heresy even among other members of the underworld, so she is shunned. Soon after Akihito saves Mirai, disturbing events begin to arise.

(October 02 @25:30)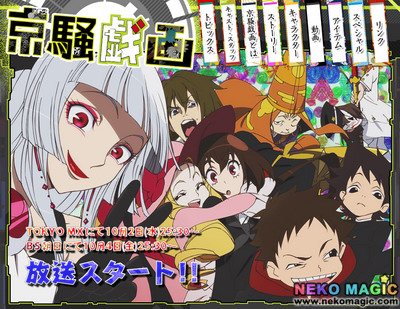 [youtube]In4YoCWTKiM[/youtube]
Related to the Kyousogiga Dainidan ONA. Three kids are stuck in a strange city causing massive mayhem through the land. They are searching for an a typical rabbit in order to return home. Koto, the eldest of the three, seems to have some sort of connection to this weird place ruled by a monk, a demon, and a priest.

<< TV i | TV ii | TV iii | TV iv | TV v | OVA i | OVA ii | Film >>