2013 Summer anime Part 8: Anime Movie
Donyatsu (Film Short)
Hal (Film)
ARISE -GHOST IN THE SHELL- border:1 Ghost Pain (Film)
Glass no Kamen Desu ga Onna Spy no Koi! Murasaki no Bara wa Kiken na Kaori!? (Film)
Gekijouban Gintama Kanketsu-hen: Yorozuya yo Eien Nare (Film)
Gekijouban Pocket Monster Best Wishes! Shinsoku no Genesect: Mewtwo Kakusei (Film)
Kara no Kyoukai: Fukan Fuukei 3D (Film)
Kaze Tachinu (Film)
Short Peace (Film)
Toriko Movie: Bishokushin no Special Menu (Film)
Saint Seiya 25th Anniversay (Film)
Hakuouki Movie 1: Kyoto Ranbu (Film)
Ano Hi Mita Hana no Namae wo Boku-tachi wa Mada Shiranai. (Film)

<< TV i | TV ii | TV iii | TV iv | OVA i | OVA ii | OVA iii | Movie >>

(June 01)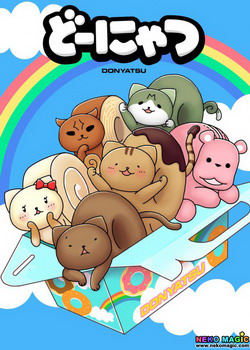 [youtube]21XcPCKoplk[/youtube]
The "loosely science-fiction adventure" is set in the summer sometime in the 21st century. Tokyo's Shinjuku ward has become a wasteland, void of all humans due to an unexplained catastrophe. What remains are these strange creatures such as "Donyatsu," the half-cat, half-doughnut hybrid, and "Begaru," a feline bagel composite.

(June 08)
[youtube]tNXhoXiufGk[/youtube]
A man named Hal dies in a plane accident, and his girlfriend Kurumi loses the will to live. To open her heart and help her move on, a robot named Q01, designed to look and act like Hal, is sent to her house. Though reluctant at first, Kurumi slowly becomes fond of the robot Hal, as Robo Hal begins to uncover parts of Hal and Kurumi's past.

(June 22)
[youtube]EAIJMcjprdE[/youtube]
The first of the films (referred to as "Borders") in the series, subtitled Ghost Pain, is scheduled for limited cinematic release in Japan on June 22, 2013. The official website states that the film is set in the year 2027, a year following the end of the non-nuclear World War IV. A bomb has gone off in Newport City, killing a major arms dealer who may have ties with the mysterious 501 Organization. Public Security official Daisuke Aramaki hires full-body cyber prosthesis user and hacker extraordinaire Motoko Kusanagi to investigate, but on the case with her are "Sleepless Eye" Batou who believes Kusanagi is a criminal, Niihama Prefecture Detective Togusa who is investigating a series of prostitute murders he believes are related to the incident, and Lieutenant Colonel Kurtz of the 501 Organization who also wishes to keep an eye on Kusanagi. A recurring part of the films will be the mysterious Fire Starter computer virus, as well as looking into the lives of Batou and Togusa before the formation of Public Security Section 9.

(June 22)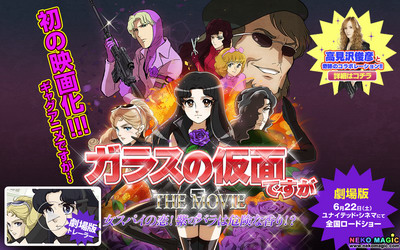 [youtube]DmjbPPstdSc[/youtube]
The original manga follows an aspiring actress and the intrigue behind the scenes in the world of stage theater. In the film, the familiar characters of the manga now operate as spies. In their seemingly normal lives, Maya delivers ramen, Ayumi poses as a fashion model, and Tsukikage teaches yoga. However, when they receive the order from a mysterious figure, they spring into action as the international spy trio "Crimson Goddesses."
Release Date: June 22
Studio: DLE Inc.

(July 06)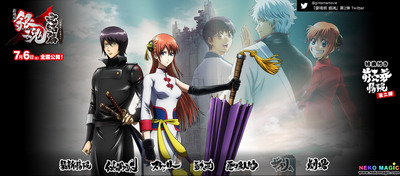 [youtube]RcAcQck0128[/youtube]
The silver-haired samurai Sakata Gintoki investigates the disappearance of a legendary sword named Benizakura while his partners Kagura and Shimura Shinpachi try to find out what has happened to Gintoki's friend, Kotaro Katsura.

(July 13)
[youtube]rTyPZGdEyyc[/youtube]
The story will have a confrontation between the legendary Pokémon ExtremeSpeed Red Genesect and Mewtwo, who returns in this installment in an alternate form. The main feature's special guest cast includes veteran voice actor Kouichi Yamadera (Red Genesect), actress Reiko Takashima (Mewtwo), and Takashi Yoshimura and Kenta Tokui of the comedy duo Heisei Nobushikobushi (Eric and Geodude/Ishitsubute from Pokémon Hills). Yamadera and Masachika Ichimura voiced Mew and Mewtwo, respectively, in Pokemon: The First Movie.

(July 13)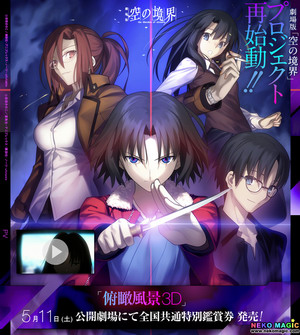 [youtube]JHwwrB-fK_s[/youtube]
Mikiya Kokutō becomes intrigued by the mysterious series of violent deaths occurring in his town and Shiki Ryōgi, a beautiful but unsociable girl. As he tries to become closer to Shiki, he realizes that Shiki is connected to the mysterious deaths and that the supernatural forces involved with both could kill him. It is revealed that in Shiki's family, certain members of her family possess two distinct personalities, both aware and conscious of one another, but possessing different qualities. The dual consciousness, and Shiki's upbringing as a demon hunter, has caused her to reject other human beings.

(July 20)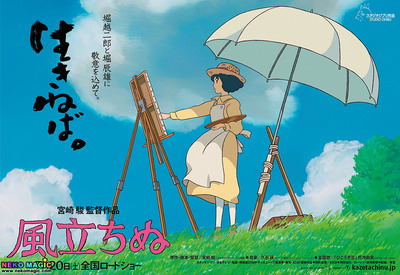 [youtube]rFZpKYWxbCw[/youtube]
Kaze Tachinu is an upcoming Japanese anime film written and directed by Hayao Miyazaki.[1] The film is based on the manga of the same name, which is in turn based on a short story by Tatsuo Hori, a writer, poet and translator from mid-20th century (Showa period) Japan. Kaze Tachinu is a fictionalised biography of Jiro Horikoshi, designer of the Mitsubishi A6M Zero fighter aircraft which served in World War II.

(July 20)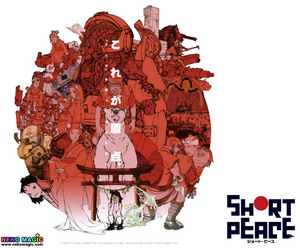 [youtube]nFOws06p0cY[/youtube]
Short Peace is an omnibus (a volume containing several novels or other items previously published separately) of four shorts by Otomo (Akira, 1988 and Steamboy, 2004), which is slated to open in Japan on July 20 of this year.



(August 24)
[youtube]34hXciso5g0[/youtube]
Release Date: August 24
Studio: Studio Deen

(August 31)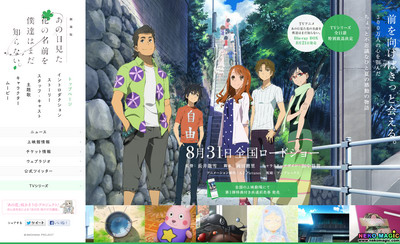 [youtube]0hKLB5Q3DqE[/youtube]
The original Spring 2011 television anime followed several childhood friends who try to reconnect in high school after drifting apart due to tragedy. The film will retell the anohana story from the character Menma's point of view. Tatsuyuki Nagai is returning to direct the film at A-1 Pictures with head writer Mari Okada and character designer Masayoshi Tanaka.

<< TV i | TV ii | TV iii | TV iv | OVA i | OVA ii | OVA iii | Movie >>