2013 Summer anime Part 7: OVA/OAD III
Fairy Tail x Rave (OAD)
Namiuchigiwa no Muromi-san (OAD)
To LOVE-Ru Darkness (OVA)
Kamisama Hajimemashita (OAD)
Aa! Megami-sama! (OAD)
Little Busters! (OVA)
Suisei no Gargantia (OVA)
Toaru Majutsu no Index: Endymion no Kiseki Special (OVA)
Tonari no Kaibutsu-kun (OAD)
Sukitte Ii na yo. (OAD)
Code Geass: Boukoku no Akito 2 (OVA)

<< TV i | TV ii | TV iii | TV iv | OVA i | OVA ii | OVA iii | Movie >>

(August 16)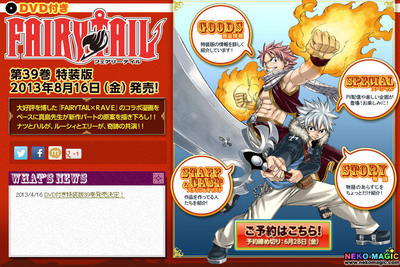 The anime will be bundled on DVD with the special edition of Fairy Tail's 39th manga volume on August 16. In the crossover story, Fairy Tail's main character Natsu and Rave's main character Haru are lost, so Lucy and Elie —the heroines of both series — embark on a search for them.
Release Date: August 16
Studio: A-1 Pictures / Satelight
Note: Bundled w/ LE manga vol.39

(August 16)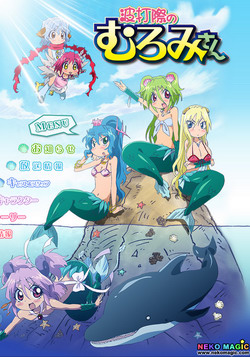 [youtube]O6UXuMP6bO4[/youtube]
the ninth limited-edition volume of Keiji Nashima's Namiuchigiwa no Muromi-san manga is bundling an original anime DVD on August 16. The DVD will have the same staff and cast as the television.
The comedy story centers around Muromi-san, a mermaid who happens to speak with a Hakata accent. She is suddenly caught by Takuro, a boy in his high school's fishing club.
Release Date: August 16
Studio: Tatsunoko Productions
Note: Bundled w/ LE manga vol.9

(August 19)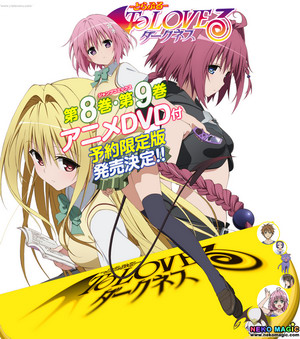 [youtube]ctcFbWxF-9g[/youtube]
In this OVA episode the Skunk of Youth strikes again and allows Kotegawa to explore a past memory with Rito. In the 2nd part, Nana and Rito have a private and intimate conversation, until it is interrupted by Momo-chan. And in the 3rd part, Celine plays with Momo's Dial and calls out some plants. Rito takes the bait and then gets affected by one that changes his attitude to a pervert.

(August 20)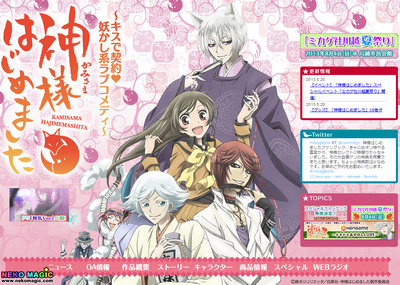 [youtube]Z7F9jyiS02Y[/youtube]
The story follows a girl named Nanami who finds herself homeless after her father leaves. She comes to the home of a boy who offers to let her stay over — only to discover it is a Shinto shrine. The boy happens to be a deity.
Release Date: August 20
Studio: TMS Entertainment
Note: Bundled w/ LE manga vol.16
Homepage: http://mikagesha.com/

(August 23)
[youtube]nczSsilqhg8[/youtube]
When college student Keiichi Morisato dials the wrong number while ordering for some food at his dormitory, he accidentally gets connected to the Goddess Hotline and a beautiful goddess named Belldandy appears out of a mirror in front of him. After getting kicked out of the dorm, Keiichi and Belldandy move to an old shrine and soon afterwards, Belldandy's sisters Urd and Skuld move in.

(August 28)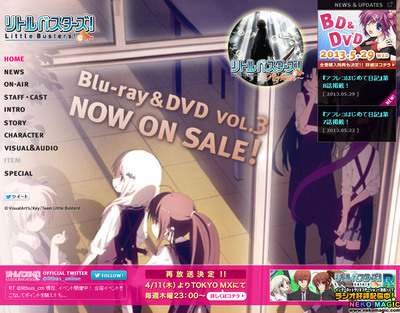 [youtube]zFN4Cmh8bas[/youtube]
Unaired episode offered to those who bought the limited first editions of all nine BD/DVD volumes.
Little Busters is an adaptation of Key's romance adventure visual novel of the same name. Riki Naoe was orphaned when his parents died, but his depression is slowly lifted when he befriends a group of kids calling themselves the Little Busters. The series takes place during his second year of high school.

(August 28)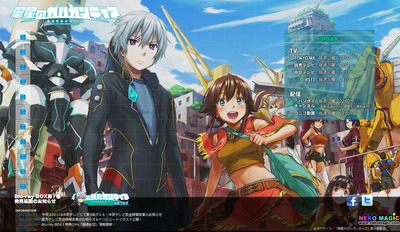 [youtube]C3HdXBoOg_A[/youtube]
While fighting an intense inter-galactic war, a mecha pilot was accidentally warped into a space-time neither he nor the computer of his mecha could recognize. After waking up from a long-time hibernation, he found himself trapped on a planet, with human residents talking in an unknown form of language, using inferior technologies, and — most shocking to him — naturally breathable air.
Release Date: August 28
Studio: Production I.G
Note: Bundled w/ BD box
Homepage: http://gargantia.jp/

(August 28)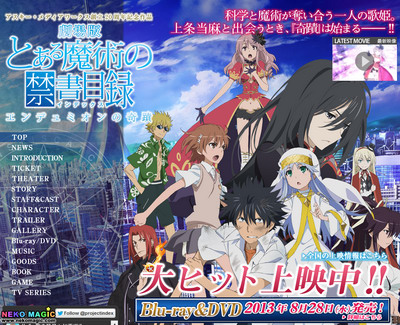 [youtube]NV7295rnrHs[/youtube]
On the day Toma Kamijo and Index go to see Academy City's space elevator, Endymion's completion, they meet a Level 0 girl with an amazing singing voice, Arisa Meigo. As the three enjoy their time together after school, magic-user Stiyl Magnus suddenly attacks them. His target: Arisa. Why would a girl from the science side be targeted by someone from the magic side, Toma wonders. In the chaos of Stiyl's attack, he tells Toma, Index and Arisa that she might cause a war between the magic side and the science side.
Release Date: August 28
Studio: J.C. Staff
Note: Bundled w/ BD special edition

(Summer 2013)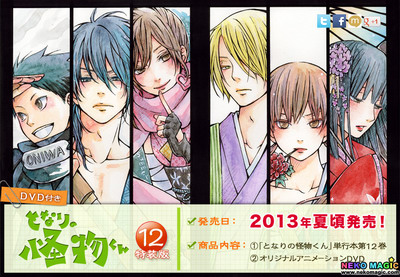 [youtube]LcigAiYTnbY[/youtube]
The episode will adapt the same side story that was published in the fifth manga volume and was already adapted into a drama CD included with the ninth manga volume.

(Summer 2013)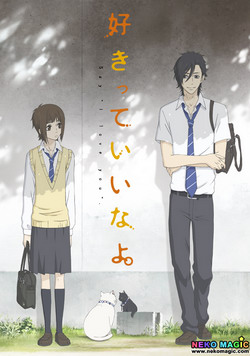 [youtube]ZC7WMy3MheI[/youtube]
Mei Tachibana has spent her 16 years without making either boyfriend or friends. One day, she kicks a popular boy in school by accident, Yamato Kurosawa, because of a misunderstanding but for some reason it seems that he takes a liking to her and one-sidedly claims that they're friends. Later on, he not only protects Mei from a stalker, but does it with a kiss. Soon Mei starts to make friends and begins to give those feelings of love back to Yamato Kurosawa
Release Date: Summer 2013
Studio: Zexcs
Note: Bundled w/ LE manga vol.11

(Summer 2013)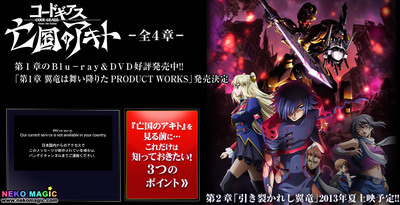 [youtube]n4IxoizkDoA[/youtube]
The story takes place in Europe in the year a.t.b. 2017. A Knightmare unit made of boys and girls from Area Eleven are thrown into a millitary operation with a 5% chance of survival. They must rescue an allied unit left behind on the European warfront.

<< TV i | TV ii | TV iii | TV iv | OVA i | OVA ii | OVA iii | Movie >>