2013 Summer anime Part 5: OVA/OAD I
Shinryaku!! Ika Musume (OAD)
Fairy Tail (OAD)
Magical Star Kanon 100% (OAD)
Chuunibyou Demo Koi ga Shitai!: Kirameki no… Slapstick Noel (BD)
Rescue ME! (OAD)
Ro-Kyu-Bu!: Tomoka no Ichigo Sundae (OAD)
Natsume Yuujinchou (OVA)
Papa no Iu Koto o Kikinasai! (OAD)
Busou Shinki (OVA)
Ark IX (OAD)

<< TV i | TV ii | TV iii | TV iv | OVA i | OVA ii | OVA iii | Movie >>

(June 07)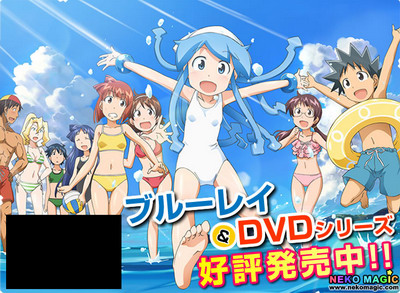 [youtube]omsnvWrBXBY[/youtube]
The nefarious Squid Girl is back to continue her self-appointed mission to invade the surface world. Or that's what she would do, if she could just stop getting distracted by squidding movies, reading squidly manga, and making friends as only a squid could make them. Squid Girl must overcome not only danger found at every turn, but her own squidly good nature as well.

(June 17)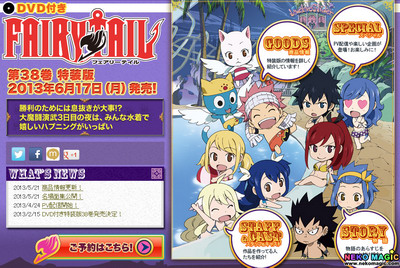 [youtube]_OBekbTmGo0[/youtube]
Lucy is a 17-year-old girl, who wants to be a full-fledged mage. One day when visiting Harujion Town, she meets Natsu, a young man who gets sick easily by any type of transportation. But Natsu isn't just any ordinary kid, he's a member of one of the world's most infamous mage guilds: Fairy Tail.
Release Date: June 17
Studio: A-1 Pictures / Satelight
Note: Bundled w/ LE manga vol.38

(June 18)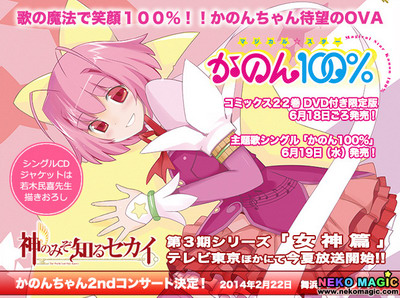 Dating sim master Keima Katsuragi wants nothing more than to immerse himself in the 2D world, chasing digital girlfriends. But when the so-called "Capturing God" answers a mysterious email from an unknown sender, Keima finds himself chasing down real-life ladies in an attempt to help the peppy demon Elsie de Lute Irma capture "lost souls" escaped from the depths of hell. Now, lest the explosive collar around his neck detonate, Keima must convince various girls to fall in love with him in order to scare out the souls hiding in their hearts.

(June 19)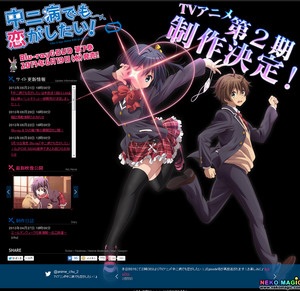 [youtube]UNDKlmnBPhc[/youtube]
Bundled with BD/DVD vol.7. Will contain all the Chuunibyou "Lite" anime shorts (~22mins total), an unaired episode titled "Kirameki no … Slapstick Noel"(~24 mins) and an unaired short movie "Depth of Field ~Ai to Nikushimi Gekijou".

(June 20)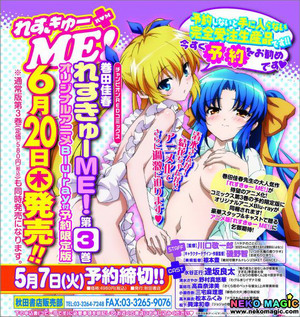 [youtube]xUcJqYhw7Rc[/youtube]
The story centers on Masayuki Mizutani (Ryota Ohsaka), an ordinary high school boy. His classmate Sayaka Shimizu (Mayuka Nomura) lives in his home as a zealously intrusive maid, leading to uncomfortably erotic situations.
Release Date: June 20
Studio: *TBA
Note: Bundled w/ LE manga vol.3

(June 20)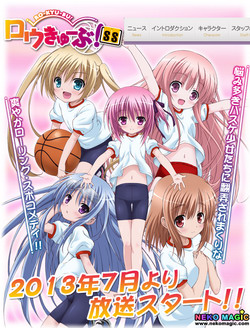 [youtube]zNI-b4gQ8Jo[/youtube]
Bundled with the Ro-Kyu-Bu! Himitsu no Otoshimono PSP video game. Subaru Hasegawa is a high school freshman, he joins the basketball team but soon finds out the team is inactive because the captain is being suspected as a lolicon. He miraculously is entangled with the job of being the coach of an elementary school's basketball team. With these girls and their love for basketball Subaru can only take them so far.

(June 24)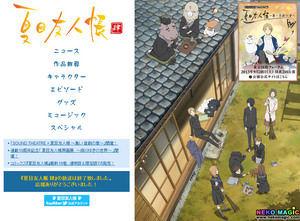 Takashi Natsume continues to return the names of the spirits that have been written in the "Book of Friends" he inherited from his grandmother, Reiko Natsume. While Natsume is still aided by the chubby Nyanko-sensei, he's now helped by some of the friends he had made in his journey; be it human beings or spirits. As he becomes closer to both, Natsume faces the inevitable question of the sides he has to take especially when there is a conflict between the two.
Release Date: June 24
Studio: Brains Base
Note: Bundled w/ August issue of LaLa

(June 25)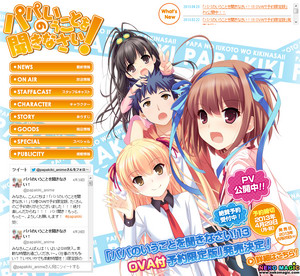 [youtube]TbU4I4Na3q4[/youtube]
Bundled with the vol.13 of the light novels. College student Yuuta Segawa is suddenly given custody of his older sister's three daughters, aged 14, 10, and 3. They're now stuck living together in a 10 square meter apartment. Meanwhile RAika, the object of his affection, has a fondness of cuteness, and his unexpected arrivals may finally offer an opportunity for them to get together.
Release Date: June 25
Studio: *TBA
Note: Bundled w/ LE novel vol.13

(June 26)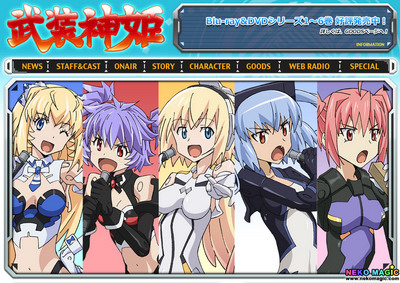 [youtube]mOB3bIwih7Q[/youtube]
High school freshman Rihito, who just came back from abroad, started a new life in Japan with his four Busou Shinki, female action figures with weapons.

(July 02)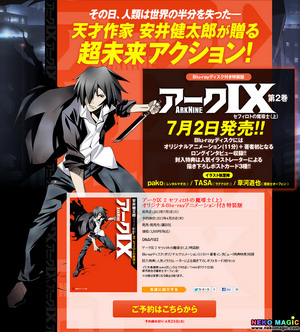 [youtube]JVyy7Hd3veQ[/youtube]
The series is set 150 years after humanity lost half of the planet due to a mysterious "black fog." To contain the "black fog," 3,000-meter-tall (about 10,000-feet-tall) walls were erected to split the world, and the half of the human population that survived now live in cities called "arks."
Release Date: July 02
Studio: *TBA
Note: Bundled w/ LE novel vol.2

<< TV i | TV ii | TV iii | TV iv | OVA i | OVA ii | OVA iii | Movie >>