2013 Summer anime Part 4: TV anime IV
Futari wa Milky Holmes (TV)
Watashi ga Motenai no wa Dou Kangaetemo Omaera ga Warui! (TV)
Kitakubu Katsudou Kiroku (TV)
Danganronpa: Kibou no Gakuen to Zetsubou no Koukousei – The Animation (TV)
Stella Jogakuin Koutou-ka C3-bu (TV)
Ro-Kyu-Bu! SS (TV)
Kami-sama no Inai Nichiyoubi (TV)
The Midnight Animals (TV)
Hakkenden -Touhou Hakken Ibun- (Season 2) (TV)
The World God Only Knows: Goddesses Arc (TV)

<< TV i | TV ii | TV iii | TV iv | OVA i | OVA ii | OVA iii | Movie >>

(July 2013)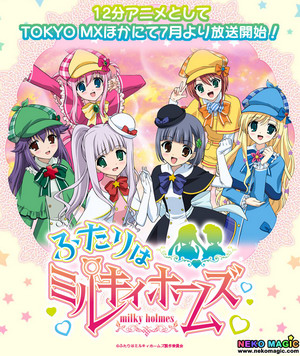 The story set two years after the previous anime works, the new "Milky Holmes Feathers" group are kōhai to the earlier four Milky Holmes girls. The two new characters are Kazumi and Arisu (Alice), two 12-year-old girls. Kazumi with a black motif will be voiced by Aimi Terakawa, while the voice of Arisu with a white motif will be voiced by Ayasa Itō.

(July 2013)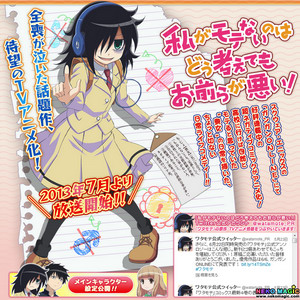 Kuroki Tomoko is an lonely "ordinary girl" who has the dream of becoming popular. for her misfortunes she's branded deranged and lonely and spends most of her time playing games and watching shows. She then enters high school and that triggers her interest in popularity, She tries to achieve her goals in any way she can, but it doesn't always end the way it should.

(July 2013)
"Kitakubu" (literally, "go-home club") is Japanese slang for kids who go home instead of joining clubs, sports, or other afterschool activities. In one high school, there is a real "Kitakubu" of girls who do whatever they like. The president is a free spirit named Sakura, while Botan is the combative heir to a school of ancient martial arts. Claire happens to be the daughter of the head of the powerful Kokonoe conglomerate. Natsuki joins the club at the invitation of another freshman, Karin, but she is unprepared for the hijinks there.

(July 2013)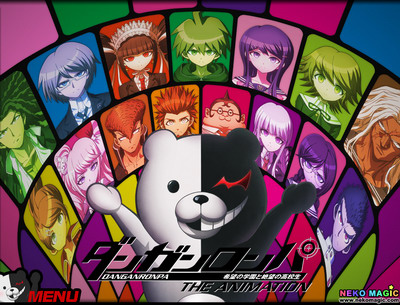 [youtube]TmobY-jCjy4[/youtube]
The story follows a group of high school students, each with a different exceptional talent, who are locked inside a school and told that the only way to escape is to kill another student without getting caught. After a murder, the remaining students must hold a trial with their lives on the line to find out who the killer is.
Release Date: July 2013
Studio: Lerche

(July 2013)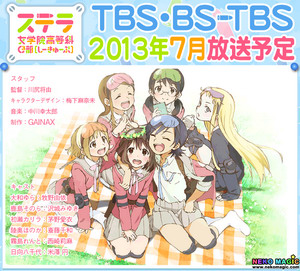 [youtube]9_XecUk8rKc[/youtube]
The story centers around high school girls playing survial games with airsoft and BB gun. Yura Yamato has just arrived at the high school division of Stella Girl's Academy, and Sonora Kashima invites Yura to join a club called "C3". Sonora is the third-year student who became the new head of this club for survival games. The other members include two second-year students and two other new students.

(July 2013)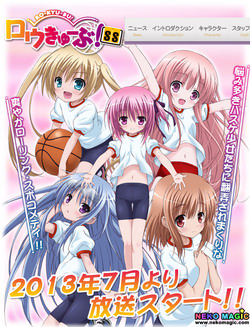 [youtube]zNI-b4gQ8Jo[/youtube]
Sequel to the Ro-Kyu-Bu! TV series. The "SS" has two meanings: "Shougakusei wa Saikou daze!" ("Primary School Girls Are Great!!") and "Second Season".
Subaru Hasegawa is a high school freshman, he joins the basketball team but soon finds out the team is inactive because the captain is being suspected as a lolicon. He miraculously is entangled with the job of being the coach of an elementary school's basketball team. With these girls and their love for basketball Subaru can only take them so far.

(July 2013)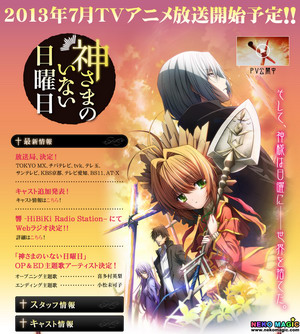 [youtube]WLsdAw78Z8U[/youtube]
The fantasy is set 15 years after humans stopped being born and the dead stopped dying, since the world was abandoned by God. That left "Gravekeepers" with the unique task of giving the would-be dead peace. A girl named Ai is the only Gravekeeper in her village; she was born from a Gravekeeper mother and a human father 12 years ago. One day, a boy named Hanpunii Hanbaado appears and begins firing his pistol indiscriminately and setting the village on fire. Hanpunii confronts Ai with the shocking truth.

(August 2013)
The story is set in Savannah's 2nd district, where diva-like animals gather in the dead of night to wax poetic about topics that transcend gender.
Release Date: August 2013
Studio: Gonzo

(Summer 2013)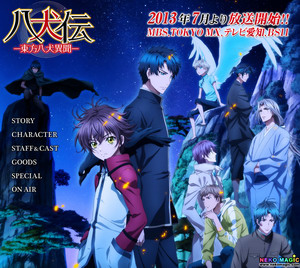 [youtube]gj8dGc-pvIg[/youtube]
Sequel to the Hakkenden -Touhou Hakken Ibun- TV series. Five years ago, almost every villager of Ootsuka died due to a tragic plague. But mysteriously enough, three survivors: a girl and two boys, emerged. Now living in a church, the three live in isolation, hidden from those who may seek to find them. Shino, one of the survivors, has control over the power of Murasame, the blade of life. But when the imperial church seeks to take the Murasame for themselves, their peaceful life becomes a thing of the past…

(Summer 2013)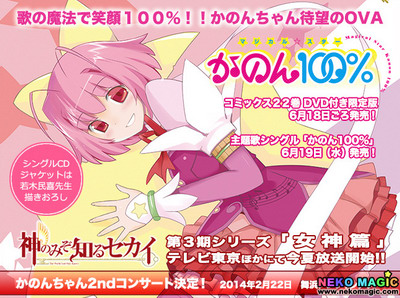 Dating sim master Keima Katsuragi wants nothing more than to immerse himself in the 2D world, chasing digital girlfriends. But when the so-called "Capturing God" answers a mysterious email from an unknown sender, Keima finds himself chasing down real-life ladies in an attempt to help the peppy demon Elsie de Lute Irma capture "lost souls" escaped from the depths of hell. Now, lest the explosive collar around his neck detonate, Keima must convince various girls to fall in love with him in order to scare out the souls hiding in their hearts.

<< TV i | TV ii | TV iii | TV iv | OVA i | OVA ii | OVA iii | Movie >>