2013 Summer anime Part 3: TV anime III
Gatchaman Crowds (TV)
Gin no Saji: Silver Spoon (TV)
Fantasista Doll (TV)
Blood Lad (TV)
Uchouten Kazoku (TV)
Love Lab (TV)
BROTHERS CONFLICT (TV)
Fate/Kaleid Liner: Prisma Illya (TV)
Free! (TV)

<< TV i | TV ii | TV iii | TV iv | OVA i | OVA ii | OVA iii | Movie >>

(July 2013)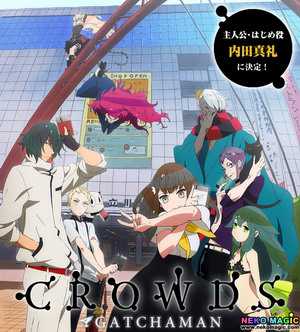 The story is set in Japan in the early summer of 2015. 180,000 people live in Tachikawa City, the "second metropolis" of the Tokyo area. Among them are "Gatchaman" — warriors who fight in special reinforced suits powered by "NOTE," the manifestation of special spiritual powers in living beings. A council has scouted a group of individuals with latent powers to protect Earth from alien criminals. In recent years, the council has assigned Gatchaman warriors to deal with the mysterious entity known as "MESS."

(July 2013)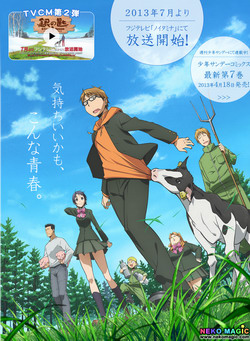 [youtube]gV23Xl9J8c0[/youtube]
Yugo Hachiken is an ace with studying, and wants to be away from his family,and believes he can do he could go to any school with no problems, so trading regular high school for Agriculture school, he begins a new journey. Upon arriving at the school and starting classes he is quickly proven wrong, and must uncover the truth about farming, and Agriculture, and how to keep up with his news friends, who are already used to the farming world.

(July 2013)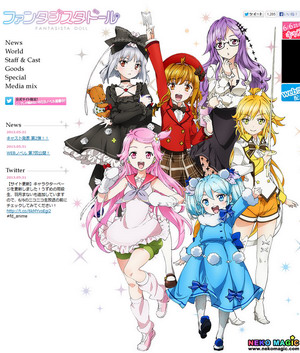 [youtube]nWsjs1MYWRQ[/youtube]
In this science-fiction story, Uzume is an ordinary second-year middle school student who comes into possession of five "dolls" who fight and power up with special cards.

(July 2013)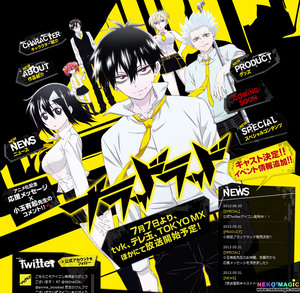 [youtube]HHNyBJyWpfo[/youtube]
Blood Lad follows Staz, a vampire that is obsessed with the human world, and Fuyumi, a human girl that was killed and turned into a ghost after wandering into the demon world. Staz promises to help Fuyumi regain her humanity by bringing her back to life, as it means that he would be able to visit the human world.

(July 2013)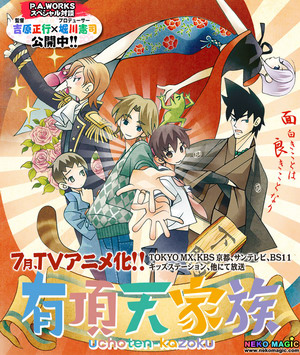 [youtube]d5CJaQuUNtM[/youtube]
The comedy drama of Uchouten Kazoku is set in Kyoto, where tanuki (shape-shifting raccoon-dogs), tengu (long-nosed goblins of Japanese folklore), and humans intermingle. The story follows the Shimogamo family of tanuki who live in the Tadasu no Mori forest of Shimogamo Shrine.

(July 2013)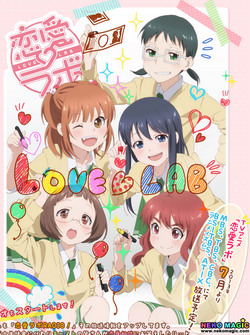 [youtube]9_eRnFdvOUU[/youtube]
The story revolves around the girls at the elite Fujisaki Girls' Middle School, which has tsundere (initially aloof and abrasive, but later kind-hearted), meganekko (eyeglasses-wearing girl), and other kinds of students.

(July 2013)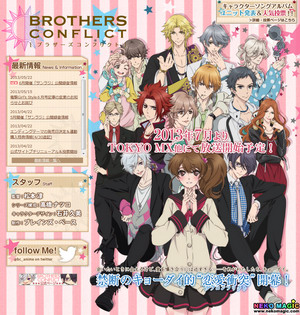 [youtube]Jk7OAC8ID08[/youtube]
The story centers around a girl who suddenly gets 11 brothers – from 32 years old down to 11 years old – when her father remarries. She joins the Asahina family under one roof at the Sunrise Residence complex.

(July 2013)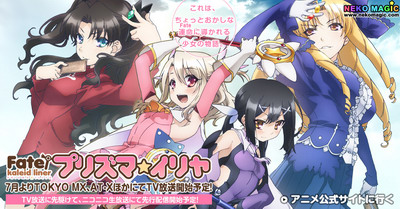 [youtube]7aqZQmXSNkA[/youtube]
Spinoff of Fate/stay night. The story re-imagines the Fate/stay night character Illyasviel von Einzbern in an alternate universe as a magical girl.

(July 2013)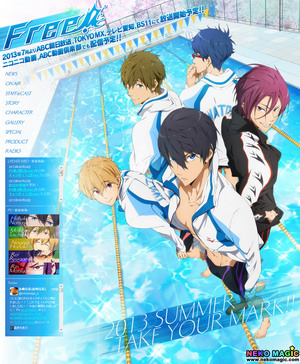 [youtube]JNU1ehnCVP8[/youtube]
The story revolves around Haruka (Nobunaga Shimazaki), a boy who has always loved to be immersed in water, and to swim in it. After years of separation, his childhood friend Rin challenges him to a swimming match, showing Haruka his overwhelming power. Not wanting it to end like this, Haruka gathers together Makoto (Tatsuhisa Suzuki) and Nagisa (Tsubasa Yonaga) once again, and also brings in the new member Rei (Daisuke Hirakawa) to create the Iwatobi High School Swimming Club. Haruka, Makoto, Nagisa, Rei, and Rin come together for a story of swimming, youth, and friendship.

<< TV i | TV ii | TV iii | TV iv | OVA i | OVA ii | OVA iii | Movie >>