2013 Summer anime Part 2: TV anime II
Genshiken Nidaime (TV)
Kiniro Mosaic (TV)
Genei wo Kakeru Taiyou: il sole penetra le illusioni (TV)
Makai Ouji: Devils and Realist (TV)
Teekyuu (Season 2) (TV)
High School DxD NEW (TV)
Hyperdimension Neptunia: The Animation (TV)
Kimi no Iru Machi (TV)
Senyuu. (Season 2) (TV)

<< TV i | TV ii | TV iii | TV iv | OVA i | OVA ii | OVA iii | Movie >>

(July 06 @25:00)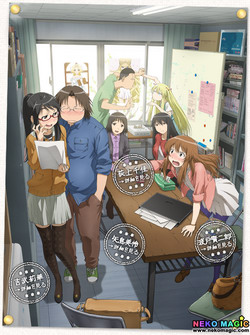 Anime adaptation of Shimoku Kio's "Genshiken: Second Season" sequel manga. The story continues the adventures of the otaku college club "The Society for the Study of Modern Visual Culture".

(July 06 @20:30)
[youtube]i4FnbWiscNQ[/youtube]
The original manga's story begins with Shinobu (Asuka Nishi), a 15-year-old, seemingly "pure Japanese" girl who actually did a homestay in Great Britain. Even after coming back to Japan, she still misses her time overseas. One day, an air mail letter arrives from Alice (Manami Tanaka), the girl in Shinobu's host family in Great Britain. The letter reads, "Shinobu, I'm coming to Japan!" The "Japanese/British girls' mixed comedy" follows the lives of Shinobu, Alice, and other girls from both Japan and Great Britain.

(July 06 @23:30)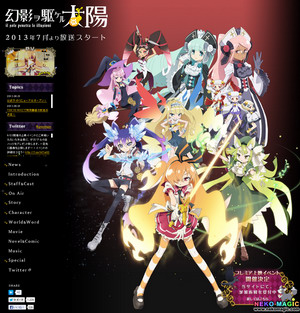 [youtube]TlvekoZr0n8[/youtube]
Also called "Il Sole Penetra le Illusioni" (The Sun Penetrates the Illusions). A story of girls who solve mysterious matters that occur in this world, using the mystical tarot cards that hold the power to read destinies.

(July 07 @25:05)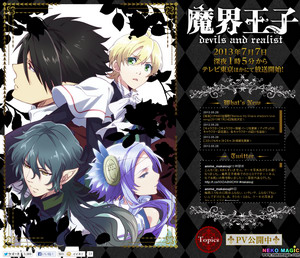 [youtube]dexXLTFmyKw[/youtube]
After his uncle's business fails, William Twining, an intelligent young noble, finds himself in a dire financial situation. With no funds for his school tuition, he searches his house until he comes upon the basement. There, he accidentally summons Dantalion, who recognizes William as a descendant of Solomon, and the Elector—the individual that will choose a substitute ruler for when the Emperor of Hell, Lucifer, rests. From that moment on, William's life is irrevocably interwoven with the supernatural world as other demonic candidates for substitute king vie for his nomination and Heaven attempts to retrieve his soul.

(July 07 @22:27)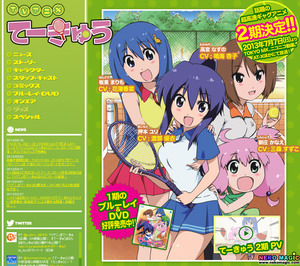 [youtube]WaihsD2kKxc[/youtube]
Sequel to the Teekyuu TV series. Slice-of-life story about a group of four girls on the school tennis team. They rarely play tennis.

(July 07)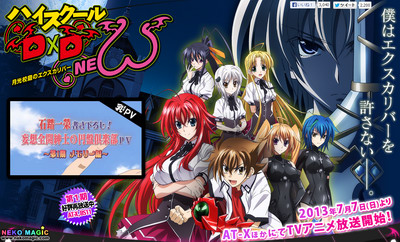 [youtube]25WoaceZECA[/youtube]
Sequel to the High School DxD TV series. The story follows Issei Hyodo, a dim-witted, lecherous second-year high school student who is killed by a girl on his first date ever. Issei is reincarnated as a devil, and from that day forward, he serves as an underling of Riasu, a high-level devil who is also the prettiest girl on Issei's campus.

(July 12 @22:00)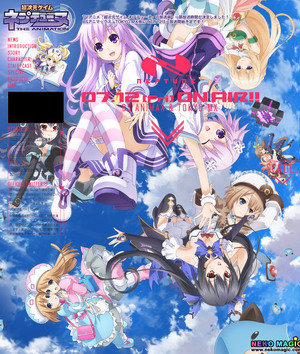 [youtube]a3b4LHOOC5o[/youtube]
Anime adaptation of Idea Factory's role-playing game "Chou Jigen GAme Neptune" (Hyperdimension Neptunia).

(July 13 @23:30)
[youtube]18QDEt3DJgo[/youtube]
Kirishima Haruto travels to Tokyo on a school excursion, where he hopes to catch up with Yuzuki Eba, a girl who formerly lived in his house and whom he has feelings for. Things don't go according to plan when fellow student Nanami Kanzaki, who secretly loves Kirishima, asks him to pretend to be her boyfriend.

(July 2013)
[youtube]a-5LtH5ZJ2c[/youtube]
Sequel to the Senyuu. TV series. Alba is one of the probable descendants of a legendary hero trying to defeat the Demon King who accidentally opened a demon gate while trying to make popcorn. With the assistance of an unhelpful royal guard named Ros, the adventure seems hopeless.

<< TV i | TV ii | TV iii | TV iv | OVA i | OVA ii | OVA iii | Movie >>