2013 Summer anime Part 1: TV anime I
Kingdom 2 (TV)
Inu to Hasami wa Tsukaiyou (TV)
Recorder to Ransdell Mi☆ (TV)
Gifuu Doudou!! Naoe Kanetsugu: Maeda Keiji Sakegatari (TV)
Tamayura ~More Aggressive~ (TV)
Senki Zesshou: Symphogear G (TV)
Rozen Maiden (2013) (TV)
Servant x Service (TV)
Monogatari Series: Second Season (TV)

<< TV i | TV ii | TV iii | TV iv | OVA i | OVA ii | OVA iii | Movie >>

(June 08 @23:45)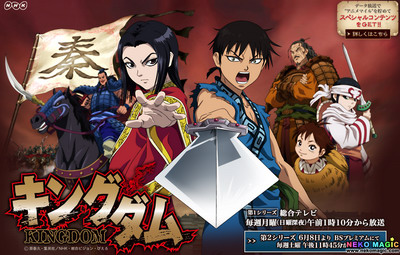 [youtube]1toHb7tGWN0[/youtube]
Sequel to the Kingdom TV series. In the Warring States Period of ancient China (475-221 BCE), Shin and Hyou are war-orphans in the kingdom of Qin. They dream of one day proving themselves on the battlefield. One day, however, Hyou is taken to the palace by a minister. Winding up on the losing side of a power-struggle, Hyou manages to return to the village, barely alive. Shin then meets a boy who closely resembles Hyou, Ei Sei. For now he is the king of Qin; later he will become the emperor Shi Huangdi.

(July 01 @25:00)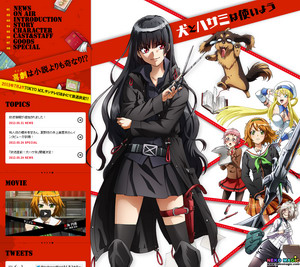 [youtube]IqOB9d089_M[/youtube]
The absurd mystery comedy centers around Kazuhito Harumi, a high school boy who is obsessed with reading books. One day, he is killed in the middle of a robbery — and resurrected as a dachshund dog. Unable to read in his new form, the hapless Kazuhito now belongs to Kirihime Natsuno, a sadistic novelist who uses scissors on Kazuhito to abuse him.

(July 01 @22:25)
[youtube]ahXLBx53P3U[/youtube]
Sequel to the Recorder to Ransdell RE TV series. The series is mainly about the Miyagawa siblings: Atsushi—an elementary student whose build and appearance is the same as a typical adult man; and Atsumi—his sister and a high school girl whose appearance is like an elementary student. They live everyday encountering misunderstandings and misadventures, most to be blamed to their ironic age/looks.
Release Date: July 01 @22:25
Studio: Seven

(July 02 @25:40)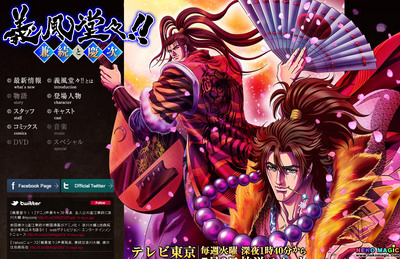 (July 03 @21:30)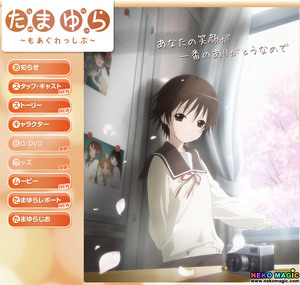 [youtube]11ggjC3JDH4[/youtube]
The video begins with the main character Fu Sawatari reminiscing about moving into Takehara, her late father's hometown, just last spring. Now, she is entering her second year of high school. However, creator and director Junichi Sato said that he intends to continue from where the first season left off, with characters unchanged from before. Fu will still have her father's camera in hand and her friends by her side as she takes new steps, make new memories, and take on new challenges "more aggressively."

(July 04 @26:35)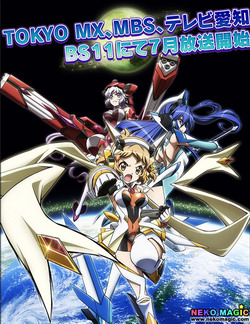 [youtube]5i2LvQr7gZc[/youtube]
Sequel to the Senki Zesshou Symphogear TV series. Two years ago, a pair of idols, Tsubasa Kazanari and Kanade Amo, collectively known as ZweiWing, fought against an alien race known as Noise using armor known as Symphogear. To protect a girl named Hibiki Tachibana, who got severely wounded by the Noise, Kanade sacrificed herself. Two years later, as Tsubasa has fought the Noise alone, Hibiki ends up gaining the same power as Kanade.

(July 04 @25:58)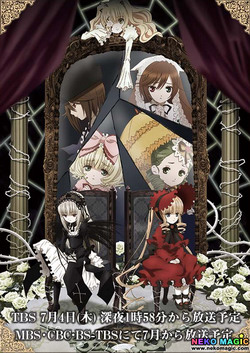 [youtube]ydu3HH6_KpQ[/youtube]
Due to a deep trauma at school Sakurada Jun has refused to return. He spends his time in his room, surfing the web and ordering anything that takes his fancy, only to return the items just before payment is due. One day, he finds a web site that tells him to put his order in a drawer of his desk. He does so thinking it to be a joke, only to find that the letter disappears and a strange package arrives soon afterwards. It contains an exquisite doll, that, when wound, comes to life. She treats him as a servant of little worth, but over time helps him come to grips with his fears and in the life-or-death fights that soon follow her arrival.

(July 04 @27:08)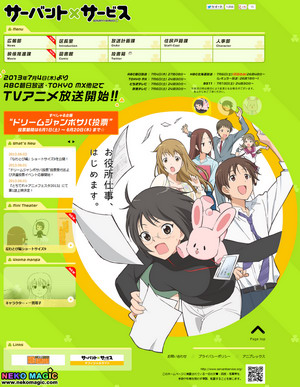 [youtube]J3DLdc2fTok[/youtube]
The slice-of-life comedy centers on the employees of a government ward office in a city in Hokkaido. The story follows the daily lives of the health and welfare division members.

(July 06 @24:00)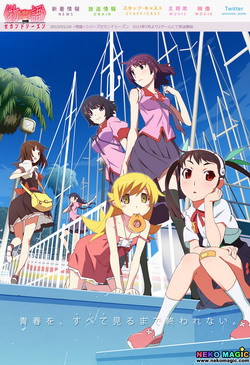 [youtube]qxCqk3E4QcY[/youtube]
The "second season" arc of the Monogatari series. The series will cover the material from six volumes of the original light novel series in two cours or half a year.
Release Date: July 06 @24:00
Studio: Shaft

<< TV i | TV ii | TV iii | TV iv | OVA i | OVA ii | OVA iii | Movie >>