2013 Spring anime Part 5: TV anime V
Koitabi ~True Tours Nanto (TV)
Photo Kano (TV)
Devil Survivor 2: The Animation (TV)
Yuyushiki (TV)
Valvrave the Liberator (TV)
Suisei no Gargantia (TV)
Uta no☆Prince-sama♪ Maji Love 2000% (TV)
Namiuchigiwa no Muromi-san (TV)
Hentai Ouji to Warawanai Neko. (TV)
Toaru Kagaku no Railgun S (TV)

<< TV i | TV ii | TV iii | TV iv | TV v | TV vi | OVA i | OVA ii | OVA iii | Movie >>


(April 2013)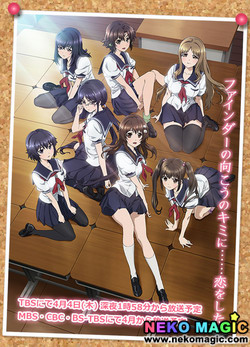 A television anime adaptation of Kadokawa Games, Enterbrain, and Dingo's Photo Kano PSP dating simulation game has been officially announced. MADHOUSE is animating the anime, and the television stations TBS and BS-TBS will run it. Akitoshi Yokoyama (Marimo no Hana: Saikyō Butō-ha Shōgakusei Densetsu) is directing and supervising the series scripts, and Mae Shimada is designing the characters.
In the game, the player is an ordinary second-year high school student named Kazuya Maeda who gets a single-lens reflex camera at the end of summer vacation. He begins taking pictures of the girls at his school, and the photos may lead to romance.
Release Date: April 2013
Studio: Madhouse Studios

(April 2013)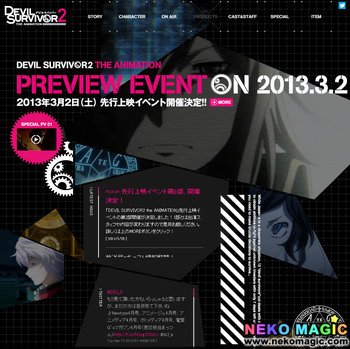 [youtube]yrgO08drKLQ[/youtube]
The anime series will adapt Atlus' Shin Megami Tensei: Devil Survivor 2 Nintendo DS role-playing game. Seiji Kishi (Persona 4 The Animation) is directing the series, and Yoshimichi Hirai is the assistant director at the studio Bridge. Makoto Uezu is in charge of the series scripts, and Kotaro Nakagawa (Zettai Karen Children) is scoring the music.

(April 2013)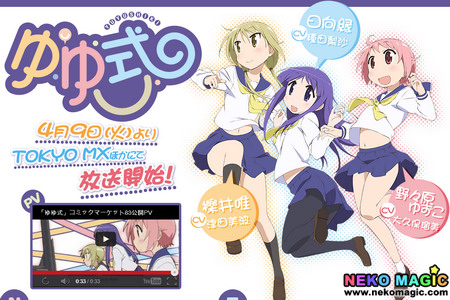 [youtube]d_ECoowxvdA[/youtube]
The TV anime series Yuyushiki is based on a four-panel manga by Komata Mikami, about the school life of three girls in the data processing club: Yuzuko, Yukari and Yui.

(April 2013)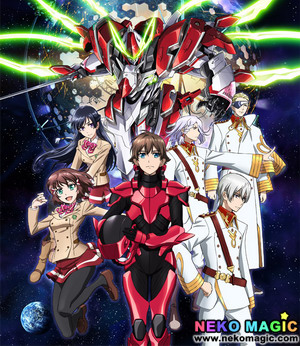 [youtube]CbqlKx7pesM[/youtube]
The story is set the year Shinreki ("True Calendar") 71, when 70% of the human race lives in space due to the development of space cities. Between two major powers — the Dorushia Military Pact Federation and the Atlantic Ring United States (ARUS) — there is a small neutral nation called Jiōru that has prospered economically. The protagonist Haruto (voiced by Ryota Ohsaka), a high school student who lives in Jiōru, encounters the mysterious "forbidden" humanoid weapon Valvrave when the Dorushia army invades.

(April 2013)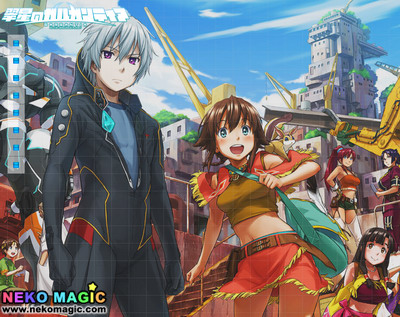 [youtube]8oAjghnTor4[/youtube]
In the distant future, the Human Galactic Alliance has been constantly fighting for its survival against beings called "Hidiaasu". During an intense battle, the young lieutenant Redo and his humanoid mobile weapon Chamber are swallowed up into a distortion of time and space.
Waking from his artificially induced hybernation, Redo realizes that he has arrived on Earth, the planet on the lost frontier. On this planet that was completely flooded by the seas, people live in fleets of giant ships, salvaging relics from the seas' depths in order to survive. Redo arrives on one of the fleets called Gargantia. With no knowledge of the planet's history or culture, he is forced to live alongside Amy, a 15-year-old girl who serves as a messenger aboard the Gargantia fleet.To Redo, who has lived a life where he knows nothing but fighting, these days of peace continue to surprise him.

(April 2013)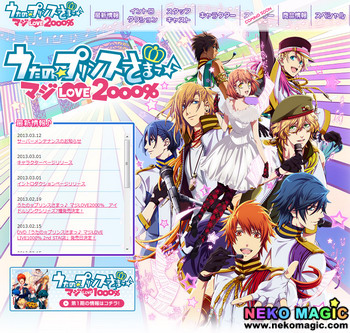 The 2nd season of the TV anime series Uta no Prince-sama: Maji Love 1000% continues the 2011 anime series created by studio A-1 Pictures, based on a bishounen visual novel game by Broccoli, originally released for the PSP in 2010. In this slapstick romantic comedy, a girl goes to a school for the performing arts with boys who are budding idols and share one purpose: to sign with a production company and make their debut.

(April 2013)
[youtube]O6UXuMP6bO4[/youtube]
The anime adaptation of Keiji Nashima's Namiuchigiwa no Muromi-san manga will air on TV in April.
The comedy story centers around Muromi-san, a mermaid who happens to speak with a Hakata accent. She is suddenly caught by Takurō Mukōjima, a boy in his high school's fishing club.
Release Date: April 2013
Studio: Tatsunoko

(April 2013)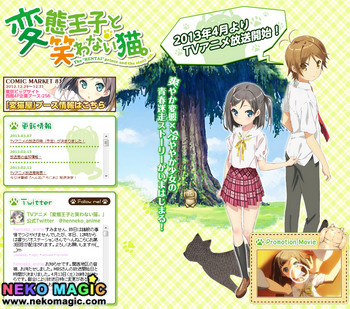 [youtube]Wo5W_N7eQMU[/youtube]
The TV anime series Hentai Ouji to Warawanai Neko. is created by studio J.C. Staff, based on Sou Sagara's romantic comedy light novel series also known as The Hentai Prince and the Stony Cat., or Henneko for short. The story centers around a second-year high school boy named Youto Yokodera. Youto is always thinking about his "carnal desires", but no one acknowledges him as a pervert. He learns about a cat statue that supposedly grants wishes. The boy goes to pray that he will be able to express his lustful thoughts whenever and wherever he wants. At the statue, Youto encounters Tsukiko Tsutsukakushi, a girl from his high school with her own wish – that she would not display her "real intentions" so readily.

(April 2013)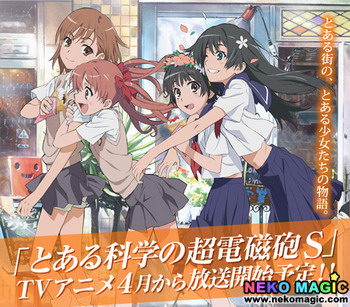 A second season of the A Certain Magical Index spin-off was announced at the Dengeki 20th Anniversary Festival in October. ASCII Media Works' Monthly Comic Dengeki Daioh magazine confirmed later that month the previous season's cast and staff are returning. The main story of A Certain Scientific Railgun S will follow the Sisters arc from the source material.

<< TV i | TV ii | TV iii | TV iv | TV v | TV vi | OVA i | OVA ii | OVA iii | Movie >>