2013 Spring anime Part 2: TV anime II
Kuro Majo-san ga Tooru!! 2 (TV)
Gakkatsu! 2nd Season (TV)
Danball Senki Wars (TV)
Aiura (TV)
Yahari Ore no Seishun Love Come wa Machigatteiru. (TV)
Ginga Kikoutai: Majestic Prince (TV)
Hataraku Maou-sama! (TV)
Hyakka Ryouran: Samurai Bride (TV)
Tetsujin 28-go Gao! (TV)
Danchi Tomoo (TV)

<< TV i | TV ii | TV iii | TV iv | TV v | TV vi | OVA i | OVA ii | OVA iii | Movie >>

(April 03, 2013 @18:20)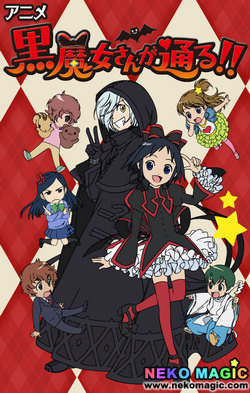 Chiyoko Kurotori is a 5th grader who loves the occult. One day, she tries to divine her friend's "cupid," but thanks to a stuffy nose summons a witch named Gyubid instead. From that day on, Gyyubid becomes Chiyoko's magic instructor. She must learn to balance the grueling demands of her training with her normal school life.
Release Date: April 03, 2013 @18:20
Studio: Shin-Ei Animation

(April 03, 2013 @19:55)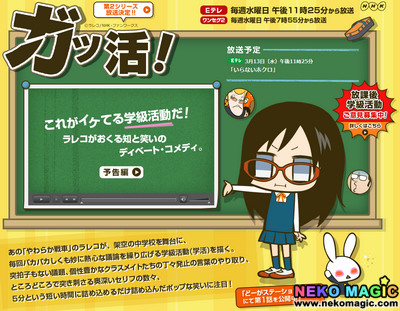 [youtube]UM5eUZj-xuo[/youtube]
Gakkatsu! is a series of anime shorts co-produced by NHK and Fanworks, with Flash animator Rareko (Yawaraka Sensha, Chi-Sui Maru) directing, writing the screenplay, and creating music for this "debate comedy" anime. The story centers on a junior high school class where students discuss strange topics as part of their classroom activities. In the first episode, the class president Chiho Takachiho asks her classmates what "pokkori" is, and they discuss various opinions on the subject. Every 5-minute episode features the unique classmates' views on a different bizarre topic.
Release Date: April 03, 2013 @19:55
Studio: Fanworks

(April 03, 2013 @19:27)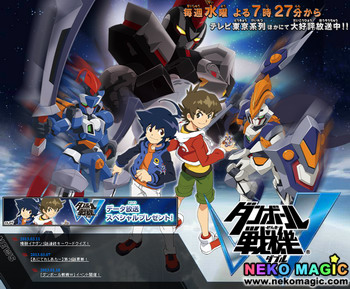 Danball Senki tells the story of a world where kids battle one another using little robot figures called LBX (Little Battler eXperience). Yamano Ban, a young boy who desires to become an LBX Fighter like his friends, is forbidden by his mother from owning an LBX as his father was taken from them in an accident relating to LBX years ago. One day a mysterious woman approaches Ban with a suitcase and tells him the hopes and fears of humanity lie inside it, and when Ban opens it, he finds a strange new LBX Robot. He is soon attacked by organizations who want the data inside this robot, and Ban and his friends are dragged into a corporation war that spreads all the way up to the highest political positions of power in Japan, and the true origins behind LBX Battling which could change the entire political structure of Japan.
Release Date: April 03, 2013 @19:27
Studio: Oriental Light and Magic

(April 03, 2013 @24:35)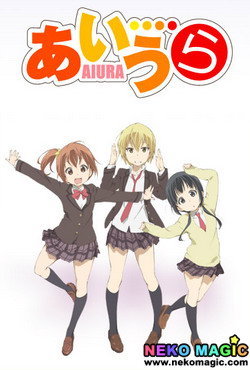 The anime adaptation Aiura is based on a 4-koma slice-of-life manga by Chama. The story follows Amaya, Iwasawa, and Uehara – three "annoying, spirited high school girls with zero motivation" – and their classmates. Their daily life is "what happens when there is nothing happening".
Release Date: April 03, 2013 @24:35
Studio: LIDENFILMS

(April 04, 2013 @25:28)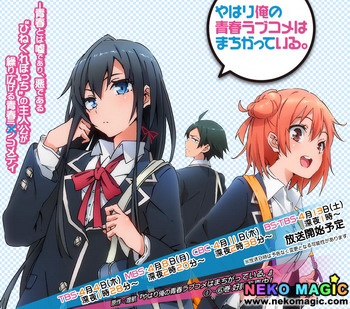 [youtube]lgQeoZXUq-8[/youtube]
The TV anime series Yahari Ore no Seishun Love Come wa Machigatteiru. is based on Wataru Watari's light novel series also known as My Youth Romantic Comedy Is Wrong As I Expected. (abbreviated as OreGal or Hamachi). The romantic comedy story revolves around an antisocial high school boy named Hachiman Hikigaya, who refuses to make friends with anyone. To combat this, his teacher forces him to join a volunteer "service club", where he meets the school's most beautiful girl, Yukino Yukinoshita.

(April 04, 2013 @22:30)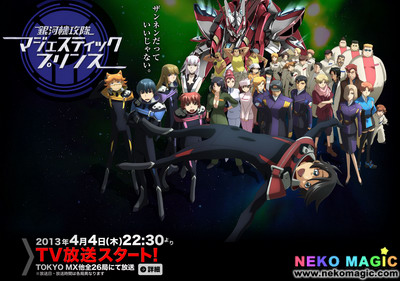 [youtube]AlZRHDbYYko[/youtube]
The anime adaptation Majestic Prince is based on a sci-fi space robot manga by Rando Ayamine and Hikaru Niijima. The story is set in the latter half of 21st century, after humans leave the Earth and begin to live in space. In order to adapt to the environment in space and deal with the hostile aliens in Jupiter, genetically engineered children called "Princes" are artificially raised and trained to be pilots of armed robots called "AHSMB" (Advanced High Standard Multipurpose Battle Device). The protagonist is one such teenage "Prince", named Izuru, who studies in the academic city of Grandzehle to fulfill his mission of "protecting humanity".

(April 04, 2013 @22:00)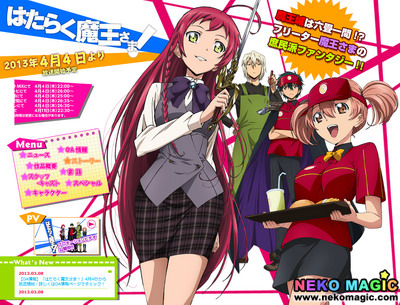 [youtube]dDnslncTIfs[/youtube]
In another dimension the Devil King Sadao is only one step away from conquering the world when he is beaten by Hero Emilia and forced to drift to the other world: modern-day Tokyo. As "conquering the world" are the only skills the Devil King possesses – and are obviously unnecessary in his new situation – he must work as a freeter to pay for his living expenses.

(April 05, 2013 @22:30)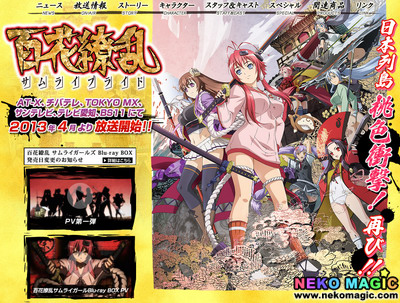 [youtube]h4U_WMvRVsQ[/youtube]
The story takes place in Japn in the early 21st century, in an alternate reality where the Tokugawa Shogunate has remained in power. In this reality, student councils are tasked with oppressing schools. Yagyuu Muneakira is a high school student who rebels against his student council with the help of girls who've had the names of famous samurai heroes passed on to them.

(April 06, 2013 @04:52)
Tetsujin 28-gō Gao!, the first new Tetsujin 28 anime in six years, will premiere on Fuji TV in April. The series of anime shorts, roughly five minutes in length, will focus on protagonist Shōtarō Kaneda's everyday life instead of focusing on battle scenes as previous Tetsujin 28 titles have done. The visuals of the title robot, its nemesis Black Ox, and other elements will have a pop-art style.
Release Date: April 06, 2013 @04:52
Studio: Eiken

(April 06, 2013 @09:30)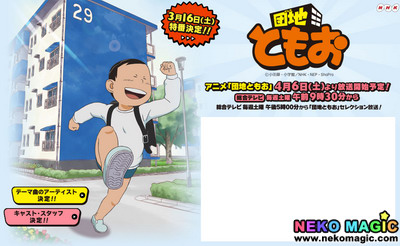 [youtube]iPb_yhmIwSE[/youtube]
The story centers around a fourth-grade boy named Tomoo who lives in an apartment complex with his mother and big sister. With his father away on a long-term work contract, Tomoo gets into one misadventure after another with his friends.

<< TV i | TV ii | TV iii | TV iv | TV v | TV vi | OVA i | OVA ii | OVA iii | Movie >>