2013 Spring anime Part 1: TV anime I
KARA the Animation (TV)
Otona Joshi no Anime Time (TV)
RDG: Red Data Girl (TV)
Girls und Panzer: Episode 11-12 (TV)
Gundam Seed Destiny HD Remaster (TV)
Date A Live (TV)
Train Heroes (TV)
DD Hokuto no Ken (TV)
My Little Pony: Tomodachi wa Mahou (TV)
Karneval (TV)

<< TV i | TV ii | TV iii | TV iv | TV v | TV vi | OVA i | OVA ii | OVA iii | Movie >>

(March 01, 2013 @19:00)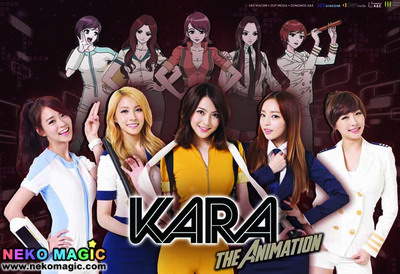 [youtube]y2ktccQWnQ8[/youtube]
The five-member South Korean girl pop group Kara will get their own animated adaptation that will air in Japan next spring. The tentatively titled Kara The Animation television series will consist of five episodes, and each episode will focus on one of the band's members. The fictional stories will feature each of the members in a different career: Gyuri as a police officer, Seungyeon as an astronaut, Nicole as a passenger boat captain, Hara as security police for the Monaco royal family, and Jiyoung as a sexy and spirited firefighter.
Each group member will provide the voices for the animated versions of themselves, and so the series will air with Korean dialogue and will have Japanese subtitles. The series will mark each members' voice-acting debut, and the group will also provide the show's theme song.

(March 10 , 2013 @23:00)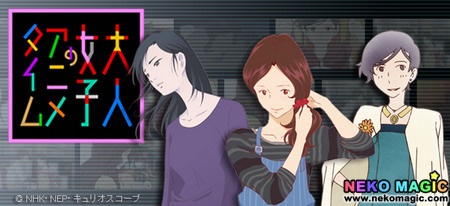 [youtube]jhSS8Ro6dCU[/youtube]
In the story, 33-year-old Kanazawa native Noriko (actress Misato Tanaka) had decided long ago not to accept an ordinary, provincial life for herself. So, she had gone to college in Tokyo, worked on her own, married a man at an elite trading firm, and had a child. She has just returned home from five years abroad with her husband and four-year-old son. However, she senses a large emptiness in her heart since coming back. Moreover, there is a man who shares a big secret with Noriko.

(March 16, 2013 @23:30)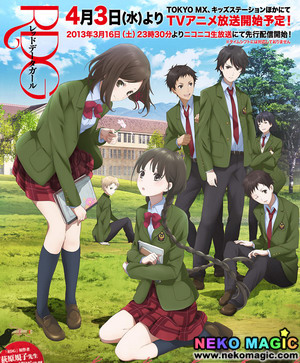 [youtube]J9-mLrm-anM[/youtube]
The anime adaptation RDG: Red Data Girl is created by studio P.A. Works, based on a modern fantasy manga by Noriko Ogiwara. The story revolves around Izumiko Suzuhara, a girl raised within the confines of Tamakura Shrine, one of the Kumano shrines that are part of a World Heritage site. However, after Izumiko spent practically her entire life at Kumano until middle school, it was decided that she and her childhood friend Miyuki would enroll in Houjou High School in Tokyo. On a school trip to Tokyo, a mysterious entity known as Himegami appears and a terrible incident occurs. Izumiko's family carries a great secret that Izumiko is about to learn.

(March 18 & 25, 2013 @22:00)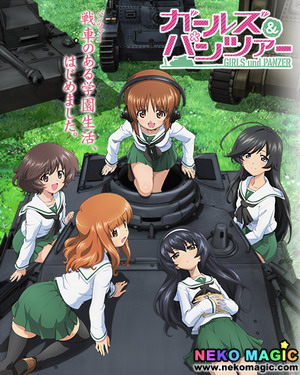 [youtube]dAL7doiW6KQ[/youtube]
The TV anime series Girls und Panzer is created by studio Actas, as an original "military teen battle action" work featuring high school girls who drive tanks, as they compete in teams.

(March 29, 2013 @23:00)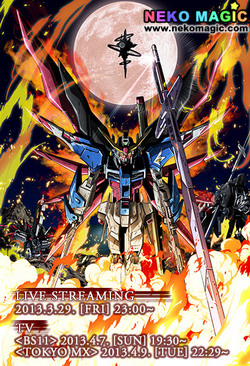 [youtube]ru9erpzLi9A[/youtube]
The Mobile Suit Gundam Seed Destiny HD Remaster project will begin streaming on the Bandai Channel service on March 29 at 11:00 p.m. in Japan. The series will then start running on the BS11 satellite channel on April 7 and on the Tokyo MX TV channel on April 9.
The HD remaster was announced after the Gundam Seed remaster wrapped in November. The fourth Mobile Suit Gundam Seed Remaster box was released in Japan on December 21 with a price of 15,485 yen

(March 30, 2013 @24:00)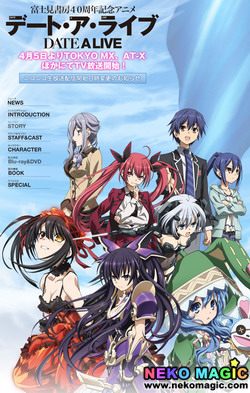 [youtube]c4xH8yzY3Pw[/youtube]
The anime adaptation Date A Live is created by studio AIC Plus+, based on a light novel series written by Koushi Tachibana and illustrated by Tsunako. In the "new generation of boy-meets-girl" story, a boy named Shidou Itsuka meets a spirit girl who has been rejected by a devastated world. The girl, who Sido names "Tohka", happens to have wiped out much of humanity 30 years ago, and now she is back. The only way to stop her is to date her.

(April 02, 2013 @17:30)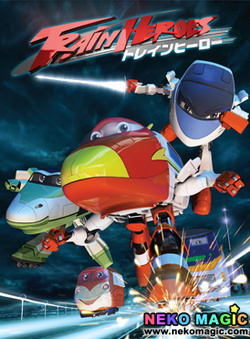 The story of Train Hero deals with a rescue team that handles disasters on the high-speed trains crisscrossing the world. The team undergoes transformation sequences to respond in times of crisis.
Release Date: April 02, 2013 @17:30
Studio: Carloon Animation
Note: 26 episodes

(April 02, 2013 @25:40)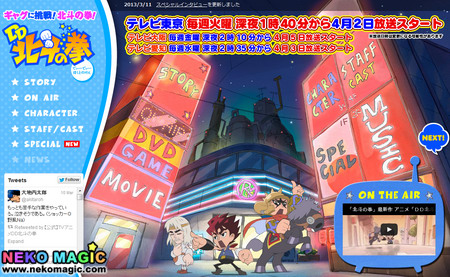 [youtube]6n4xdfbI3Qo[/youtube]

(April 02, 2013 @07:30)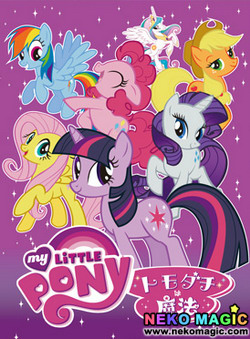 Release Date: April 02, 2013 @07:30
Studio: DHX Media
Note: 52 episodes

(April 03, 2013 @26:48)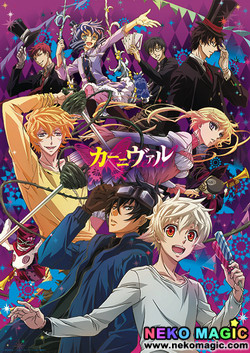 [youtube]O7LxjCdr4PY[/youtube]
The anime adaptation Karneval is based on a josei-fantasy manga series by Touya Mikanagi. The original story follows the journey of a boy named Nai, who is looking for someone important to him, with only an abandoned bracelet as a clue. Through a series of unfortunate events, he winds up partnered with a thief named Gareki, after the two of them meet in a strange mansion where they are set-up. Now on the run as wanted criminals by military security operatives, Nai and Gareki learn that the bracelet is actually an ID from the country's most powerful defense organization, called "Circus".

<< TV i | TV ii | TV iii | TV iv | TV v | TV vi | OVA i | OVA ii | OVA iii | Movie >>