Alter is going to release the Shihodo Narika ( 四方堂ナリカ ) Choko Sennin Ver.( 超昂閃忍Ver. ) 1/8 PVC figure from the eroge "Beat Blades Haruka" ( 超昂閃忍ハルカ) published by Alice Soft. Will be released in July 2009. Around 200mm tall, 7,800 yen.
You can order her here
The game "Beat Blades Haruka" was released in February last year and there is no news that Alice Soft is going to make a part 2 for it nor there is going to have a anime adaptation. Yes, the game was really popular, but I wonder why Alter is making this Shihodo Narika figure just now. (-___-.? But anyway, since she is from Alter, she looks really great too me. To bad she is not castoffable.
I never play the game but people on BBS said the bad ending of Narika was really great. I found the video clip on Youtube but I haven't watch it yet. Um… maybe I should post it here to share with you guys too. =]
Btw, We need your help for our coming Nekomagic Shop. We wouldn't be able to bring you everything yet. We will start with Revoltech or figma first. But we still need to decide which series to go with. Please Vote! =D
Here is the poll for the coming Nekomagic Shop
Which product line do you want us to bring you first? (You can vote up to 4)
Max Factory figma (44%, 1,449 Votes)
Kaiyodo Revoltech (21%, 682 Votes)
Kaiyodo Fraulein (16%, 530 Votes)
Kaiyodo Fist of The North Star Revolution (6%, 193 Votes)
Kaiyodo SFO (7%, 224 Votes)
Bandai Saint Seiya Saint Cloth Myth (7%, 236 Votes)
Total Voters: 1,774
Loading ...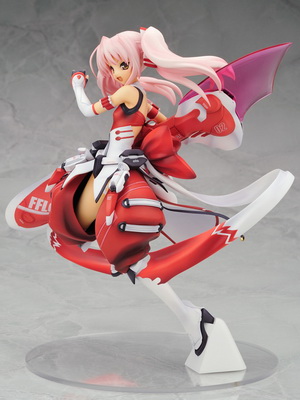 Beat Blades Haruka OP
[youtube]CgHc52AM1NE[/youtube]
Beat Blades Haruka: Narika Bad Ending
[youtube]NJd5-NINFyE[/youtube]
Official Beat Blades Haruka homepage
http://www.alicesoft.com/haruka/index.html
via Alter