Max Factory is going to release the figma 036 Asahina Mikuru ( 朝比奈みくる) Fighting Waitress Ver. ( 戦うウェイトレスver. ) action figure form the light novel/anime "The Melancholy of Haruhi Suzumiya" ( 涼宮ハルヒの憂鬱 ). Will be released in May 2009. Around 135mm tall, 2,500 yen. Comes with Kyon's head and the reindeer head.
You can order her here
~Mi~Mi~Miracle~Mikurun~run~!!! Here is the figma version of Asahina Mikuru Fighting Waitress. Compare to the Kaiyodo Revoltech Fraulein Mikuru, the figma sculpt work better, but the Fraulein is more poseable and the joints a much more stronger. To each is own, some people like the Fraulein one and some people like the Fraulein one. It doesn't really matter to me since I'm gonna get both of them. =P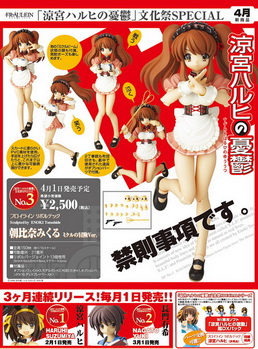 The Fraulein Asahina Mikuru Mikuru's Adventure Ver.
——Description from Manufacturer——
The little cupid, perfectly poseable.♥
Following the "Yuki Nagato Evil Witch Ver." comes another figma from The Melancholy of Haruhi Suzumiya Episode 0: "Mikuru Asahina's Adventures" – this time being Mikuru herself, dressed up in her Fighting Waitress uniform.
The new joint parts allow for a smooth look, yet poseable movements, allowing you to pose many different scenes.
A flexible plastic is used for her shoulder area, the skirt and the apron, allowing the proportions to be kept, without compromising the posability.
Two face parts are included, one to recreate the Mikuru Beam scene, and the other of a winking face as if she was saying her well-known phrase "Confidential Information". The faces can be switched with both the School Uniform ver. and the Cheerleader ver.
Two model guns, and new hand parts to recreate the Mikuru Beam pose are included.
As bonus parts, a new face for the figma Kyon School Uniform ver., as well as the reindeer head that appeared in the ending theme are included.
Comes with a poseable figma stand that makes it possible to recreate various scenes.
Here is this poll again! Don't worry, I'll not post it again after tomorrow. We need your help for our coming Nekomagic Shop. We wouldn't be able to bring you everything yet. We will start with Revoltech or figma first. But we still need to decide which series to go with. Please Vote! =D
Here is the poll for the coming Nekomagic Shop
Which product line do you want us to bring you first? (You can vote up to 4)
Max Factory figma (44%, 1,449 Votes)
Kaiyodo Revoltech (21%, 682 Votes)
Kaiyodo Fraulein (16%, 530 Votes)
Kaiyodo Fist of The North Star Revolution (6%, 193 Votes)
Kaiyodo SFO (7%, 224 Votes)
Bandai Saint Seiya Saint Cloth Myth (7%, 236 Votes)
Total Voters: 1,774
Loading ...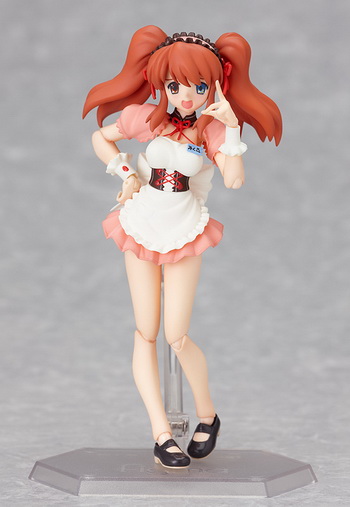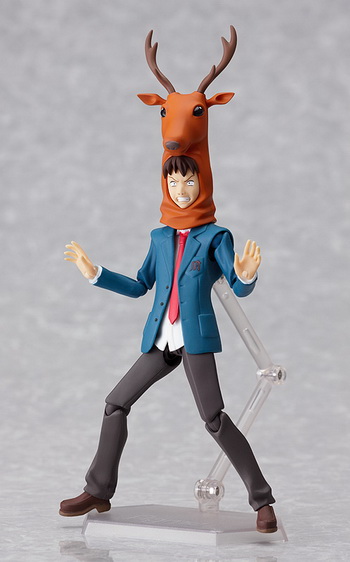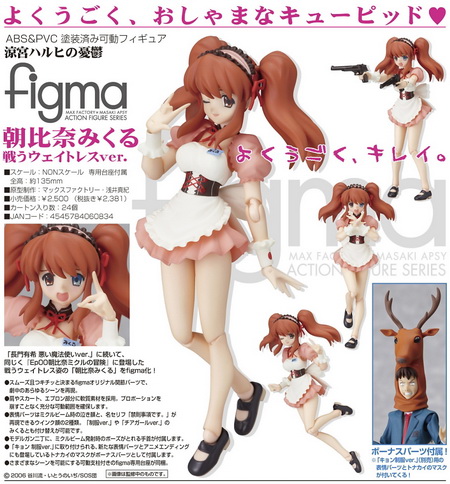 Koi no Mikuru Densetsu
[youtube]O7nk1dLGMtk[/youtube]
Official The Melancholy of Haruhi Suzumiya TV homepage
http://www.haruhi.tv/
via figma