Clayz is going to release the Hiiragi Tsukasa ( 柊 つかさ) 1/8 PVC figure from the manga/anime "Lucky Star" ( らき☆すた ). Will be released in May 2009, 6,000 yen.
Izumi Konata, Hiigura Kagami, Takara Miyuki

Finally Clayz is bringing us the rest of Lucky Star girls, Tsukasa and Miyuki! Konata and Kagami had been out for couple months. I saw the real final products and I was not impressed at all. The script work was good, just like the prototype, but the paint job wasn't as good. There was no shading or highlight at all, it was just too plain IMO.
As for this Tsukasa and Miyuki, let's hope that Clayz will put more effort on the paint job for these two. =]
Here is the poll for the coming Nekomagic Shop
Which product line do you want us to bring you first? (You can vote up to 4)
Max Factory figma (44%, 1,449 Votes)
Kaiyodo Revoltech (21%, 682 Votes)
Kaiyodo Fraulein (16%, 530 Votes)
Kaiyodo Fist of The North Star Revolution (6%, 193 Votes)
Kaiyodo SFO (7%, 224 Votes)
Bandai Saint Seiya Saint Cloth Myth (7%, 236 Votes)
Total Voters: 1,774
Loading ...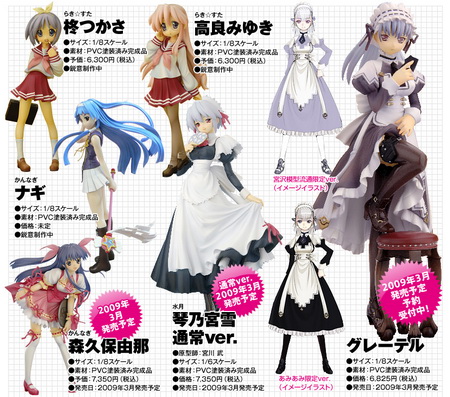 Lucky Star anime OP
[youtube]rdERUrLvIW4[/youtube]
Official Lucky Star anime homepage
http://www.lucky-ch.com/
via Clayz