2013 Winter anime Part 4: TV anime IV
Kotoura-san (TV)
Mondaiji-tachi ga Isekai kara Kuru sou desu yo? (TV)
Chihayafuru 2 (TV)
Beast Saga (TV)
Cardfight!! Vanguard: Link Joker-hen (TV)
Ganbare! Lulu Lolo (TV)
Hetalia: The Beautiful World (TV)
Ishida to Asakura (TV)
Doki Doki! Precure (TV)
Savanna Game (TV)

<< TV I | TV II | TV III | TV IV | OVA I | OVA II | Movie >>

(January 10, 2013 @26:00)
[youtube]ckV1UqkFC34[/youtube]
The TV anime series Kotoura-san is created by studio AIC Classic, based on a romantic comedy 4-panel web manga by Enogizu. The school fantasy story follows Haruka Kotoura, a girl who recently transfered to a new school. Kotoura happens to be able to read people's minds, and she joins the school's ESP club.

(January 11, 2013 @25:30)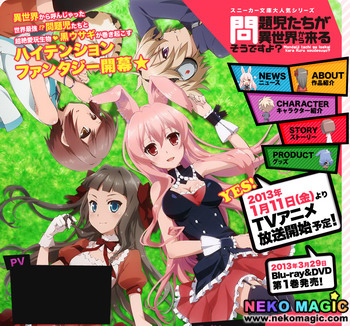 [youtube]qQpOcHsMUnA[/youtube]
The TV anime series Mondai-Ji-tachi ga Isekai Kara Kuru Sou Desu yo? is created by studio Diomedea, based on a fantasy comedy light novel series authored byTarou Tatsunoko and illustrated by Yuu Amano. The story follows Izayoi Sakamaki, a boy bored with the entire world. One day, an envelope arrives for him. The moment Izayoi opens the envelope, he is transported to an alternate world. There, he discovers that two other "problem children" were transported by envelopes as well – a taciturn girl named You Kasukabe with a cat, and a beautiful yet haughty girl named Asuka Kudou. A girl named Kuro Usagi (Black Rabbit) summoned the three to the community "No Name" to overthrow the devil.

(January 11, 2013 @25:53)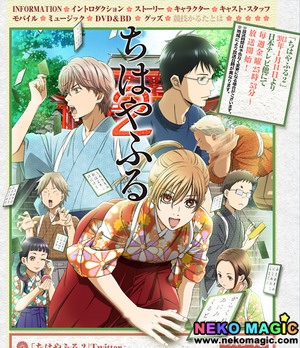 The second season of Chihayafuru continues this TV anime series created by studio Madhouse, based on Yuki Suetsugu's women's manga about a girl competing in the traditional Japanese card game of karuta. In the original story, a schoolgirl named Chihaya Ayase once only dreamed about her sister making it big as a fashion model, until she decides to forge her own path in life. After seeing a quiet transfer student named Arata Wataya play the game, Chihaya enters the competitive world of karuta. The story begins when Arata joins Chihaya's sixth-grade class, but most of the story takes place during Chihaya's high school years.

(January 13, 2013 @08:44)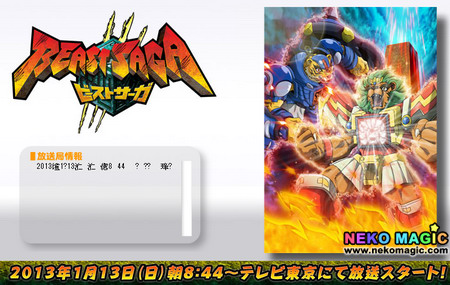 [youtube]KOY5s5w2rWE[/youtube]
The TV anime series Beast Saga is based on Takara Tomy's hobby toy / dice battle game franchise. The story takes place on a distant planet in our galaxy called Beast where three beast tribes – the Sea Tribe, the Land Tribe, and the Sky Tribe – fight for their honor. Each of the tribes protect an infinite elemental power source called "Godlot".
Release Date: January 13, 2013 @08:44
Studio: *TBA

(January 13, 2013 @10:00)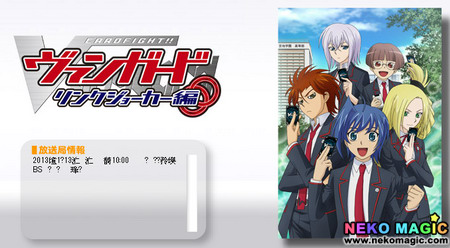 [youtube]0m2qkRIWoOg[/youtube]
The story is set several months after the events of the second season, Cardfight!! Vanguard: Asia Circuit Hen. The main character, Vanguard card game player Aichi Sendō, is now about to enter high school. He enrolls in the elite Miyaji Academy, but unfortunately, his rivals-turned-friends Katsumi and Yūta are going to a different school.
While his first days at high school are lonely, Aichi gets some advice from his friends Toshiki and Taishi at the Card Capital shop. To make the most of high school, Aichi forms a Cardfight club for Vanguard players. He makes new friends (as well as new rivals), and he juggles card-playing with sports meets, cultural festivals, tests, summer vacation, and everything else that high school has to offer.
Release Date: January 13, 2013 @10:00
Studio: TMS Entertainment

(January 17, 2013 @07:40)
The TV anime series Ganbare! Lulu Lolo is based on the Kuma no Gakkou (The Bears' School) picture books which also inspired a 2010 anime film. The new anime centers around the daily life of two twin bear sisters: the orange-colored Lulu and the yellow-colored Lolo. The two take on new jobs and despite the occasional failure and tears, give their best efforts.
Release Date: January 17, 2013 @07:40
Studio: Fanworks

(January 25, 2013 )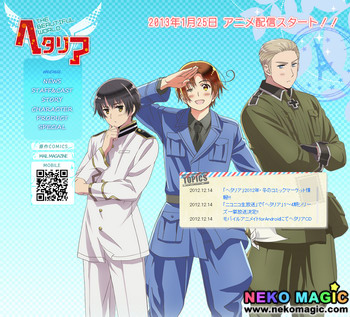 The web anime Hetalia: The Beautiful World continues this series adapted by Studio DEEN, based on a "cynical gag" manga by Hidekaz Himaruya, with its 5th season. The original story re-imagines various historical eras including World War I and II, using bishounen characters anthropomorphized from the archetypal characteristics of about 20 countries and regions.

(January 2013)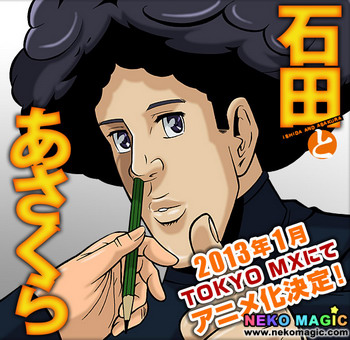 The TV anime series Ishida to Asakura is based on Masao's surreal gag comedy manga about the friendship of high school boys. The co-lead Asakura "wants to become a teacher at a girls' school in the future", while Ishida "wants to become a florist with Asakura in the future".
Release Date: January 2013
Studio: *TBA

(February 03, 2013 @08:30)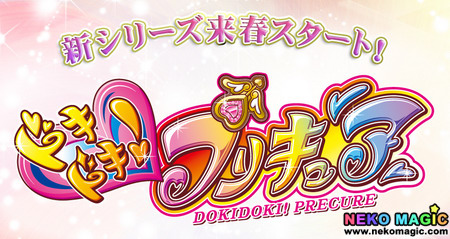 [youtube]KBzc7NMFaVA[/youtube]
Dokidoki! Precure is the 10th TV anime series in Toei Animation's magical girls franchise.
Release Date: February 03, 2013 @08:30
Studio: Toei Animation

(Winter 2013 )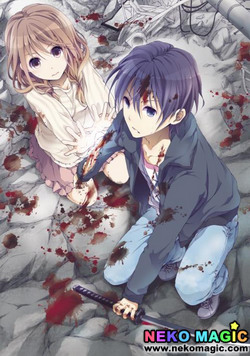 The TV anime series Savanna Game is based on a "suspense battle fantasy" novel by Lance K. Kuroi (Ransuke Kuroi). The story follows a young man named Kazuya Shibuya who receives an anonymous e-mail message out of the blue one day: "Won't you join the Savanna Game?" The message is an invitation to a state-sanctioned killing game – a deadly role-playing game designed to motivate the inhibited youth of modern Japan. Shibuya and his two friends Kotegawa and Kudou find themselves in bizarre battles that span the space-time continuum, with everything from dragons to the Shinsengumi force of the shogunate era.
Release Date: Winter 2013
Studio: *TBA

<< TV I | TV II | TV III | TV IV | OVA I | OVA II | Movie >>