2013 Winter anime Part 3: TV anime III
Zettai Karen Children: The Unlimited – Hyoubu Kyousuke (TV)
AMNESIA (TV)
Line Offline Salaryman (TV)
Senyuu (TV)
Jigoku Youchien (Net)
GJ-bu (TV)
Tamako Market (TV)
Sasami-san@Ganbaranai (TV)
Boku wa Tomodachi ga Sukunai Next (TV)
Vividred Operation (TV)

<< TV I | TV II | TV III | TV IV | OVA I | OVA II | Movie >>

(January 07, 2013 @25:35)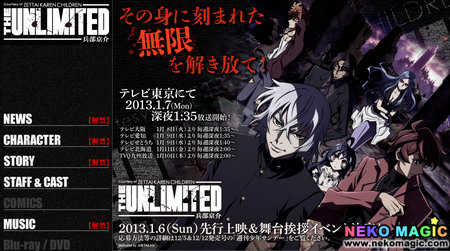 [youtube]pQjWdEUi-98[/youtube]
The third anime adaptation Zettai Karen Children, titled The Unlimited – Hyoubu Kyousuke, is one of seven projects launched in 2012, to commemorate the 7th anniversary of Takashi Shiina's manga that previously spawned a 2008 TV anime series and a 2010 OVA. The original story takes place in a future where people with ESP are becoming more widespread. The Japanese government has hired three of the most powerful ESPers in Japan to work for B.A.B.E.L. (Base of Backing ESP Laboratory), but all three are 10-year-old girls with questionable attitudes.

(January 07, 2013 @23:30)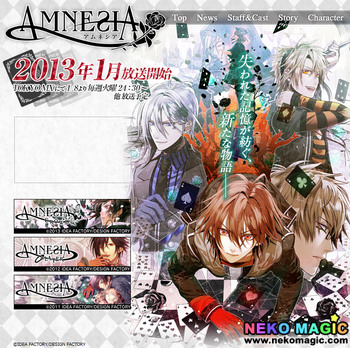 [youtube]p4YgCwZ486A[/youtube]
The TV anime series Amnesia is created by studio Brain's Base, based on an otome visual novel game (for female players) released by Idea Factory for the PSP in 2011. The game's story begins on the morning of August 1, when the protagonist wakes up and discovers she has absolutely no memories of the past. A boy appears before her, and he introduces himself as a "spirit" named Orion. The protagonist struggles to regain her memories under the guidance of Orion. She then gets a phone call, but she does not recognize the name on her mobile phone screen. She meets her apparent "boyfriend", despite not knowing his face.

(January 07, 2013 @25:30)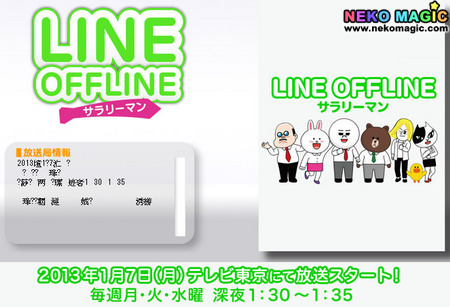 Release Date: January 07, 2013 @25:30
Studio: *TBA

(January 08, 2013 @25:35)
[youtube]A8l_rGza8oQ[/youtube]
The TV anime series Senyuu. is based on Robinson Haruhara's fantasy battle comedy manga of the same title. In the story, a gigantic hole suddenly opened up in the world one day, and demons appeared. The king thinks that this portends the return of the demon king Rukimedesu, who was sealed away by the hero Kureashion a millenium ago. The king decreed that the descendants of the hero must take on the threat, and 75 people showed up. Hero No. 45 (Aruba) and a sadistic palace warrior (Rosu) team up, and their adventure begins.


(January 09, 2013 @25:29)
[youtube]n6AJX04jZEk[/youtube]
The TV anime series GJ-bu is created by studio Dogakobo, based on Shin Araki's spin-off light novel series GJ-bu Chuutou-bu (Good Job Club Junior High School). The moe slice-of-life story follows a middle school girl named Shinomiya Kasumi, who is the sister of the main protagonist in the original GJ-bu novels, Kyouya. She and her other friends – the mysterious Amatsuka Seira and Canadian girl Geraldine Bernstein, who communicates using a white board – launch an undefined activity club called the "Good Job Club" in her junior high; imitating the same club her highschool brother is in.

(January 09, 2013 @24:30)
[youtube]zwUnPK_bFHI[/youtube]
The TV anime series Tamako Market is created by Kyoto Animation, with an original story that follows Tamako – a mochi-loving high-school freshman whose family runs a mochi (rice cake) shop in a certain town's shopping district. She enjoys her high school life with her friends Midori and Kanna in the badminton club. She also helps out at her family's shop and develops new mochi. She is childhood friends with Mochikura, the son of the neighboring rival mochi shop, but when their fathers meet, they fight like cats and dogs. On Tamako's birthday on New Year's Eve, Mochikura is determined to hand her a birthday present that he had not been able to in past years. Then, suddenly, a splendid bird (parrot) appears in the shopping district, and a year like no previous one is about to begin.

(January 10, 2013 @25:25)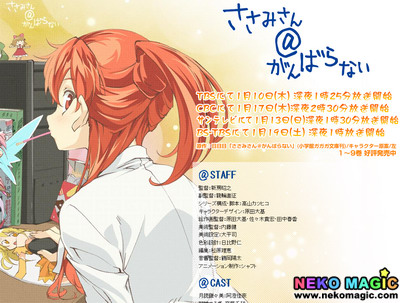 [youtube]QYYtn71ZdiU[/youtube]
The anime adaptation Sasami-san@Ganbaranai is created by studio Shaft, based on a romantic comedy light novel series written by Akira and illustrated by Hidari. The story follows a hikikomori (shut-in) girl named Sasami, who is unmotivated about even changing clothes or eating. Her brother takes care of her, even though she despises his slave-like nature. Sasami spends her days viewing the outside world via a "Brother Surveillance Tool" on her computer. In the outside world, the three beautiful Yagami sisters and Sasami's brother are in the middle of relationships worthy of a romantic comedy.

(January 10, 2013 @25:55)
[youtube]qRGxtqDj9Wg[/youtube]
The second season of Boku wa Tomodachi ga Sukunai continues this TV anime series created by studio AIC Build (Oreimo), based on a romantic school comedy light novel series written by Yomi Hirasaka and illustrated by Buriki. The story revolves around Kodaka Hasegawa, a half-Japanese / half-British transfer student whose delinquent-like blonde hair scares people, and a seemingly perpetually sullen girl named Yozora Mikazuki. The two decide to form Rinjinbu, a club for people with hardly any friends.

(January 10, 2013 @25:30)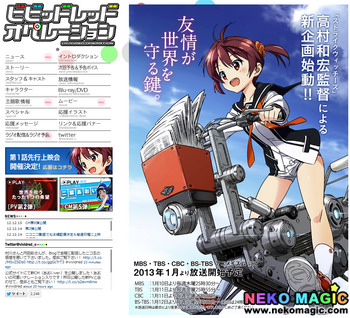 [youtube]mkfPNwlCX_0[/youtube]
The TV anime series Vividred Operation is an original project created by studio A-1 Pictures, directed by Kazuhiro Takamura (Strike Witches), and co-produced by Dengeki G's Magazine and Aniplex. This bishoujo sci-fi action anime is set in a peaceful world where science has solved all problems. The story kicks off on an island teeming with natural surroundings, and an artificial island built by science. It follows five heroines – the main heroine being a 14-year-old girl who lives an impoverished life with her little sister and grandfather.

<< TV I | TV II | TV III | TV IV | OVA I | OVA II | Movie >>