2013 Winter anime Part 1: TV anime I
Monchicchiisu (TV)
Boku no Imouto wa Osaka Okan (TV)
Saki: Achiga-hen – Episode of Side-A Specials (TV)
gdgd Fairies Season 2 (TV)
Tantei Opera Milky Holmes Alternative TWO: Kobayashi Opera and the Raven of the Empty Sky (TV)
Puchimas!: Petit iDOLM@STER (TV)
Yama no Susume (TV)
Mangirl! (TV)
Ai Mai Mi (TV)

<< TV I | TV II | TV III | TV IV | OVA I | OVA II | Movie >>

(December 01 @23:13)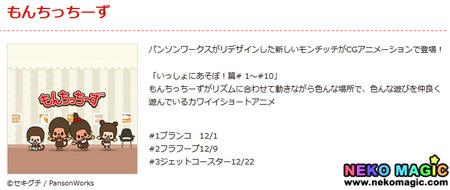 PansonWorks, the design studio behind Robin with His 100 Friends, is producing the 10-episode Monchicchiisu television anime series.
The CG anime series is based on Sekiguchi Corporation's line of stuffed toy monkeys. Ashi Productions previously produced the Monchichi, the Twins television anime series that aired in 1980. An American-produced animated series titled Monchhichis also aired in the 1980s.
The Monchicchiisu series of anime shorts will premiere on December 1 at 11:13 a.m. on KIDS STATION. The series will feature the monkeys moving, dancing, and playing in different locations.
Release Date: December 01 @23:13
Studio: PansonWorks

(December 21, 2012 @25:55)
The TV series of anime shorts Boku no Imouto wa "Oosaka Okan" is based on Chukei Shuppan's popular Osaka Okan Rule (Osaka Momma Rules) and Osaka Rule books that offer a tongue-in-cheek guide to dealing with people from Osaka, particularly the stereotypical Osaka mothers. In the story of the anime, Kyousuke has spent about a decade living apart from his little sister Namika. Now, Kyousuke is looking forward to reuniting with his sister as they live together again, but Namika is nothing like he remembers.

(December 24, 2012 @23:30)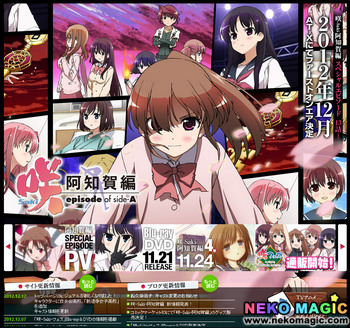 [youtube]1G60KY1kaPs[/youtube]
The TV anime series Saki Achiga-hen episode of side-A is created by Studio Gokumi, based on a spin-off manga written by Ritz Kobayashi (who also created the original Saki manga that spawned a 2009 anime series) and illustrated by Aguri Igarashi. The new story follows Shizuno Takakamo and the other mahjong players at the all-girls school Achiga. The Achiga Girls' Academy in Nara once defeated regional mahjong powerhouse Bansei High School. It advanced into the national team semifinals but lost to the eventual champion, and the mahjong club was later disbanded. Six years later, elementary school student Shizuno Takakamo befriends transfer student Nodoka Haramura. The two eventually enter Achiga Girls', but Nodoka transfers out of the school in the second year. When Shizuno sees Nodoka on television the following year as the national middle school individual mahjong champion, she decides to revive Achiga's mahjong club.

(December 27, 2012 @03:00, January 09, 2013 @25:40)
[youtube]e4ANWrBKnrk[/youtube]
A sequel for the CG comedy anime series gdgd Fairies was announced in March 2012. The first series from 2011 centered around three little fairies who live inside the trees in Fairy Forest. They have weak magical powers, but they also have the "Mental and Time Room" where they can freely use magic, as well as the Afure Lake with which they can peer into other worlds.
Release Date: December 27, 2012 @03:00 (episode 0), January 09, 2013 @25:40
Studio: Sugahara Souta
Hompage: http://gdgdfairy.com/

(December 31, 2012 @19:00)
[youtube]vnG4PhUxyK4[/youtube]
The TV specials Tantei Opera Milky Holmes: Alternative are created by studio J.C. Staff. They follow the second season of the TV anime series Tantei Opera Milky Holmes, and mirror a similar TV special that aired in summer 2011, after the anime's first TV season. The first special is set in an alternate storyline in which the girl detectives do not lose the "Toys" that grant them special powers. They visit Opera Kobayashi in London, but as soon as they arrive, they are asked to solve a case of five paintings.

(January 01, 2013)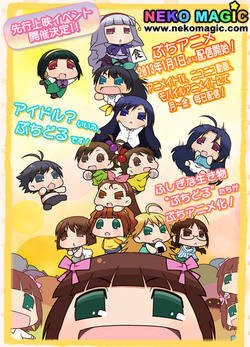 [youtube]E7yDlLcQHyo[/youtube]
The chibi web anime Puchimas! Petit Idolm@ster is based on Akane's four-panel manga about the overly hyper daily life of the 765Pro idols of The Idolmaster and mysterious creatures named "Puchidoru" who somewhat resemble the idols.

(January 02, 2013 @25:30)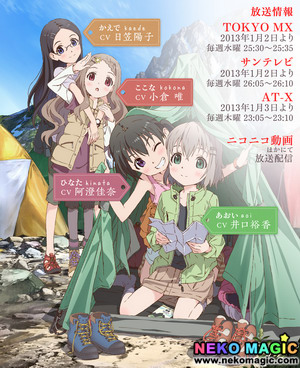 [youtube]FAg4PT6DJF8[/youtube]
The TV anime series Yama no Susume is created by studio 8bit, based on Shiro's slice-of-life manga about two mountain climbing girls named Aoi and Hinata, who are also childhood friends. Hinata loves mountains, but Aoi prefers staying inside and has acrophobia (fear of heights). Nevertheless, the two decide to climb a mountain together, in order to see the sunrise from its peak – as they did when they were younger.

(January 02, 2013 @25:35)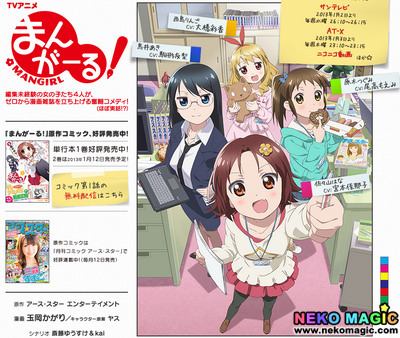 The TV anime series Mangirl! is created by studio Dogakobo, based on Kagari Tamaoka's slice-of-life four-panel manga originally titled Soukan! Comic Earth Star Henshuu-bu (Launch! Comic Earth Star Editors). The story follows the daily life of naive Editor-in-Chief Hana and "Japan's cutest manga editors" as they attempt to realize their dream of launching the #1 manga magazine – even though they have zero experience in actually editing manga.

(January 03, 2013 @23:00)
[youtube]UxI0E8ZsA4M[/youtube]
The TV anime series Ai Mai Mi is created by studio Seven, based on Choboraunyopomi's 4-panel comedy manga also known as I My Me. The manga follows girls in a manga club – Ai, Mai, Mii, and Ponoka-sempai – who might be fighting evil invaders threatening Earth, facing off against rivals in tournaments, and dealing with other absurd situations when they are not drawing manga.
Release Date: January 03, 2013 @23:00
Studio: Seven

<< TV I | TV II | TV III | TV IV | OVA I | OVA II | Movie >>