Here is the 2009 Spring Anime list for OVA & TV special!
2009 Spring anime Part 4: OVA & TV special
Hayate no Gotoku 2 OVA
Tsubasa Shunraiki OVA
Higurashi no Naku Koro ni Rei OVA
Ichigo Mashimaro: encore OVA
Kiniro no Corda -second passo- TV Special
Lupin III vs Detective Conan TV Special
Koihime Musou OVA
To LoveRu OVA
Goto: Part 1, Part2, Part 3, Part 4, Part 5
Hayate no Gotoku 2 OVA (March 06)
http://hayatenogotoku.com/ova.html
Abandoned by his parents and given a monumentally large debt as a Christmas present, 16-year old Ayasaki Hayate is at the lowest point of his life. Desperately trying alter his hapless fate, he decides to kidnap someone to hold for a ransom. Due to an ill choice of words, the girl he tries to kidnap misunderstands the action as a confession of love. His plan is totally crushed when he gives his real name out. Realizing his wrongdoing, Hayate proceeds to rescue the girl from the yakuza, who had instead kidnapped her. The girl, as a token of thanks, offers Hayate a job as her butler. Hayate, overwhelmed by her kindness, vows to protect her even at the cost of his life. 16-year-old Hayate is really down on his luck. His unemployed parents are good-for-nothings who waste the money they have on gambling. One day, his parents have racked up a huge gambling debt that they had to sell Hayate to the yakuza for the value of his organs. In a desperate attempt to avoid that fate, Hayate decides to become a "bad guy" and kidnap someone to be held for ransom, but his efforts to do so are mistaken as a confession of love by the girl he targets.
Tsubasa Shunraiki OVA (Vol.1 March 17, Vol.2 April 17)
http://kc.kodansha.co.jp/tsubaholi/
Higurashi no Naku Koro ni Rei OVA (Vol.2 March 25, Vol.3 May)
http://www.oyashirosama.com/web/rei/
After all the bloody slaughters in the first two seasons, its time for the "club" to use all their powers for some funny purposes, altought the purposes are funny the means aren't normal at all. Using their detective experience, their goddess companion, investigator experience, and all their skills just like in the first seasons. All characters appear in this OVAs, using their speciallities.
Ichigo Mashimaro: encore OVA (Vol.2 March 25)
http://www.geneon-ent.co.jp/rondorobe/anime/ichigomashimaro/
Ichigo Mashimaro follows the life of Nobue Itoh, her younger sister Chika, and her friends. The basic premise of the show can be summed up in "cute girls do cute things in cute ways", be it trying to quit smoking, going outside to play, celebrating a holiday, or doing school work.
Kiniro no Corda -second passo- TV Special (March 26)
http://www.corda-primopasso.com/
Hino Kahoko continues to improve her skills at the Seiso Academy participating in music competitions with the help of Lili, the music fairy, the students from the music department, and a new blond charming character.
Lupin III vs Detective Conan TV Special (March 27)
http://www.ntv.co.jp/lupin-conan/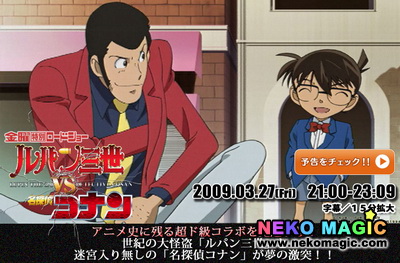 This year's ninth issue of Shogakukan's Weekly Shonen Sunday magazine will announce on Wednesday that a "Lupin III vs. Conan" television special will bring together the most famous manga thief and one of the most popular manga detectives. An original story revolving around a treasure will unite the two heroes from Monkey Punch and Gosho Aoyama's manga stories for a "legendary match.
Koihime Musou OVA (April 1)
http://www.mmv.co.jp/special/koihime/
After losing a family to bandits during a night raid, Kanu swears she will not let others share the pain she experienced that night. She quickly becomes a well-known and feared by villains bandit hunter. During her journey she comes across others, who wish to join her in her cause. One of them is a girl named Rin Rin, who had similar experience with bandits in the past.
To LoveRu OVA (April 3)
http://www.j-toloveru.com/
The story is about Yuuki Rito, a high-school boy who cannot confess to the girl of his dreams, Sairenji Haruna. One day when coming home and sulking in the bath-tub a mysterious, nude girl, appears out of nowhere. Her name is Lala and she comes from the planet Deviluke, where she is the heir to the throne. Her father wants her to return to her home planet so she can marry one of the husband candidates, but she decides that she wants to marry Rito in order to stay on Earth.
via meidocafe, animenewsnetwork