Here is the 2009 Spring Anime list! Part 4 will be coming later.
2009 Spring anime Part 2:
Hatsukoi Gentei
Eden of the East
Ristorante Paradiso
Sugar Bunnies Fleur
Saki
Shinkyoku Soukai Polyphonica Crimson S
Basquash!
Sengoku BASARA
Pandora Hearts
K-ON!
Queen's Blade Rurou no Senshi
Tayutama -Kiss on my Deity-
Goto: Part 1, Part2, Part 3, Part 4, Part 5

Hatsukoi Gentei (April 11)
http://www.j-hatsukoi.com/
The story begins when middle-schooler Arihara Ayumi receives a love letter from a very large and intimidating hight-schooler, Zaitsu Misao, asking her out. It also follows the stories and everyday lives of the other high and junior high school girls in her life.

Eden of the East (April)
http://juiz.jp/blog/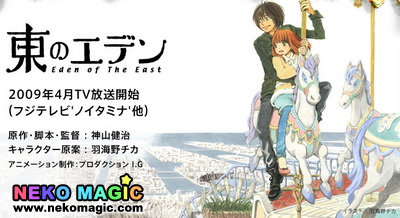 3 months after the failed terrorist attack "Careless Monday", Saki Morimi, a young woman in the USA on her graduation trip, runs into trouble outside of the White House. She is saved by Akira Takizawa, a mysterious naked man without his memory, owning only a gun and a mobile phone stored with 8,200 million yen.

Ristorante Paradiso (April)
http://www.rispara.tv/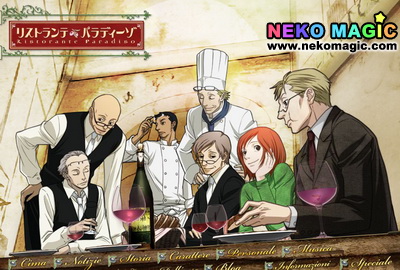 A restaurant in Rome is visited by Nicoletta, who lives in the countryside with her grandparents. Her divorced mother abandons her after remarrying, and so Nicoletta goes to the restaurant owend by the new husband of her mother, and ends up apprenticing there among a kitchen staff of colorful characters.

Sugar Bunnies Fleur (April)
http://www.sanrio.co.jp/anime/sugarbunnies/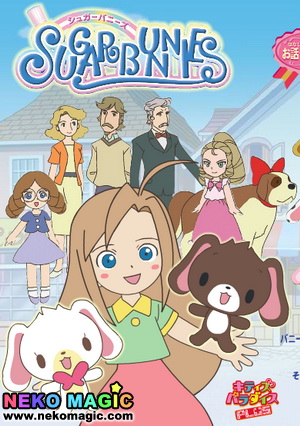 Based on Sanrio's "Sugar Bunnies" mascot characters.

Saki (April)
http://www.saki-anime.com/
The story centers around Saki Miyanaga, a timid freshman girl who has never enjoyed the Asian tile game of mahjong. However, another freshman brings her into their high school's mahjong club and into the competitive world of mahjong tournaments.

Shinkyoku Soukai Polyphonica Crimson S (April)
http://www.polyphonica.tv/
"Dantists" play music and communicate with Spirits who live alongside humans. Tatara Phoron is a Dantist in contact with a spirit, Corticarte Apa Lagranges. The new series focuses on Corticarte and ties into the Polyphonica crimsonS light novel adaptation set during the Academy years of the storyline.

Basquash! (April)
http://basquash.com/
On the planet Earthdash, its inhabitants gaze on its moon and the technologically advanced lunar city of Mooneyes with awe. Dan JD, a boy living in Rollingtown on Earthdash's surface, gets caught up in Bigfoot Basketball – a fast-paced sport played with giant Bigfoot robots.

Sengoku BASARA (April)
http://www.sengokubasara.tv/index2.html
An adaptation of CAPCOM's action-adventure game franchise, described by some as a "Japanese Dynasty Warriors".

Pandora Hearts (April)
http://www.tbs.co.jp/anime/ph/
Oz Bezarius, heir to one of the duke houses, has turned fifteen. At his coming-of-age ceremony, however, he is cast into the prison "Abyss", only to be saved by a "chain", Alice, abloodstained black rabbit. He seeks to explain what happened and what the organization known as Pandora wants with him.

K-ON! (April)
http://www.tbs.co.jp/anime/k-on/
An adaptation of the 4-koma manga.
The story follows four girls who try to rescue their high school's light music club, but they are all novices who cannot even play instruments or read mucic.

Queen's Blade Rurou no Senshi (April)
http://queensblade.tv/
The story follows a competition to decide the next Queen. The strongest warrior will rule the country and expand it. The contestants need to be older than 12. They need not be human, intelligent or even of that country. The rules for the tournament: murder is allowed. Any weapon can be chosen.

Tayutama -Kiss on my Deity- (April)
http://www.tayutama.com/
[youtube]1YR22W4Yi6A[/youtube]
There is legend of a guardian deity named Tayutayu who has been lost over time. Mito and his friends discover a mysteriously patterned relic on the school grounds and at the new year oepning ceremony, a mysterious girl, Mashiro, appears before Mito. Mashiro is somehow tied to the relic and Tayutayu legend.


via Danizen's Blog & Fansubwiki