Here is the 2009 Spring Anime list! Part 4 will be coming later.
2009 Spring anime Part 1:
Marie & Gali
Mainichi Kaa-san
Phantom Requiem for the Phantom
Gokujou Mecha Mote linchou
Metal Fight Beyblade
Dragonball Kai
Jewel Pets
Fullmetal Alchemist
Konnichi wa Anne
Hanasakeru Seishounen
Guin Saga
Natsu no Arashi
Tears to Tiara
Goto: Part 1, Part2, Part 3, Part 4, Part 5

Marie & Gali (March 31)
http://www.toei-anim.co.jp/tv/marie_gali/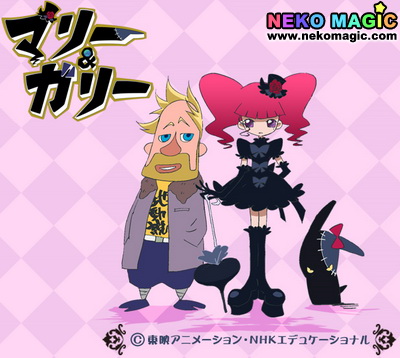 Marika, a middle school Gothic Lolita, and Galileo a middle-aged scientist introduce scientific concepts to junior high and high school students with music and dancing. Grocery store employee Newton and electrical appliance store worker Fleming also make appearances.

Mainichi Kaa-san (April 01)
http://www.kaasan.jp/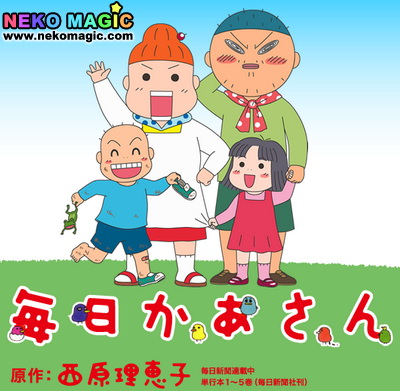 "Everyday Mom" is a gag manga by Rieko Saibara. Mainichi Kasan describes the humorous everyday experiences of Saibara's own life with her family and two children.

Phantom Requiem for the Phantom (April 02)
http://www.phantom-r.jp/
In the American underworld, Mafia leaders are being killed one after another, with rumours of "Inferno" and the organisation's top assassin "Phantom" circulating around them. A boy, traveling alone in America becomes involved in one of these incidents and unexpectedly encounters Phantom.

Gokujou Mecha Mote linchou (April 04)
About an outstanding freshman and a kind and well-known chairman. Everything is easy for her, except for the three rebellious boys who disturb the whole class, and she must handle their trouble. Eventually she goes from trying to keep them in line to seeing the good in them.

Metal Fight Beyblade (April 05)
http://www.takaratomy.co.jp/products/beyblade/
Revival of the Takara-Tomy franchise that has been inactive for four years.

Dragonball Kai (April 05)
http://www.toei-anim.co.jp/tv/dragon_kai/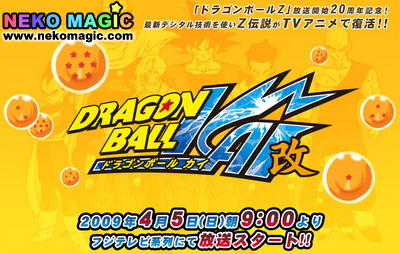 To mark the 20th anniversary of the original run, the series will be rebroadcasted and remastered using the latest HD digital technology, with new versions of the opening and ending themes, re-recorded sound, re-edited animation and less episodes. Son Goku's Masako Nozawa will lead the cast of a new voice recording.

Jewel Pets (April 05)
http://www.sanrio.co.jp/characters/jewelpet/

Fullmetal Alchemist (April 05)
http://www.hagaren.jp/
Likely to be a faithful manga adaptation, this will be a remake of the first series.
Edward and Alphonse Elric try to revive their mother using Alchemy, and fail horrifyingly. Years later, Edward becomes a "State Alchemist" and with Alphonse, the two brothers set out to find a way to restore the damage done by their crime.

Konnichi wa Anne (April 05)
http://www.nippon-animation.co.jp/before_GG/
Prequel to Anne of the Green Gables, which was adapted into an anime by the same studio.
"Before Green Gables" describes the early life of the Canadian orphan girl Anne, before she meets her adoptive family Matthew and Marilla.

Hanasakeru Seishounen (April 05)
http://www3.nhk.or.jp/anime/hana/
The story surrounds a political mystery involving a small middle-eastern county. A powerful industrialist directs his daughter to pick a husband from three chosen candidates. They enter her life, impressing her with their uniqueness, and they all leave an outstanding impression on her.

Guin Saga (April 05)
http://www.guinsaga.net/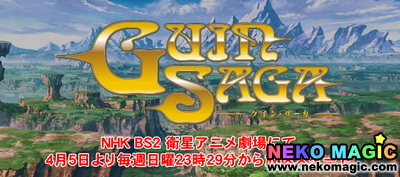 "The seal will be broken after many years". In the land of Nospherus, four heroes embark on a path of destiny that will weave a new legend. The story follows Guin, a powerful swordsman with a leopard head, the adolescent royal twins Remus and Runda, and the young and ambitious mercenary named Isivan.

Natsu no Arashi (April 05)
http://www.starchild.co.jp/special/natsunoarashi/
From the creator of School Rumble
It centers on a boy named Hajime Yasaka who meets an older high school girl named Sayoko "Arashi" Arashiyama in an old town coffee shop. "Arashi" happens to have a secret that Hajime learns one fateful summer vacation.

Tears to Tiara (April 05)
http://tearstotiara.jp/
Riannon is set to be sacrificed to appease resurrected demon lord, Arawn. As her brother Arthur attempts to rescue her, Arawn defies those who resurrected him and frees Riannon from her captors, leading to her admiration for him Arawn acts as a leader and assembles a party of companions.

via Danizen's Blog & Fansubwiki