2012 Fall anime Part 6: OVA II
Minami-ke (OAD)
Kami nomi zo Shiru Sekai (OAD)
Ippatsu Hicchuu!! Devander (OVA)
Usogui (OAD)
Kore wa Zombie Desu ka? (OAD)
Tales of Symphonia: Sekai Tougou Hen (OVA)
Idolmaster: Shiny Festa (OVA)
Upotte!! (OAD)
Sankarea (OAD)
Fairy Tail (OAD)
Tasogare Otome x Amnesia (BD)

<< TV I | TV II | TV III | TV IV | OVA I | OVA II | Movie I | Movie II >>

(October 05)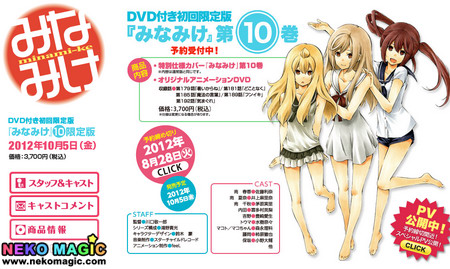 [youtube]_PYYZvJssKY[/youtube]
The 2012 OVA adaptation of Minami-ke continues this slice-of-life comedy anime franchise about three sisters – Haruka, Kana, and Chiaki – based on a manga series by Coharu Sakuraba. The OVA is bundled on DVD with the manga's 10th volume.

(October 18)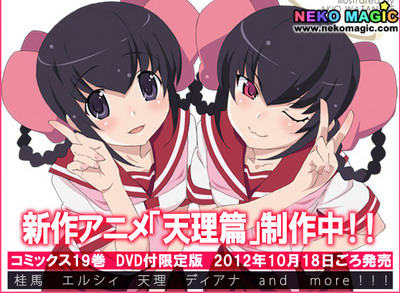 [youtube]5Bbhion649I[/youtube]
The single-episode OVA Kami Nomi zo Shiru Sekai: Yonnin to Idol (The World God Only Knows: Four People and an Idol) is bundled with the 19th volume of Tamiki Wakaki's manga series, on which this OVA adaptation is likewise based. Studio Manglobe adapted the original story about a high school boy who is known as the "Capturing God", for his success at romance simulation games. However, thanks to a contract with a devil, he now has to capture the hearts of real girls to catch the runaway spirits hidden in those hearts.

(October 19)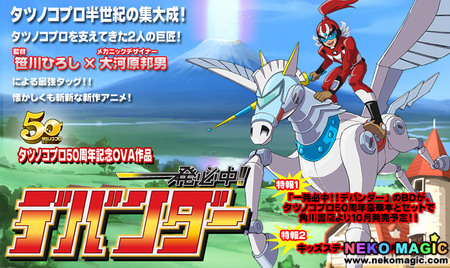 [youtube]oYlp6wcAhSA[/youtube]
Ippatsu Hicchuu! Devander is Tatsunoko Production's 50th anniversary project, created as a "gag mecha battle" OVA directed by Hiroshi Sasagawa (Yatterman, Speed Racer, Gatchaman II), released on the same day that Tatsunoko was founded 50 years earlier. The story revolves around a spirited, carefree boy named Kazuma Harukaze, who lives with his little sister Sakura and his horse Lovely on a farm within sight of Mt. Fuji. One day, a "meteor" lands nearby, and it turns out to be Hinkeeru – a messenger from Muzanda who has come to warn Earth of a grave danger – and a robot horse named Robony.

(October 19)
[youtube]xZ7l-SMsFEE[/youtube]
The OVA adaptation Usogui is based on Toshio Sako's mystery gambling manga also known as The Lie Eater, whose limited edition 26th volume bundles the OVA. The anime covers the "Abandoned Mine Terrorist" story arc. There are gamblers out there who even bet their lives as ante. But to secure the integrity of these life-threatening gambles, a violent and powerful organization by the name of "Kagerou" referees these games as a neutral party. Follow Bak Madarame a.k.a. Usogui (The Lie Eater) as he gambles against maniacal opponents at games – such as Escape the Abandoned Building, Old Maid, and Hangman – to ultimately "out-gamble" and control the neutral organization of Kagerou itself.

(October 20)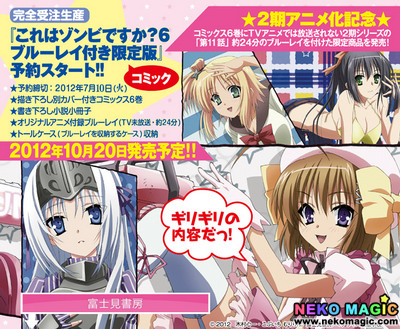 [youtube]2qJwlRa3h5c[/youtube]
The second OVA adaptation of Kore wa Zombie Desu ka? follows the TV anime series' second season from 2012 (Kore wa Zombie Desu ka? of the Dead), as is intended as its "unaired episode 11". The OVA is bundled on Blu-ray with the limited edition 6th volume of Sacchi's manga. Both the manga and the various anime adaptations are based on the comedy / ecchi / harem light novel series authored by Shinichi Kimura, and illustrated by Kobuichi / Muririn. The original story revolves around a lazy high school boy named Ayumu Aikawa who loses his life to a serial killer and is later resurected as a zombie by a necromancer girl named Yuu (Eucliwood Hellscythe). Ayumu then finds himself in a world of mahou shoujo where he is ordered by a magical girl warrior named Haruna to fight against the anti-mahou shoujo system "Megalo".
Release Date: October 20
Studio: Studio Deen
Note: Unaired ep.11; bundled w/ LE manga vol.6

(October 24)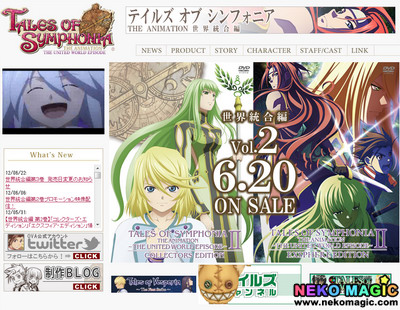 [youtube]fE7kPMYXSFo[/youtube]
Tales of Symphonia: The United World Episode is the third – and final – OVA adaptated by studio ufotable, based on Namco's fantasy RPG Tales of Symphonia and covering the story's ending chapter.

(October 25)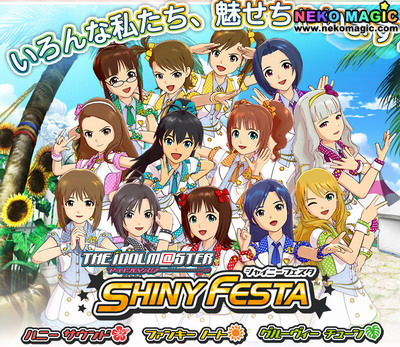 [youtube]Ye9YKRKW0Nk[/youtube]
The 3-episode OVA Idolm@ster Shiny Festa is created by studio A-1 Pictures, and is bundled with the three "idol rhythm action" games of the same title, published by Namco Bandai for the PSP. The games are set during a music festival at a southern resort, where the characters perform live concerts as idols and even as a band (complete with instruments).
Release Date: October 25
Studio: A-1 Pictures
Note: 3 episodes bundled w/ PSP games

(October 26)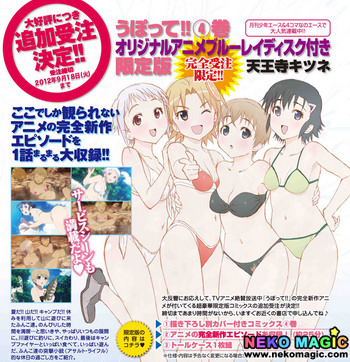 [youtube]DL9Aypey9QY[/youtube]
The OVA adaptation Upotte!! is based on a 4-panel military school comedy manga by Kitsune Tennouji, whose 4th volume is bundling this OVA episode on Blu-ray. In the original story, a newly hired teacher discovers that the female students at his new school all have excellent marksmanship skills – and happen to be anthropomorphized assault rifles.
Release Date: October 26
Studio: Xebec
Note: Bundled w/ LE manga vol.4

(November 08)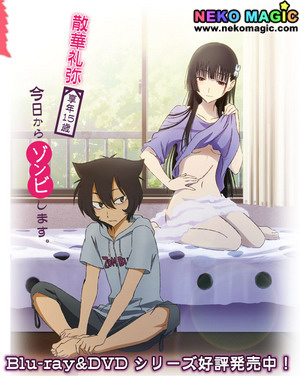 [youtube]wtKOY8Ygjf4[/youtube]
The OVA adaptation Sankarea follows the 2012 TV anime series created by Studio Deen, based on Mitsuru Hattori's "zombie moe adolescent romantic comedy" manga of the same title, which bundles the OVA on DVD with its 6th and 7th volumes. The first OVA episode depicts another encounter that the lead characters Rea and Chihiro had before the main story. The two happened to visit the same public bath one day…

(November 16)
[youtube]HHauLs6rnNg[/youtube]
The four-episode OVA Fairy Tail is co-created by A-1 Pictures and Satelight, based on Hiro Mashima's fantasy adventure manga – namely its side story "Youkoso Fairy Hills!!" (Welcome to Fairy Hills!). The episodes were bundled on DVD with the manga's 26th, 27th, 31st and 35th volume, respectively. In the story, the Fairy Tail mage guild member Lucy comes across a mysterious written request. The client is looking for an object that is in Fairy Tail's female dormitory, Fairy Hills. To verify the request, Lucy visits Fairy Hills, and discovers that the client is Hilda, the dormitory head who is looking for a shining treasure. Meanwhile, Natsu and the other guild members are cleaning their pool.

(November 28)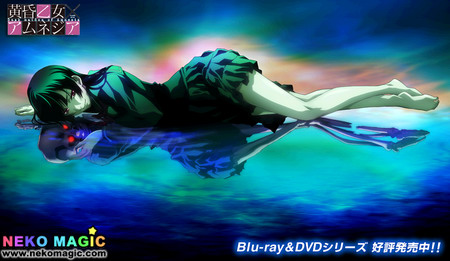 [youtube]xTnQ_ApJKUw[/youtube]
The TV anime series Dusk Maiden of Amnesia is created by studio Silver Link, based on Maybe's ghostly school manga released in Japan as Tasogare Otome x Amnesia. The story is set at a private academy that has a history of hauntings by spirits, including a ghost girl named Yuuko. For some mysterious reason, first-year middle school student Teiichi Niiya is the only person who can see Yuuko. She has no memory of her death, much less who or what caused it. Yuuko and Teiichi create an investigation club to find the truth about her death and the other mysteries of the school.

<< TV I | TV II | TV III | TV IV | OVA I | OVA II | Movie I | Movie II >>