2012 Fall anime Part 5: OVA I
Accel World (OVA)
Highschool DxD (OAD)
Sakura Taisen Kanadegumi (OAD)
Eureka Seven: AO (OVA)
One Piece Episode of Nami: Koukaishi no Namida to Nakama no Kizuna (SP)
Otome wa Boku ni Koishiteru: Futari no Elder (OVA)
Nogizaka Haruka no Himitsu: Finale (OVA)
Boku wa Tomodachi ga Sukunai: Add-on Disc (OVA)
Hagure Yuusha no Estetica Special (BD)
Inu x Boku SS Special (BD)
Amagami SS+ plus: Onsen Special (BD)

<< TV I | TV II | TV III | TV IV | OVA I | OVA II | Movie I | Movie II >>

(September 13)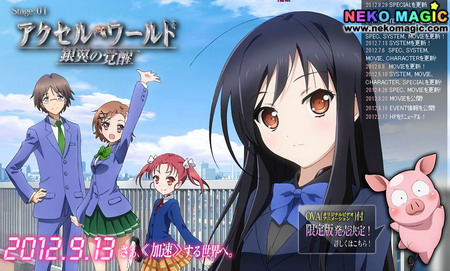 [youtube]LgKpwyTKstQ[/youtube]
The Accel World OVA is bundled with the limited edition of Accel World Stage:01 Ginyoku no Kakusei – the first of two "accelerated world simulation" games released by Namco Bandai for the PS3 and PSP, based on a light novel series by Reki Kawahara, which also spawned a 2012 TV anime series (among other media). The game's PS3 version bundles the Accel World OVA on Blu-ray, while the PSP version has it on DVD only.

(September 20)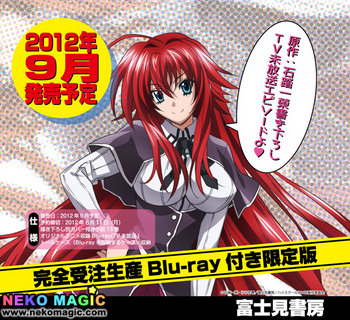 [youtube]5Y4nLzklpXM[/youtube]
The OVA adaptation High School DxD follows the 2012 TV anime series created by studio TNK, based on a light novel series authored by Ichiei Ishibumi and illustrated by Miyama-Zero – whose 13th volume is bundling the OVA on Blu-ray. The original story follows Issei Hyoudou, a dim-witted, lecherous second-year high school student who is killed by a girl on his first date ever. Issei is reincarnated as a devil, and from that day forward, he serves as an underling of Riasu, a high-level devil who is also the prettiest girl on Issei's campus.
Release Date: September 20
Studio: TNK
Note: Bundled w/ LE manga vol.13

(September 20)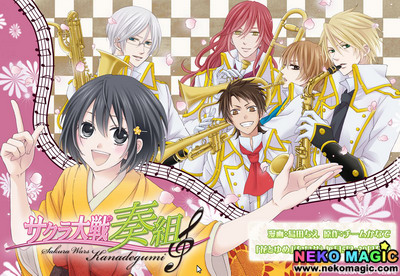 Sakura Taisen: Kanadegumi follows a girl named Neko Miyabi and her interactions with five attractive young men. The story takes place in Tokyo and centers on an imperial opera company named Kanadegumi.

(September 20)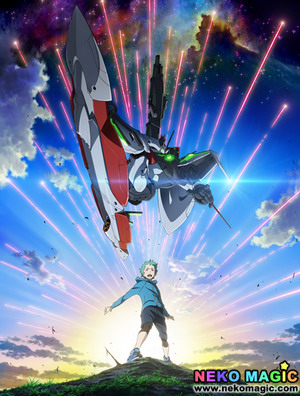 [youtube]1IYpivWPcPU[/youtube]
The OVA adaptation of Eureka Seven AO follows the 2012 TV anime series and is released as a hybrid Blu-ray disc together with a PS3 game adaptation. The anime is once again created by studio Bones, following their original sci-fi mecha anime series Eureka Seven from 2005, and the 2009 anime film Eureka Seven: Pocket Full of Rainbows. The new story is set in 2025, on Okinawa's isolated island of Iwado, which has seen a growing movement advocating a return to an autonomous government. Ao Fukai, a 13-year-old boy with a missing father, lives on the island with an old doctor named Toshio and is about to enter middle school. Ao's mother was taken away 10 years ago by unknown individuals. Naru Arata, Ao's 13-year-old childhood friend and the story's heroine, lives with her father, older sister, and grandmother. She has a "Yuta" power awakened within her due to an incident when she was young. A mysterious entity called "Secret" suddenly appears and launches an attack on the Scub Coral lifeform on the island. In his fervent desire to protect the island, Ao launches a certain military FP called "Nirvash" aboard a Japanese military transport.

(September 25 @21:00)
[youtube]al0s1JLxn98[/youtube]
The two-hour TV anime special One Piece: Episode of Nami recreates the story arc about the home village of the pirate crew's navigator Nami, with new animation. Nami steals the Merry Go (Going Merry) pirate ship from Monkey D. Luffy and the rest of her shipmates and seemingly abandons them. Luffy and the others give chase and eventually track Nami to Cocoyasi Village (Coco Village).

(September 26; October 24)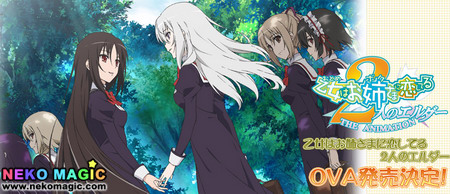 [youtube]V1Ai9I0Sbk8[/youtube]
The second season of the TV anime series Otome wa Boku ni Koishiteru is an OVA created by Silver Link (unlike the first anime, made by studio Feel), based on the 2010 eroge sequel subtitled "Futari no Elder", once again developed by Caramel-Box. The story is set in the same Seio Girl's School as the first game and its spinoffs. A beautiful, silver-haired student named Chihaya Kisakinomiya is transfering into the all-female student body at Seio. The catch is that Chihaya is a boy.

(September 26; October 31; November 28)
[youtube]UkQxVx_Stso[/youtube]
The third anime adaptation of Nogizaka Haruka no Himitsu is once again based on Yusaku Igarashi's school / comedy / romance light novel series, about a respected high school girl who is actually an obsessive anime otaku – something known only by her dear friend Yuuto. This new anime adapts the story leading up to the final arc of the series.

(September 26)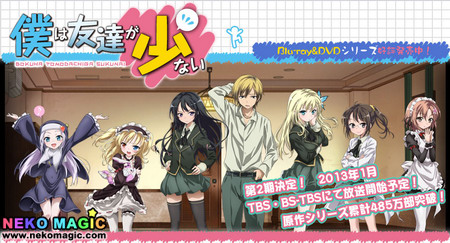 [youtube]fD2VU7vsFnE[/youtube]
Boku wa Tomodachi ga Sukunai Add-on Disc serves as the unaired episode 13 for the 2011 TV anime series Boku wa Tomodachi ga Sukunai – created by studio AIC Build (Oreimo), based on a romantic school comedy light novel series written by Yomi Hirasaka and illustrated by Buriki. The original story revolves around Kodaka Hasegawa, a half-Japanese / half-British transfer student whose delinquent-like blonde hair scares people, and a seemingly perpetually sullen girl named Yozora Mikazuki. The two decide to form Rinjinbu, a club for people with hardly any friends.

(September 26)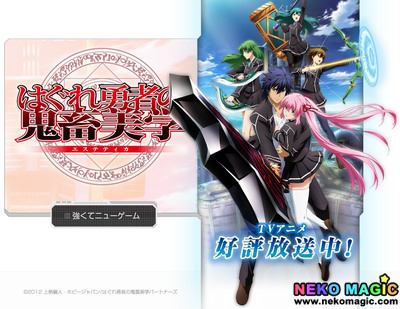 [youtube]h-fkq-h3bjw[/youtube]
The OVA adaptation of Hagure Yuusha no Estetica is created by studio ARMS, based on a supernatural light novel series by Tetsuto Uesu – like the TV anime series that follows the OVA's release. The original story follows an international training organization named Babel which protects the young people returning from another world. A wayward hero named Akatsuki has come back to the real world from a world of sword and magic called Areizaado, along with Myuu – a beautiful girl who is the daughter of the demon king Areizaado.
Release Date: September 26
Studio: Arms
Note: Anime short bundled w/ BD vol.1
Homepage: http://kichiku.tv/

(September 26)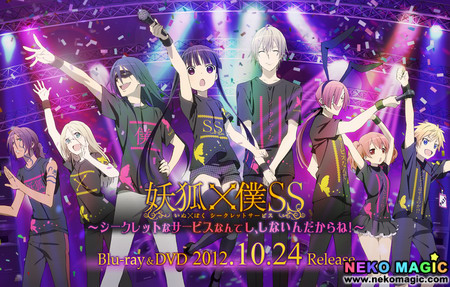 [youtube]IEOIyoNcn30[/youtube]
The TV anime series Inu x Boku SS is created by David Production, based on Cocoa Fujiwara's supernatural shounen manga that began serialization in May 2009. Torn between the desire to live on her own and a crippling fear of being alone and unprotected, Shirakiin Ririchiyo's dream of independence had long seemed impossible and she seemed doomed to the life of a secluded shut-in. Until, that is, she arrived at the mysterious mansion known as Ayakashi Kan, where every potential resident must pass a strict series of tests before being allowed into the Haven. The drawback to this private Eden, however, is that every resident must also have a personal Secret Service agent accompanying them at all times, a restriction that Ririchiyo initially fights… until she begins to suspect that the agent assigned to her, Soushi Miketsukami, may be far more than he appears to be. Could the "guardian angel" looking over Ririchiyo's shoulder be more than just foxy looking and actually a fox spirit? As it turns out, that's not the only mystery that needs to be solved!
Release Date: September 26
Studio: David Production
Note: Unaired episode; bundled w/ BD vol.7
Homepage: http://www.inuboku.tv/

(October 03)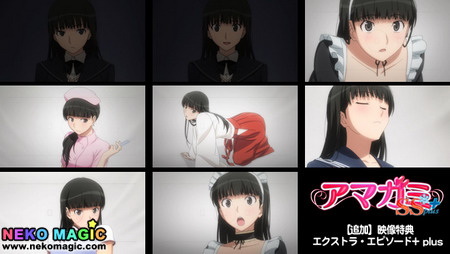 [youtube]YbghZA5Mdkg[/youtube]
The TV anime series Amagami SS Plus is the second season adapted by studio AIC, based on Enterbrain!'s romance simulation game. The original game was released for the PS2 in March 2009, and centered around a second-year high school boy who finds himself uneasy during Christmas time due to an experience in the past. However, this year at Christmas, he gets his last chance to ask out a graduating female senior named Haruka Morishima – or one of several other classmates.
Release Date: October 03
Studio: AIC
Note: Unaired episode; bundled w/ BD vol.7

<< TV I | TV II | TV III | TV IV | OVA I | OVA II | Movie I | Movie II >>