2012 Fall anime Part 4: TV anime IV

<< TV I | TV II | TV III | TV IV | OVA I | OVA II | Movie I | Movie II >>

(October 2012)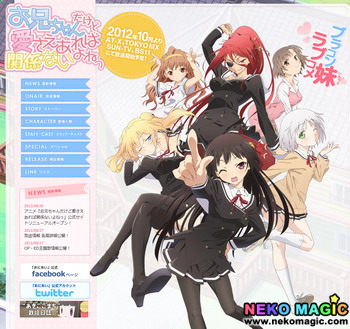 [youtube]Wb9b7-CH9SM[/youtube]
The TV anime series Onii-chan Dakedo Ai Sae Areba Kankei Nai yo ne (OniAi) is created by studio Silver Link, based on a romantic comedy light novel series by Daisuke Suzuki. The story centers around Akito Himenokouji, a boy who was separated from his twin sister Akiko, but they end up living under the same roof together during high school.

(October 2012)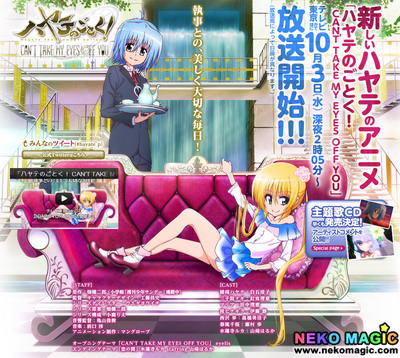 [youtube]by_fZTYz-ec[/youtube]
The TV anime series Hayate no Gotoku! Can't Take My Eyes Off You is created by studio Manglobe, with a new story created by Kenjirou Hata, whose original manga inspired several other anime adaptations since 2007.

(October 2012)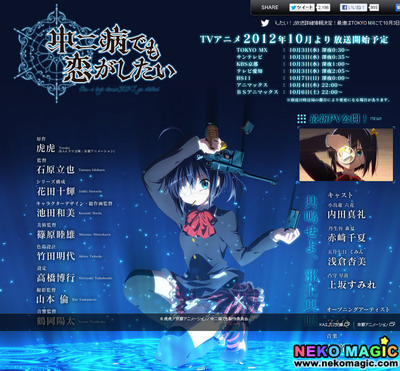 [youtube]ud0fDdXHnYc[/youtube]
The TV anime series Chuunibyou Demo Koi ga Shitai! is created by studio Kyoto Animation, based on a school romance comedy novel written by Torako and illustrated by Nozomi Ousaka. In the novel, Yuuta Togashi, a boy who used to suffer from "chuu-2 byou" ("middle-school second-grade disease", as in adolescent delusions) and Rikka Takanashi, who still has the syndrome, made a true contract with each other (that is, they are dating). They are in the middle of enjoying "real life" to the fullest… or should be. However, Satone Shichimiya a.k.a. "Sophia Ring SP Saturn VII", a friend from middle school and the one suffering the most from "chuu-2 byou", appears and turns Togashi's life upside down. And so, a battle between "Saturn" and "Jaou Shingan" (True Eye of the Devil King) begins.

(October 2012)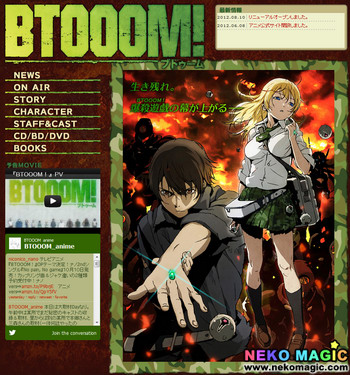 [youtube]iDtW4D7uLTI[/youtube]
The TV anime series Btooom! is created by studio Madhouse, based on a survival action manga by Junya Inoue. The story follows Sakamoto Ryuuta, an unemployed 22-year-old who lives with his mother. In the real world, there may be nothing really special about him, but online, he's one of the world's top players of the combat game "BTOOOM"! One day, he awakes in what appears to be a tropical island, though he has no memory of how or why he has come to be there. While wandering around, Ryuuta sees someone and calls out for help. The stranger responds by throwing a bomb at him! Now Ryuuta realizes both that his life is in danger and that he has somehow been trapped in a real-life version of his favorite game! Will Ryuuta be able to survive long enough to figure out how and why he ended up here?

(October 2012)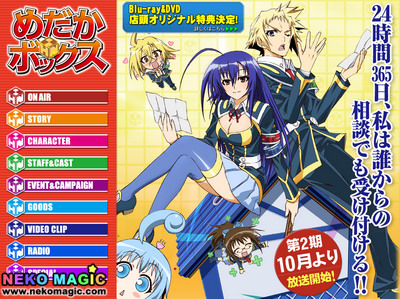 [youtube]rrjJtKg09K8[/youtube]
The second season of Medaka Box continues this TV anime series created by studio Gainax, based on a school fighting comedy manga written by NisiOisin and illustrated by Akira Akatsuki. In the story, Medaka Kurokami, the strongest girl in Hanokiwa Academy, leads the school's student council. The student body can submit pleas for help, 24 hours a day and 365 days a year, into the suggestion box that Medaka installed. Together with council members Zenkichi, Akune, and Kikaijima, Medaka takes on the challenges in the school that range from mundane tasks to supernatural battles.

(November 06 @04:00)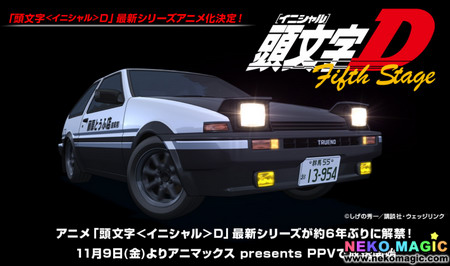 High school student Takumi Fujiwara works as a gas station attendant during the day and a delivery boy for his father's tofu shop during late nights. Little does he know that his precise driving skills and his father's modified Toyota Sprinter AE86 Trueno make him the best amateur road racer on Mt. Akina's highway. Because of this, racing groups from all over the Gunma prefecture issue challenges to Takumi to see if he really has what it takes to be a road legend.
Release Date: November 06 @04:00
Studio: *TBA

(Fall 2012)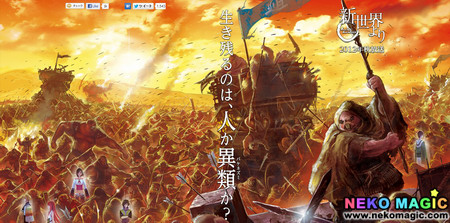 [youtube]GCercp1jDfE[/youtube]
The TV anime series From the New World is created by studio A-1 Pictures, based on Yuusuke Kishi's speculative-fiction novel known in Japan as Shin Sekai Yori. The story is set in Japan a millennium from now. Five children – the protagonist Saki, Satoru, Maria, Mamoru, and Shun – have been born and raised in a tranquil town that can be described as a utopia, overflowing with water and green foilage. The world is ruled by people who have the "cursed power" or the "gods' power" of telekinesis. After a certain incident, Saki and the others come to realize the true nature of their world. Before long, they learn everything, including the bloody history that brought humanity to this state. The five throw themselves into life-threatening adventure and fighting to protect friends and a world on the brink of collapse.

(Fall 2012)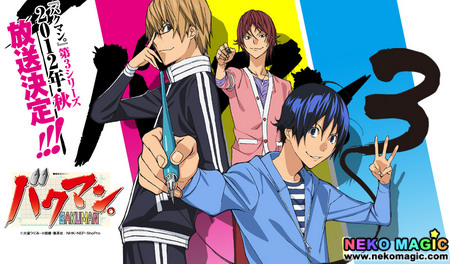 The third season of the TV anime series Bakuman. is once again adapted by studio J.C. Staff, based on a shounen manga by Tsugumi Ohba and Takeshi Obata, about aspiring teenaged manga creators. The focus in the third series will be on the creators' new fictional PCP manga as it rises to the top of the magazine readers' popularity surveys.

(Fall 2012)
[youtube]6lqmuWOzacU[/youtube]
The TV anime Oshiri Kajiri Mushi (Butt-Biting Insect) is a gag comedy series of 5-minute shorts, based on a Japanese children's song released in 2007. The story follows Oshiri Kajiri Mushi XVIII, a 10-year-old insect who goes to Biting School, to inherit his family's Biting Shop business.

(Fall 2012)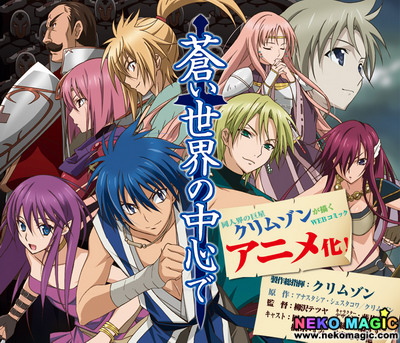 The anime adaptation Aoi Sekai no Chuushin de is based on a fantasy web manga created by Crimson, whose characters are parodies of Nintendo or Sega games (Sonic the Hedgehog, Super Mario Bros., The Legend of Zelda etc.). In the story, Segua Kingdom has been losing the war against Ninterudo Empire, but the tables are turned by the appearance of a boy called Gear – a parody of Sonic the Hedgehog.

<< TV I | TV II | TV III | TV IV | OVA I | OVA II | Movie I | Movie II >>