2012 Fall anime Part 3: TV anime III

<< TV I | TV II | TV III | TV IV | OVA I | OVA II | Movie I | Movie II >>

(October 2012)
The TV anime series Psycho-Pass was announced by Fuji TV at its Noitamina press conference on March 30, 2012, with a teaser trailer showing a futuristing looking gun…

(October 2012)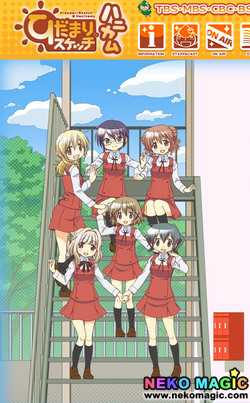 The TV anime series Hidamari Sketch x Honeycomb is the fourth season based on Ume Aoki's popular 4-koma manga.

(October 2012)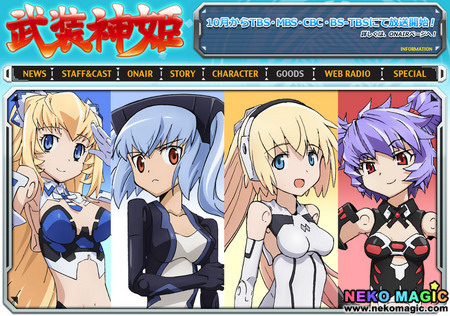 The TV anime series Busou Shinki is created by studio 8bit, based on Konami's line of armed female action figures of the same name, and follows the 2011 web-anime Busou Shinki Moon Angel. The slice-of-life battle story is set in a future world where robots are part of everyday life, and they contribute in various aspects of society. "Shinki" are 15-centimeter-tall (about 6-inch-tall) cute partners made to assist humans. Equipped with intelligence and emotions, they devote themselves to serving their "Masters". These Shinki can even be equipped with weapons and armor to fight each other. Such Shinki are named "Busou Shinki" (literally, "armed divine princesses"). In particular, the Shinki Ann (Arnval), Aines (Altines), and Rane (Altrane) serve a high school freshman named Masato. Things change when a new Shinki, the bellicose Staarf, joins them.

(October 2012)
The TV anime series Chou Soku Henkei Gyrozetter is created by studio A-1 Pictures, based on an arcade card game released by Square Enix in summer 2012, featuring cars that can transform into robots. Participating car makers include Mazda, Mitsubishi, Mitsuoka, Nissan, Subaru, and Toyota.
Release Date: October 2012
Studio: A-1 Pictures

(October 2012)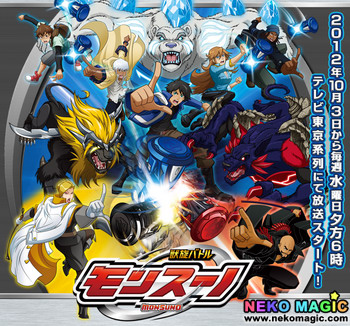 The internationally-focused TV animation series Monsuno tells a boys' action story centered around "re-awakened Monster DNA that finds its way into the unsuspecting hands of adventure-seeking boys".

(October 2012)
The TV anime series Code:Breaker is created by studio Kinema Citrus, based on a "dark hero" manga by Akimine Kamijyou. The story's protagonist Rei seems like an affable transfer student to everyone around him, but quirky high school beauty Sakura sees his true face as a terrifying vigilante – a "nonexistent" Code:Breaker who cannot be touched by the law. And since Sakura has just witnessed the effects of his deadly blue flame, she's slated to be the next to burn!

(October 2012)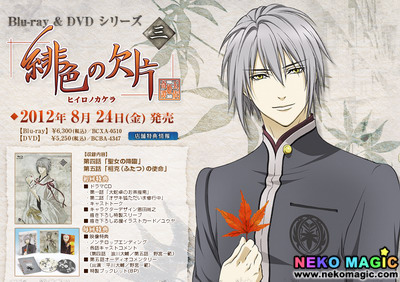 The second season of Hiiro no Kakera continues this 2012 TV anime series created by Studio Deen, based on the bishounen visual novel games series of the same title developed by Idea Factory since 2006. The original game centers around Tamaki Kasuga, a 17-year-old high school girl. When her parents have to go overseas for work, Tamaki moves to her mother's hometown in the mountains with her grandmother. On the day that Tamaki arrives at the village, she encounters strange creatures, only to be saved by a mysterious boy. The boy, Takuma Onizaki, is the first of five Guardians of the Tamayohime that Tamaki meets.

(October 2012)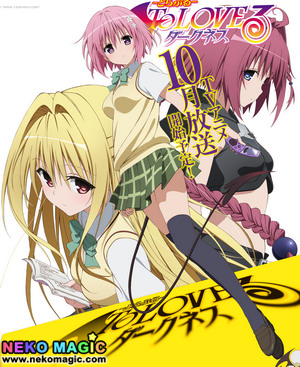 The TV anime series To Love-Ru Darkness is created by studio Xebec, based on the spin-off / sequel manga of the same title, written by Saki Hasemi and illustrated by Kentaro Yabuki. In the new story, all of the main characters from the original To Love-Ru series make an appearance, along with some new additions. Rito continues to be caught in over the top uncensored ecchi scenarios. The alien Deviluke sisters still use their unique abilities to grab Rito's love confession. Nana and Momo have transferred into the school and meet Mea, who seems to be a worry-free and joyful girl. Momo in particular wants to share Rito and create a harem for him. While scheming her plan, she confronts Golden Darkness also known as Yami. They are interrupted by possessed students who begin to fight with abnormal strength. Now the new plot line appears as a mysterious person, who's in control of the students, tests Yami's assassination skills. Who is this new enemy?

(October 2012)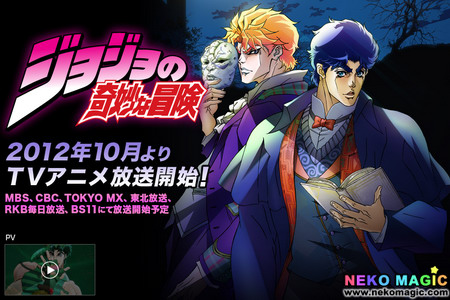 The TV anime series JoJo's Bizarre Adventure is created by studio David Production, based on Hirohiko Araki's manga about the Joestar family and their battles against bizarre enemies. Jonathan Joestar's battle against the vampire Dio Brando starts it all, and it continues into roughly each second generation of Joestars through all parts of the story.
Release Date: October 2012
Studio: *TBA

<< TV I | TV II | TV III | TV IV | OVA I | OVA II | Movie I | Movie II >>