2012 Fall anime Part 2: TV anime II

<< TV I | TV II | TV III | TV IV | OVA I | OVA II | Movie I | Movie II >>

(October 07 @25:05)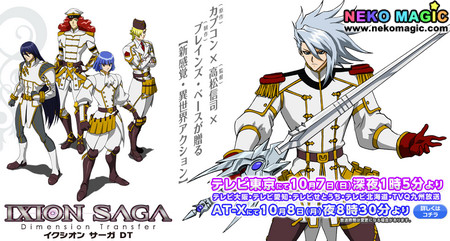 [youtube]WQPHjGbEToM[/youtube]
The TV anime series Ixion Saga DT (Dimension Transfer) is created by studio Brain's Base, based on an online fantasy action PC game published by Capcom. The story follows Kon Hokaze, a boy who embarks on a journey from our world to an alternate world known as Mira, which is full of a mysterious energy known as Alma. After saving Princess Ecarlate from attackers, he soon finds himself in the middle of a struggle around Alma.

(October 07 @22:27)
The TV anime series Teekyuu! is based on Roots and Piyo's gag comedy manga about a girls' tennis team.

(October 07 @23:30)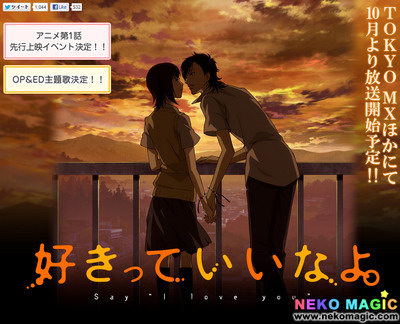 [youtube]U3Xg3EUa3Os[/youtube]
The TV anime series Suki-tte Ii na yo. (Say "I Love You".) is created by studio Zexcs, based on a romantic shoujo manga by Kanae Hazuki. The story of first love centers around Mei Tachibana, a girl who has never made friends or had a boyfriend in 16 years. One day, she accidentally injures Yamato Kurosawa, the school's most popular boy. For some reason, Yamato becomes interested in Mei and starts a one-sided friendship with her. He even protects her from a stalker – by kissing her.
Release Date: October 07 @23:30
Studio: ZEXCS

(October 08 @24:30)
[youtube]3iVhlP_pfHQ[/youtube]
The TV anime series Sakurasou no Pet na Kanojo is created by studio J.C. Staff, based on a romantic school comedy light novel series written by Hajime Kamoshida and illustrated by Keji Mizoguchi. The story revolves around a second-year high school art student named Sorata Kanda who lives in "Sakurasou", the dormitory for problem children at his school – after being kicked out of the normal dorm because he was found to keep a cat in his room. One day, Mashiro Shiina – a cute girl who happens to be a world-famous painter and brilliant artist – moves into Sakurasou. Sorata thinks to himself that he should protect Mashiro from the weirdos at Sakurasou, but Mashiro has a surprising secret: she has no idea how to take care of herself. She gets lost if she goes out, and her room is a complete mess. Sorata's dorm mates designate him as the "master" of Mashiro, and thus, an ordinary boy and a brilliant girl must live like "a master and his pet".

(October 08 @19:30)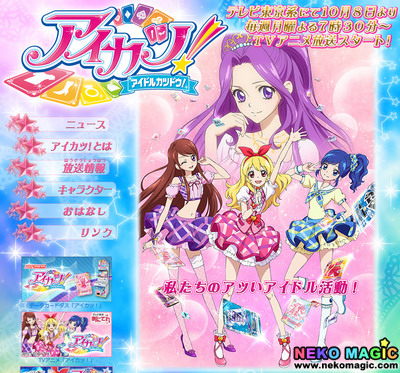 [youtube]EsfrDcCAO6c[/youtube]
The TV anime series Aikatsu! is created by studio Sunrise, in conjunction with an idol-centered collectible card game produced by Bandai – about idols that strive to dress and accessorize properly, in order to pass auditions.

(October 08 @25:00)
[youtube]SIrMJSX6lbw[/youtube]
The TV anime series Girls und Panzer is created by studio Actas, as an original "military teen battle action" work featuring high school girls who drive tanks, as they compete in teams.

(October 13 @23:30)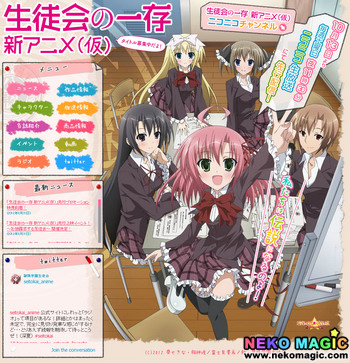 [youtube]UDGh-1RfUo4[/youtube]
The 2nd TV anime series Seitokai no Ichizon is created by studio AIC, unlike the first anime from 2009 adapted by Studio Deen, based on Sekina Aoi and Kira Inugami's light novels also known as Student Council's Discretion. The original comedy revolves around Ken Sugisaki, a boy who becomes part of the student council of his private high school. He is the only boy on the council, where he is surrounded by cute girls.

(October 2012 @17:00)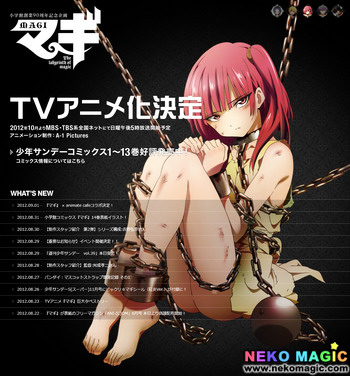 [youtube]FTG4-QshPbQ[/youtube]
The TV anime series Magi is created by studio A-1 Pictures, based on Shinobu Ohtaka's fantasy adventure manga Magi: The Labyrinth of Magic, which re-imagines tales from the classic story "One Thousand and One Nights" (also known as "Arabian Nights"). The story follows Aladdin, a boy who has set out to explore the world after being trapped in a room for most of his life. His best friend is a flute with a djinn in it named Ugo. Soon enough, Aladdin discovers he is a Magi, a magician who chooses kings, and he was born to choose kings who will follow the righteous path, battling against those who want to destroy fate.

(October 2012)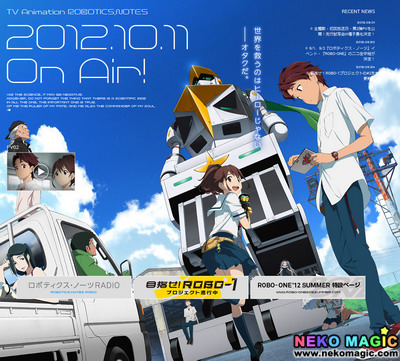 [youtube]Ee01kK7ZkrY[/youtube]
The TV anime series Robotics;Notes is created by studio Production I.G, based on the third entry in the "augmented science adventure" game series developed by 5pb. and Nitroplus (released in 2012), following Chaos;Head (2008) and Steins;Gate (2009) – both of which had also been adapted as anime series. The theme of Robotics;Notes is obviously centered around robots, and in particular the question "What would happen if you really tried to make a giant robot?". The game is set around a school from Tanegashima, an island to the south of Kyuushuu and home to Japan's space administration, JAXA. The main character is a boy who's in the school's robot club. He's a big fighting games fan, and things kick off story-wise when he learns that one of the heroines is a genius programmer who made the engine for a world famous fighting game. This leads the main character to decide to make a robot that uses motion capture and command inputs. For the motion capture, he enlists the help of someone from the karate club.

<< TV I | TV II | TV III | TV IV | OVA I | OVA II | Movie I | Movie II >>