2012 Fall anime Part 1: TV anime I

<< TV I | TV II | TV III | TV IV | OVA I | OVA II | Movie I | Movie II >>

(September 09 @07:00)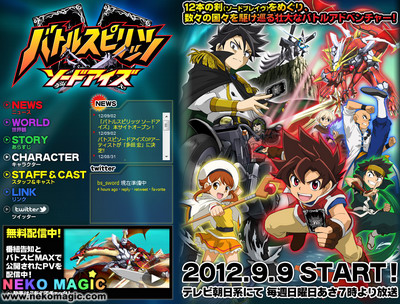 [youtube]4vEKsVGzG9E[/youtube]
Battle Spirits Heroes is the fourth TV anime series created by studio Sunrise, based on Bandai's Battle Spirits card game, and introduces a new lead character.
Release Date: September 09 @07:00
Studio: Sunrise

(October 01 @26:05)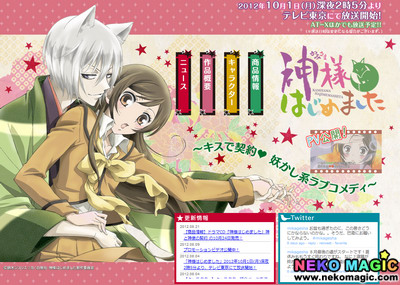 [youtube]34Q058zzmq0[/youtube]
The TV anime series Kamisama Hajimemashita is created by studio TMS Entertainment, based on Julietta Suzuki's shoujo manga about a girl named Nanami, who finds herself homeless after her father leaves. She comes to the home of a boy who offers to let her stay over – only to discover it is a Shinto shrine. Oh, and the boy just so happens to be a deity.

(October 01 @25:35)
[youtube]gsI9wcVpTsk[/youtube]
The anime adaptation Tonari no Kaibutsu-kun is created by studio Brain's Base, based on Robico's romantic comedy shoujo manga also known as The Monster Seated Next to You. The story centers around Shizuku Mizutani, a girl who has absolutely no interests except for school and her plans for the future. A boy named Yoshida would be seated next to her in class, but he has been constantly absent for one reason or another since the first day of school. By chance, she is sent to deliver class printouts to him, and that leads Yoshida to believe they are friends.

(October 01)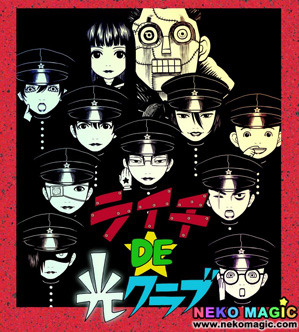 [youtube]jAgems1mszQ[/youtube]
The story starts of with 9 boys, all in the Hikari Club, who are driven to make the ultimate Artificial Ineligence, and will stop at nothing to create it. The leader of the club, Zera, is an attractive boy who is very sick and twisted. He has complete control of the members. The second-in-command and previous leader, Tamiya, is not happy with the way Zera is controlling everyone, so he tries to reclaim the club, and eventually everything begins to crumble and turn into chaos.

(October 02 @25:30)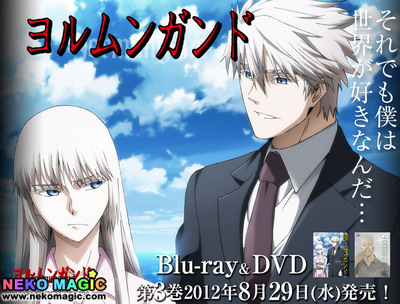 [youtube]0qAVwGZSGeE[/youtube]
The second season of the TV anime Jormungand continues this series created by studio White Fox (Steins;Gate), based on an action manga by Keitarou Takahashi. The story follows an underground arms dealer and her accomplices, and it begins when a quiet boy who hates weapons joins the team.

(October 04 @18:00)
[youtube]tQvD6FlPlu8[/youtube]
Twenty years ago Edo-period Japan suffered a great cultural shock—the aliens called Amanto invaded the earth, overpowered the nation's government, and outlawed the carrying of swords by the once proud samurai. Moreover, the aliens took the people's jobs and are currently running Japan as a sweatshop using the natives as laborers. In this strange new era are Gintoki Sakata, an eccentric samurai whose personal trademarks are his naturally permed silver hair, his love of anything sweet, and his addiction to Shonen Jump; Shinpachi Shimura, the teenaged heir of the Kakido-Ryu style; and Kagura, an incredibly strong alien girl from the powerful Yato clan. The trio are self-employed in an odd jobs shop called Yoruzuya Gin-chan, which offers to do almost anything for a price, from finding lost kittens to saving the world. Unfortunately, the jobs rarely go as planned, or pay enough to cover the pain and suffering the employees encounter—never mind their rent.

(October 04 @26:00)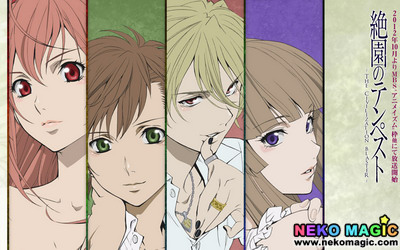 [youtube]GuOTJg9vgM0[/youtube]
The TV anime series Zetsuen no Tempest is created by studio Bones, based on an fantasy mystery manga written by Kyou Shirodaira and Arihide Sano, and illustrated by Ren Saizaki. The story centers around Yoshino, an ordinary high school student with a mysterious friend named Mahiro. Mahiro made a deal with a witch named Hakaze to hunt down the killers of his parents and sister. Now Mahiro is missing, and Hakaze confronts Yoshino. Yoshino find himself involved in a crisis that may doom the entire world.

(October 06 @17:55)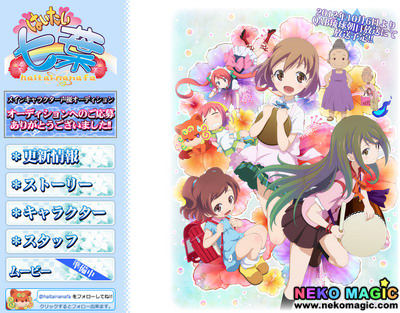 [youtube]ZNo42c3tuvg[/youtube]
The TV anime series Haitai Nanafa tells a story about an energetic middle school girl named Nanafa Kyan. Nanafa lives in Okinawa with her grandmother who runs the "Kame Soba" soba shop, her beautiful older sister Nao who is in high school, and her younger sister Kokona, who is in elementary school and has a strong ability to sense the supernatural. One day, Nanafa witnesses a seal fall off of a Chinese banyan tree, and three spirits who live in that tree are unleashed. These spirits include Niina and Raana, who are "jimunaa" spirits. The third spirit is Iina, who is an incarnation of an Okinawan lion statue. As spirits start appearing one after another, the peaceful life of Nanafa and her family begins to change.

(October 06 @25:00)
[youtube]vjBtr4VSPU0[/youtube]
The TV anime series Little Busters! is created by studio J.C. Staff, based on the 6th game developed by Key (Kanon, Air, Clannad), originally released by Visual Art's as an all-ages visual novel for the PC in July 2007. The title Little Busters! comes from a group of friends in the story, which the protagonist – Riki Naoe – has been a member of since childhood.

<< TV I | TV II | TV III | TV IV | OVA I | OVA II | Movie I | Movie II >>