2012 Summer anime Part 5: OVA/OAD II
Hakuouki Sekkaroku (OVA)
Tight-rope (OVA)
The iDOLM@STER Special (BD)
kiss x sis (OAD)
Hyouka (OVA)
Papa no Iukoto wo Kikinasai! Special (BD)
Seitokai Yakuindomo (OAD)
Accel World Special (BD)
To Heart 2: Dungeon Travelers (OVA)
<< TV I | TV II | TV III | OVA I | OVA II | OVA III | Movie I | Movie II >>
(June 27)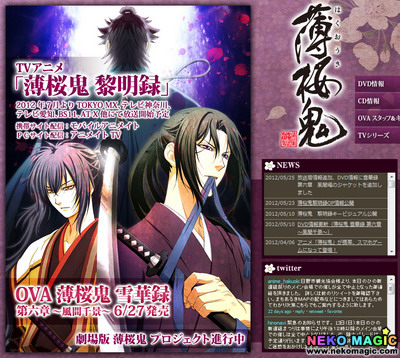 [youtube]IFhhHwt3H6s[/youtube]
The OVA adaptation Hakuouki Sekkaroku is once again created by Studio Deen, based on a series of bishounen games released by Idea Factory for the PlayStation 2 and PSP. This time, the OVA's five volumes are respectively focused on the characters Hijikata Toshizou, Okita Souji, Saitou Hajime, Harada Sanosuke and Toudou Heisuke. A sixth chapter was added in June 2012, covering Kazama Chikage's view of the infiltration mission into Shimabara.
Release Date: June 27
Studio: Studio Deen
(June 27)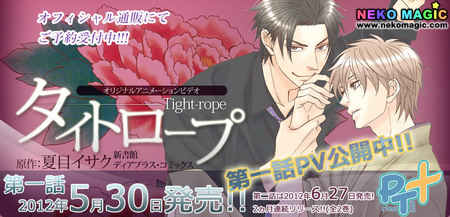 [youtube]BRJU82o9o64[/youtube]
The OVA adaptation Tight Rope is created by studio Prime Time, based on a boys-love manga by Isaku Natsume. The story follows two childhood friends, Ryuunosuke and Naoki. Ryuunosuke is the heir to a crime family, but he fell in love with Naoki and would rather spend every day with him. Just before his high school graduation, Ryuunosuke suddenly renounces any claim to his family legacy.
Release Date: June 27
Studio: PrimeTime
(June 28)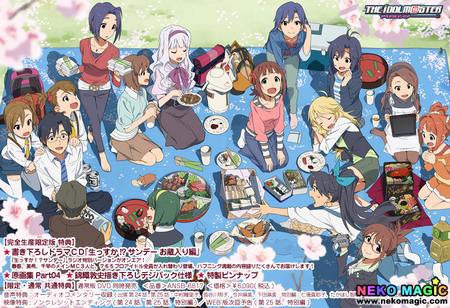 [youtube]sqX87WvAiTU[/youtube]
This third Idolm@ster anime project is based on the original 2005 game from Namco Bandai's music (-management) franchise. The anime is created by studio A-1 Pictures, and all idols from the game's fictional studio "765 Production" are returning to voice the anime's heroines.
(July 06)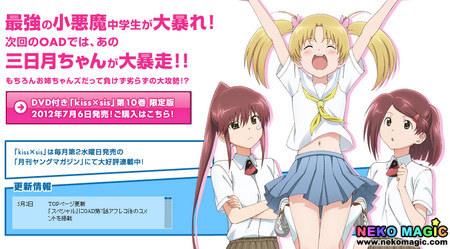 [youtube]TGR5AGXyqFI[/youtube]
The OVA series Kiss x Sis is based on Bow Ditama's manga about sisterly love. And not just any kind of sisterly love, but a double step-sisterly love. The original "romantic incest comedy" manga centers on Keita – a third-year middle school boy studying for his high school entrance exams. His two twin stepsisters Ako and Riko Suminoe – with no blood relation to him – help him prepare for the exams, but life gets too cozy between Keita and the girls.
(July 07 @24:00)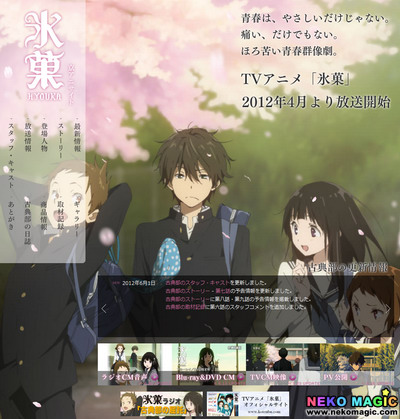 [youtube]jWNIYQf2pVk[/youtube]
The OVA adaptation of Hyouka is created by Kyoto Animation and, like the 2012 TV anime series, it is based on Honobu Yonezawa's adolescent mystery novel Hyou-ka: You Can't Escape. The OVA is bundled on Blu-ray with the limited edition of Tasukuouna's third Hyouka manga volume, likewise based on the novel, and serves as "Episode 11.5" for the earlier TV series. The episode deals with an incident at the municipal swimming pool – in other words, fanservice abounds!
Release Date: July 07 @24:00
Studio: Kyoto Animation
Note: ep 11.5; stream
(July 11)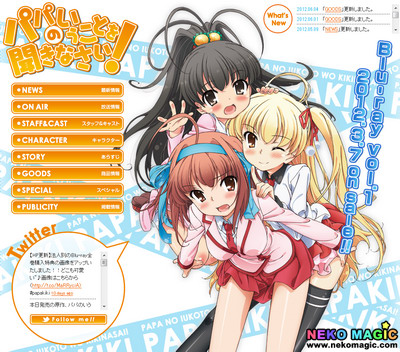 [youtube]hJLuXK3OgIU[/youtube]
The TV anime series Papa no Iukoto o Kikinasai! is created by studio Feel, based on a "slapstick at-home romantic comedy" light novel series authored by Tomohiro Matsu and illustrated by Youhei Takemura. The story follows Segawa Yuta, a university student who has to live with three sisters that are not from his family: a 14-year-old tsundere, a 10-year-old little demon, and a 3-year-old small girl. After losing his parents when he was small, Yuta was raised by his sister Yuri. He has been living alone since Yuri got married to a middle aged man, back when Yuta was a junior high student. One day, Yuri visits Yuta's apartment and asks him to take care of her three daughters while Yuri and her husband go on a trip. He unwillingly accepts the job, but the plane Yuri took goes missing. In order to prevent the daughters from being adopted separately by the relatives, Yuta decided to take in all the three girls. A life of a strange family in a tiny apartment begins.
Release Date: July 11
Studio: Feel
Note: BD vol.5 unaired ep
(July 17)
[youtube]0eb2IuUnzJE[/youtube]
The second OVA adaptation Seitokai Yakuindomo follows the 2010 TV anime series and the 2011 OVA series created by studio GoHands, based on a slice-of-life comedy manga by Tozen Ujiie. Unlike the 2011 OVA, whose three episodes were bundled with some of the manga's limited edition volumes, this new OVA project is a standalone Blu-ray and DVD release counting as "Episode 16" for the original TV anime series (which had 13 episodes and 2 specials).
(July 25)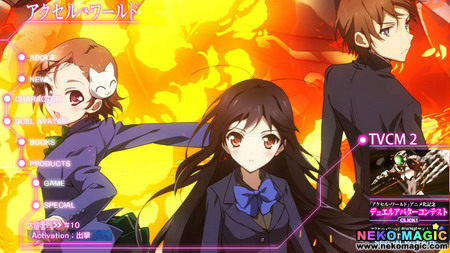 [youtube]JCw2obj3SQU[/youtube]
The Accel World OVA is bundled with the limited edition of Accel World Stage:01 Ginyoku no Kakusei – the first of two "accelerated world simulation" games released by Namco Bandai for the PS3 and PSP, based on a light novel series by Reki Kawahara, which also spawned a 2012 TV anime series (among other media). The game's PS3 version bundles the Accel World OVA on Blu-ray, while the PSP version has it on DVD only.
Release Date: July 25
Studio: J.C. Staff
Note: BD vol.1 "Acchel World" spin-off ep
Hompage: http://accel-world.net/
(July 25)
[youtube]QD7M7-gRsYY[/youtube]
The OVA adaptation ToHeart2 Dungeon Travelers is based on the 2011 spin-off game of the same titled developed by Aquaplus for the PSP. The game is in turn based on Manaka de Ikuno!!'s dungeon crawler Final Dragon Chronicle, and features characters from the ToHeart2 franchise in a fantasy dungeon role-playing game.
<< TV I | TV II | TV III | OVA I | OVA II | OVA III | Movie I | Movie II >>