2012 Summer anime Part 3: TV anime III
Dakara Boku wa, H ga Dekinai. (TV)
Joshiraku (TV)
La storia della Arcana Famiglia (TV)
Robin with His 100 Friends Season 2 (TV)
Hakuouki: Reimei-roku (TV)
Aruvu Rezuru: Kikai Jikake no Yousei-tachi (TV)
Binbou-gami ga! (TV)
Kokoro Connect (TV)
Chitose Get You!! (TV)
Blood Lad (TV)
Tantei Opera Milky Holmes: Alternative ONE (TV)
<< TV I | TV II | TV III | OVA I | OVA II | OVA III | Movie I | Movie II >>
(July 2012)
The TV anime series Dakara Boku wa, H ga Dekinai. is created by studio Feel, based on a supernatural romantic comedy light novel series by Pan Tachibana. The main character of the story, who lost his "erotic spirit" by making a contract with a beautiful Goddess of Death, struggles to regain that spirit. Ryousuke, Touen Gakuen's No. 1 pervert, is anguished. He cannot enjoy himself while living with the Godess of Death Risara under a contract, because he gave up his erotic spirit under the deal. He cannot get excitement from watching girls and wonders if his adolescent days are over.
(July 2012)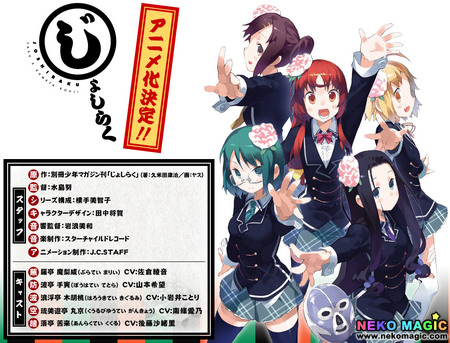 The TV anime series Joshiraku is created by studio J.C. Staff, based on a slice-of-life comedy manga written by Kouji Kumeta and illustrated by Yasu. The story follows the behind-the-scenes dressing-room conversations of a group of female (joshi) Japanese verbal show (rakugo) performers. They discuss random things and usually reach an unusual or humorous conclusion that's far from the initial discussion topic.
Release Date: July 2012
Studio: J.C. Staff
(July 2012)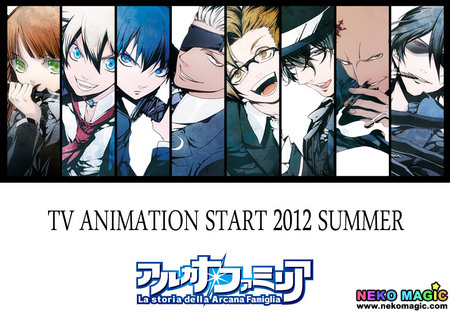 The TV anime series Arcana Famiglia is created by studio J.C. Staff, based on an otome game (for girls) initially developed for the PSP by HuneX and released in Japan by Comfort, in October 2011. The original story follows Arcana Famiglia, a self-appointed organization with mysterious powers that has protected a small Mediterranean island from pirates, foreign countries, and other threats. The only daughter of the family's "Papa" is Felicitá; she will be married to the next head of the family in two months – and the successor will be decided in a competition that Felicitá herself will take part in.
(July 2012)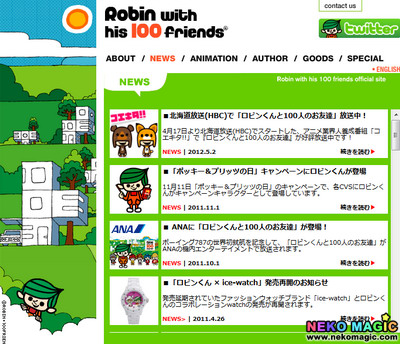 Robin, a boy who likes to invent something alone, decides to make a lot of friends when he has to move from downtown to "Green Village". At the stage of "Green Village" which is set the newest environment system for nature, each episode has a lot of questions about " true ecology" and "true friends" through the activities of Robin and his 100 friends.
(July 2012)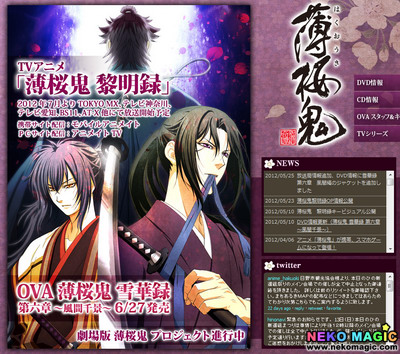 The third season of Hakuouki continues this TV anime based on a series of bishounen games released by Idea Factory for the PlayStation 2 and PSP. This new anime tells the story of the dawning of the shinsengumi.
Release Date: July 2012
Studio: Studio DEEN
(Summer 2012)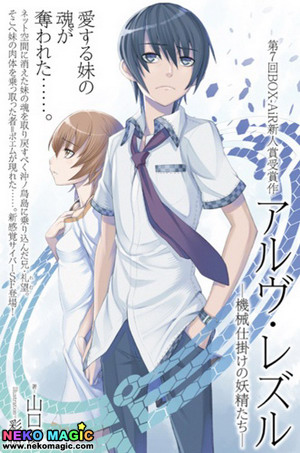 The TV anime series Aruvu Rezuru is created by studio Zexcs, based on a cyber sci-fi novel by Yuu Yamaguchi. The story is set a decade from now in the year 2022, as humanity continues to accelerate towards the technological singularity (the advent of computers that surpass humans). Thanks to advances in nano-assembly technology and man-machine interfaces, Nerve-seller Linker Nano-machine (NLN, a super-miniaturized wireless communications device that emulates neurons) has been brought into fruition and onto the marketplace. NLN bypasses the bottlenecks imposed by existing display / keyboard and touch panel interfaces, by connecting the human nervous system wirelessly to external networks – thus allowing the human consciousness to seamlessly link to networks. However, as the barriers fall down between man and machine, the consciousness of tens of thousands of people become lost in the network, in an crisis that becomes known as "Early Rupture". The story follows a boy named Remu, as he goes to take back the soul of his little sister, who disappeared in net space.
Release Date: Summer 2012
Studio: ZEXCS
(Summer 2012)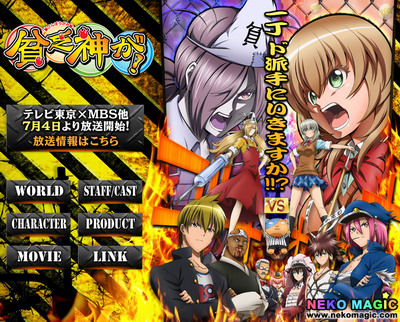 The TV anime series Binbougami ga! is created by studio Sunrise, based on a supernatural comedy manga series by Yoshiaki Sukeno. The story revolves around Ichiko Sakura, a girl whose blissful life comes from her bountiful "happiness energy" – gained by sapping that energy from other people. To restore the balance, the Binbou-gami (Poverty God) Momiji Binbada attempts to eliminate her.
(Summer 2012)
The TV anime series Kokoro Connect is created by studio Silver Link, based on a light novel series written by Sadanatsu Anda and illustrated by Yukiko Horiguchi (K-ON! and Lucky Star anime's character designer). The "love and teen pentagonal comedy" follows the strange phenomena at the Yamahoshi Academy's Culture Club, starting with the five male and female club members switching bodies with each other.
(Summer 2012)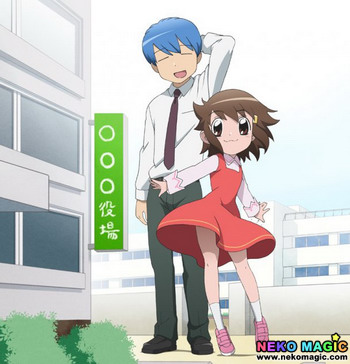 The TV anime series Chitose Get You!! is created by studio Silver Link, based on a 4-panel slice-of-life comedy manga by Etsuya Mashima, about an energetic 11-year-old school girl named Chitose Sakuraba. She is madly in childish-love with Hiroshi, an older guy who works at the town hall next to her school. Chitose spends every day relentlessly pursuing him. But can she ever convince Hiroshi to go out with her?
Release Date: Summer 2012
Studio: TBA
(Summer 2012)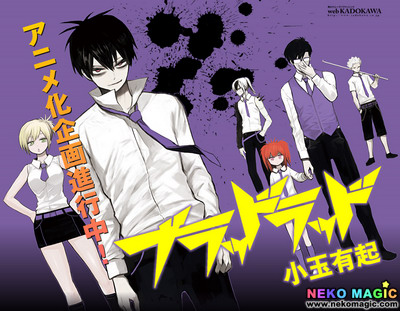 The TV anime series Blood Lad is based on a black comedy / vampire manga by Yuuki Kodama. The story follows a vampire named Staz, an elite vampire otaku who resides in the underworld. He has his figurative heart stolen by Fuyumi, a human high school girl who suddenly appears in his world. Unfortunately, she is just as suddenly killed, and thus she becomes a ghost. Staz makes a promise to bring Fuyumi back to life.
Release Date: Summer 2012
Studio: TBA
(Summer 2012)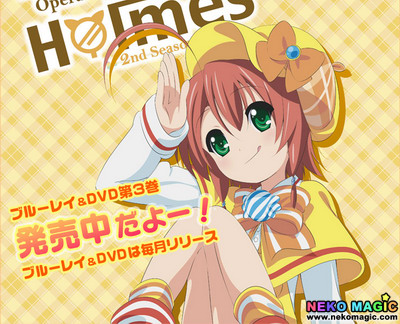 The TV special episode Tantei Opera Milky Holmes Alternative One: Kobayashi Opera to 5-Mai no Kaiga follows the second season of the TV anime series Tantei Opera Milky Holmes, and mirrors a similar TV special that aired in summer 2011, after the anime's first TV season.
<< TV I | TV II | TV III | OVA I | OVA II | OVA III | Movie I | Movie II >>