2012 Summer anime Part 2: TV anime II
Campione! (TV)
Hagure Yuusha no Estetica (TV)
Dog Days' (TV)
Oda Nobuna no Yabou (TV)
Koi to Senkyo to Chocolate (TV)
Kono Naka ni Hitori, Imouto ga Iru! (TV)
Rinne no Lagrange Second Season (TV)
Sword Art Online (TV)
Horizon in the Middle of Nowhere II (TV)
Ebiten: Kouritsu Ebisugawa Koukou Tenmon-Bu (TV)
<< TV I | TV II | TV III | OVA I | OVA II | OVA III | Movie I | Movie II >>
(July 06 @23:30)
[youtube]bagYa-Ryar4[/youtube]
The TV anime series Campione! is created by studio Diomedea, based on Jou Taketsuki's "battle fantasy" light novel series, about an ordinary high school student named Godou Kusanagi who kills a god and claims its powers. As a result, Godou becomes a "Campione" who slays other gods.
(July 06)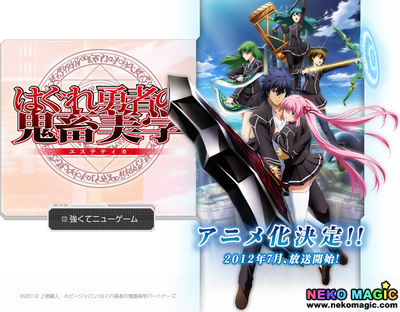 [youtube]1YSy5hYUP2Q[/youtube]
The TV anime series Hagure Yuusha no Estetica is created by studio ARMS, based on a supernatural light novel series by Tetsuto Uesu. The story follows an international training organization named Babel which protects the young people returning from another world. A wayward hero named Akatsuki has come back to the real world from a world of sword and magic called Areizaado, along with Myuu – a beautiful girl who is the daughter of the demon king Areizaado.
(July 07)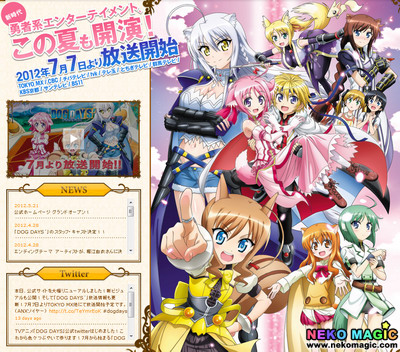 [youtube]iPcpp44a4cg[/youtube]
The second season of the TV anime series Dog Days follows the 2011 adaptation created by studio Seven Arcs (Nanoha, Sekirei, Asura Cryin'), based on a concept from manga artist Masaki Tsuzuki – best known for the Lyrical Nanoha A's and StrikerS manga adaptations and a couple of other Nanoha spin-offs. The new story is set three months after the first season, when the hero Cinque is once again summoned to the fantasy world of Flonyard. This time though, his childhood friend Rebecca and his cousin Nanami are also summoned with him.
(July 08 @25:05)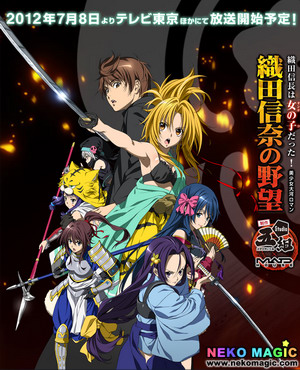 [youtube]FhSwQsLn9qk[/youtube]
The TV anime series Oda Nobuna no Yabou (Oda Nobuna's Ambition) is co-created by Studio Gokumi and Madhouse, based on a light novel series authored by Miyage Kasuga and illustrated by Miyama-Zero. The historical romantic comedy follows a modern-day high school boy named Yoshiharu Sagara, who is transported to Japan's Sengoku Jidai (Era of the Warring States) – except the well-known warriors of the era are female. Oda Nobuna, a cute girl who happens to be a warlord, nicknames Yoshiharu "Monkey" and takes him under her wing.
(July 2012)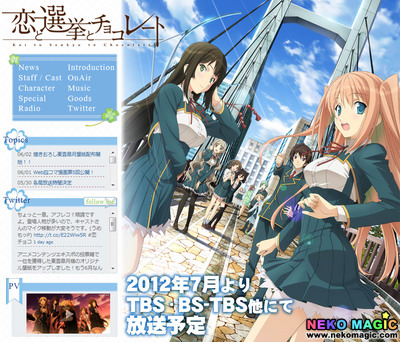 [youtube]9xkrD7RUuz8[/youtube]
The TV anime series Koi to Senkyo to Chocolate (Love, Election and Chocolate) is created by studio AIC Build, based on the debut eroge developed by sprite and originally released for the PC in 2008 (a PSP port followed in 2012). The story is that of "a boy yearning for true love and a girl hating chocolate". The game's setting is a "mega academy" with over 6,000 students. To save his cooking club from being abolished, the protagonist agrees to run for student council president.
(July 2012)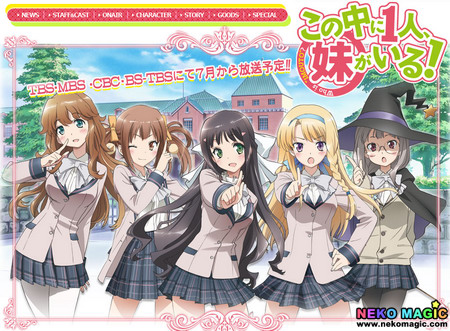 [youtube]U925yRut8FM[/youtube]
The TV anime series Kono Naka ni Hitori, Imouto ga Iru! (One of Them Is My Younger Sister!) is created by Studio Gokumi, based on a light novel series written by Hajime Taguchi and illustrated by CUTEG. The story centers around Shougo Mikadono, the son of an industrial magnate who passed away. As a final wish, Shougo's father gave him a condition before he can inherit the family legacy – find a female mate at school. Shougo transfers into a school to fulfill that condition. However, he learns that he has a younger sister who was separated at birth. He does not know what his long-lost sister looks like, but she happens to be one of the students at his new school.
(July 2012)
[youtube]s7_zKZMwCq8[/youtube]
The second season of the TV anime series Rinne no Lagrange is once again created by studio Xebec, with an original story by Production I.G about a 17-year-old beach-loving girl named Madoka, and her ambition to help out if there is trouble in her seaside hometown of Kamogawa (Chiba prefecture). At first she is the only member of her "Kamo-Girl Jersey Club" created for this purpose, but she manages to snag a beautiful yet puzzling girl named Ran, and mysterious transfer student Muginami.
(July 2012)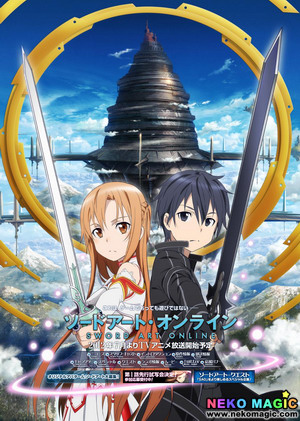 [youtube]pSstf7_I20k[/youtube]
The TV anime series Sword Art Online is created by studio A-1 Pictures, based on a light novel series by Reki Kawahara. The story revolves around a boy named Kazuto "Kirito" Kirigaya who enters a virtual-reality, massively multiplayer online (MMO) world called "Sword Art Online". There is no escape from this world unless the player clears the game, but "game over" means the death of the player.
(July 2012)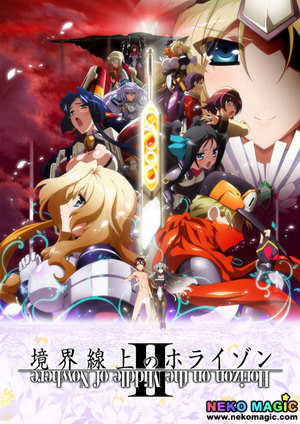 [youtube]4aMUcWI5MqQ[/youtube]
The second season of the TV anime series Kyoukai Senjou no Horizon (Horizon on the Middle of Nowhere) is once again created by studio Sunrise, based on Minoru Kawakami's school fantasy light novels set in a distant future, when Japan is divided into feudal territories and conquered by other countries. There is a floating city named Musashi that is composed of eight ships in the skies. A war that will determine the fate of the world will be fought by students on the Musashi.
(July 2012)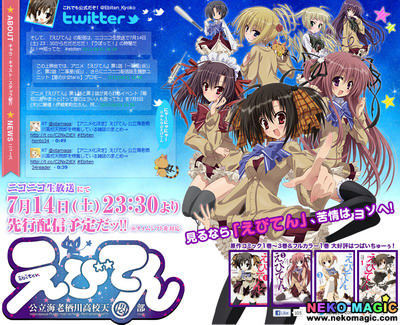 The TV anime series Ebiten: Kouritsu Ebi Sugawa Koukou Tenmonbu is created by studio AIC Classic, based on a school otaku comedy manga commonly known as Ebiten, written by SCA-ji and illustrated by Kira Inugami. The story follows Itsuki Noya, who just started his school year at the Ebisugawa High School. Since he has always had a fascination with space, he decides to join the astronomy club (Tenmon-bu). However, he mistakenly walks into the fujoshi (female otaku) club (aslo called Tenmon-bu, but written with different kanji). He notices that the members are really weird, but Itsuki has yet to realize that he isn't in the astronomy club. His life is about to get complicated by being surrounded by so many girls.
<< TV I | TV II | TV III | OVA I | OVA II | OVA III | Movie I | Movie II >>