2012 Summer anime Part 1: TV anime I
Kingdom (TV)
Pokemon: Best Wishes Season 2 (TV)
Stitch! to Suna no Wakusei (TV)
Muv-Luv Alternative: Total Eclipse (TV)
Tari Tari (TV)
Jinrui wa Suitai Shimashita (TV)
Chouyaku Hyakunin Isshu: Uta Koi. (TV)
Yuru Yuri ♪♪ (TV)
Moyashimon Returns (TV)
Natsuyuki Rendezvous (TV)
<< TV I | TV II | TV III | OVA I | OVA II | OVA III | Movie I | Movie II >>
(June 04 @19:00)
[youtube]Vvy-NLDc5V8[/youtube]
The TV anime series Kingdom is created by Studio Pierrot, based on Yasuhisa Hara's historical manga set in ancient China nearly 2,500 years ago. The story follows Li Xin and Hyou, two boys without families in the Warring States Period when China has been embroiled in war for five centuries. Despite living like slaves, the boys strive to realize their dream of becoming warlords.
(June 21 @19:00)
[youtube]_niHNoXKk5I[/youtube]
The 2nd season of the TV anime Pokemon: Best Wishes! continues this series created by studio OLM (Oriental Light and Magic), and features the appearance of the legendary telekinetic Pokémon Meloetta. The new series also includes Team Rocket boss Sakaki (Giovanni), Sinnoh-region Champion Shirona (Cynthia), and Pokémon – Diamond and Pearl's Hikari (Dawn) and her Pokémon Piplup. The new series will have Satoshi (Ash) reuniting with Shirona and traveling together to East Isshu. There, the characters will participate in a "Pokémon World Tournament Junior Cup" to be able to challenge Isshu-region Champion Adeku (Alder). A new rival for Satoshi will also appear in the series.
Release Date: June 21 @19:00
Studio: Oriental Light and Magic
(June 2012)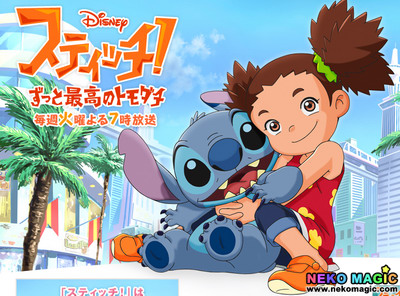 The TV special Stitch to Suna no Wakusei (Stitch and the Planet of Sand) continues this TV anime adaptation by studio Madhouse, based on Disney's "Lilo & Stitch" animation film. This one-hour special begins with the alien Stitch saying farewell to Yuuna, as he leaves Earth to confront a planetary war at the sand planet of Katuuna / Catoona. What awaits him there? Will Stitch and Yuuna ever meet again? Will Stitch and his fellow alien friends be able to save universal peace?
(July 01 @25:35)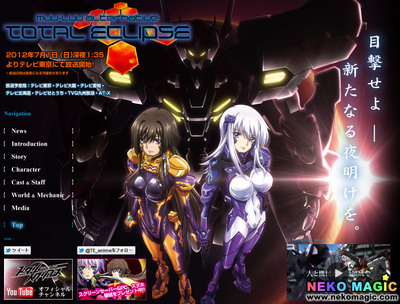 [youtube]cLfDKNcouBA[/youtube]
The TV anime series Muv-Luv Alternative: Total Eclipse is created by studios Satelight and Ixtl, based on the eroge, novel and manga adaptations of the same title (and in particular the Total Eclipse novel). The original Muv-Luv Alternative game was developed by Age and released in 2006, although the whole Muv-Luv franchise has been growing since 2003. As a side story to Muv-Luv Alternative, Total Eclipse follows the test pilots and mechanics in the United Nations Forces' Tactical Surface Fighter Testing Unit in Alaska. Japanese-American Yuuya Bridges is the Argos Test Team's main pilot for "XFJ Project", the initiative that is developing the newest Tactical Surface Fighter. Yui Takamura is the head of development for the project from the Japanese Empire's side.
(July 01 @22:30)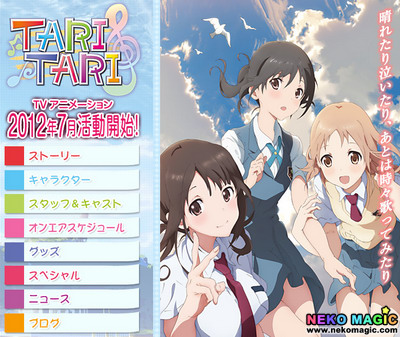 [youtube]LOgdQaYzqqo[/youtube]
The TV anime series Tari Tari is created by studio P.A. Works (Angel Beats!, Hanasaku Iroha, Another), based on an original work by Evergreen. The story centers around five Japanese high school students who are too young to be called adults, but who no longer think of themselves as children. Wakana Sakai once took music lessons, but she withdrew from music after losing her mother. Konatsu Miyamoto is a positive-thinking girl who loves singing and spends time after school at the vocal music club. Sawa Okita is a spirited archery club member who dreams of becoming a horse rider. Taichi Tanaka is a chronically late badminton team member who lives with his college student sister. "Wiin" just transfered into Wakana's class after 12 years abroad in Australia. Music brings Wakana, Konatsu, Sawa and the others together into an ensemble during their last summer in high school.
(July 01 @24:00)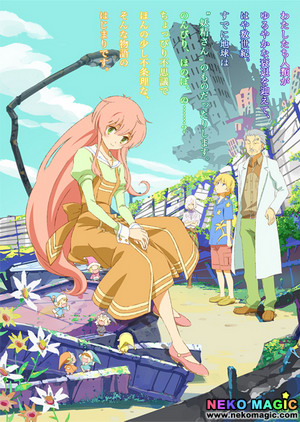 [youtube]AwP3A9ARW4E[/youtube]
The TV anime series Jinrui wa Suitai Shimashita is created by studio AIC A.S.T.A., based on a fantasy light novel series authored by Romeo Tanaka (who also authored Aura: Maryuuinkouga Saigo no Tatakai), with illustrations by Touru Yamasaki (the first six volumes) and later by Sunaho Tobe. The story is set several centuries into the slow decline of mankind. Earth has now become the realm of "fairies" – 10-centimeter / 4-inch tall creatures with remarkable intelligence and an appetite for sweets. The human protagonist of the story serves an important duty as the international arbitrator between the fairies and humans, and she returns to her former hometown of Kusunoki. She chose this job because she thought it was an easy job she can do, even when she is as old as her grandfather. However, she learns that her job is anything but simple when she meets the fairies.
Release Date: July 01 @24:00
Studio: AIC ASTA
(July 02 @25:30)
[youtube]v-wbpmDjDpY[/youtube]
The TV anime series Chouyaku Hyakunin Isshu: Uta Koi. is created by TYO Animations, based on a historical josei (for women) manga by Kei Sugita. In turn, the manga is a "super-liberal interpretation" of the Hyakunin Isshu anthology compiled during Japan's Heian period (in the late 1100s), of 100 romantic poems from 100 different poets.
(July 02 @26:00)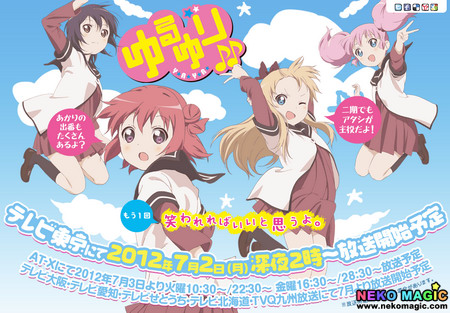 [youtube]sryo0Ml6lMg[/youtube]
The second season of the TV anime series Yuru Yuri is once again created by studio Dogakobo, based on Namori's manga about 4 fun-loving schoolgirls who take over the former room of a tea ceremony club for their own "Gorakubu".
(July 05 @24:45)
[youtube]HhjvCtS4KEI[/youtube]
The TV anime series Moyashimon Returns follows the earlier anime adaptation from 2007, once again based on Masayuki Ishikawa's Moyashimon: Tales of Agriculture manga. The original story follows a college student named Tadayasu Sawaki, who discovers that he can see and communicate with bacteria and other micro-organisms – germs that appear as super-deformed, super-noisy characters, who consider him to be their friend. The new anime is co-created by studios Telecom Animation Film and Shirogumi.
(July 05 @25:15)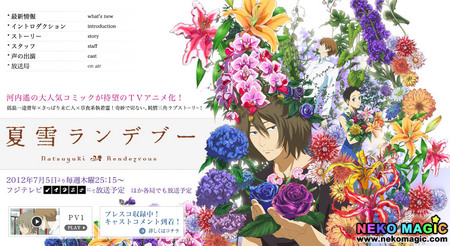 [youtube]GkbwT6WdeKE[/youtube]
The TV anime series Natsuyuki Rendezvous is created by studio Dogakobo (Yuru Yuri), based on a josei manga by Haruka Kawachi. In the story, a boy named Hazuki falls in love at first sight with a widowed flower shop owner named Rokka. He decides to get closer to her, by applying as a part-time employee. A going-away party soon brings him to her doorstep, and Hazuki is elated. But what happens when he discovers that, still residing in her apartment, is the ghost of the husband she can never forget?
<< TV I | TV II | TV III | OVA I | OVA II | OVA III | Movie I | Movie II >>