2012 Spring anime Part 7: OVA/OAD/SP II
Kobato. (SP)
Amagami SS+ (SP)
Un-Go (SP)
New Prince of Tennis (SP)
C3 (SP)
Seitokai Yakuindomo (OAD)
Ai Mai! Moe Can Change! (OVA)
Kore wa Zombie Desu ka? (OAD)
Yondemasu yo, Azazel-san. (OAD)
Another (OAD)
Mobile Suit Gundam UC (OVA)

<< TV I | TV II | TV III | TV IV | TV V | OVA I | OVA II | Movie >>

(March 30, 2012)
[youtube]aXl8lZ1Iktw[/youtube]
The TV anime series Kobato. is created by studio Madhouse, based on a manga by the female mangaka quartet CLAMP. The titular character Kobato-chan is a sweet and perky girl, but also extremely naive about the world around her. She came to Earth to fulfill her wish of going to a certain place, and in order to do that, she must fill a mysterious bottle with the suffering from the hearts of people she "cures". She is accompanied by a foul-mouthed and bad-mannered "teacher" (which is a stuffed animal), and she may not fall in love with any of those whom she "cures".
(April 04, 2012 / May 02, 2012)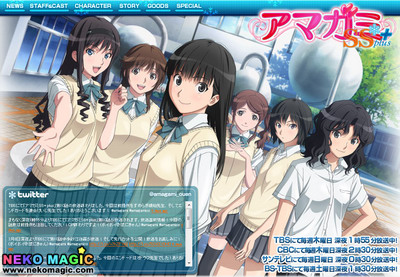 [youtube]uqXaDZW2DAc[/youtube]
The TV anime series Amagami SS Plus is the second season adapted by studio AIC, based on Enterbrain!'s romance simulation game. The original game was released for the PS2 in March 2009, and centered around a second-year high school boy who finds himself uneasy during Christmas time due to an experience in the past. However, this year at Christmas, he gets his last chance to ask out a graduating female senior named Haruka Morishima – or one of several other classmates.
(April 20, 2012)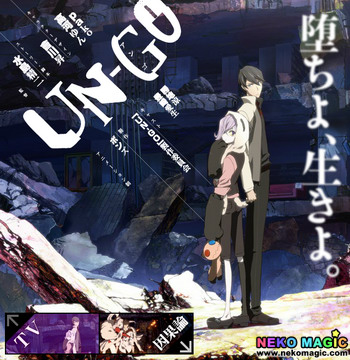 [youtube]LVH1suPzdyk[/youtube]
The TV anime series Un-Go is created by studio Bones, based on the works of Ango Sakaguchi, a post-World War II Japanese novelist and essayist. In the anime's story, the two main characters – Shinjuurou Yuuki and Inga – work together to solve mysteries in a near future timeline.
Release Date: April 20, 2012
Studio: BONES
Note: Inga Nikki short featured on episode:0 BD
Homepage: http://www.un-go.com/
(April 20, 2012)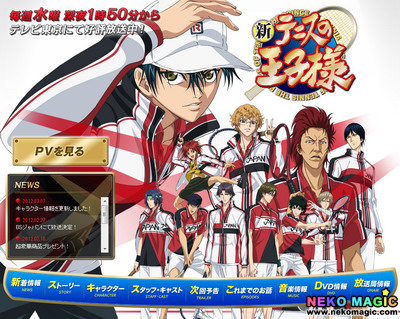 [youtube]wZ9XKtgkKS0[/youtube]
The 2012 TV anime series The New Prince of Tennis is created by Production I.G, based on Takeshi Konomi's manga of the same title. The story begins several months after the national tennis tournament that ended the original Prince of Tennis manga.
Release Date: April 20, 2012
Studio: Production I.G
Note: unaired ep featured on BD vol.1
(April 25, 2012)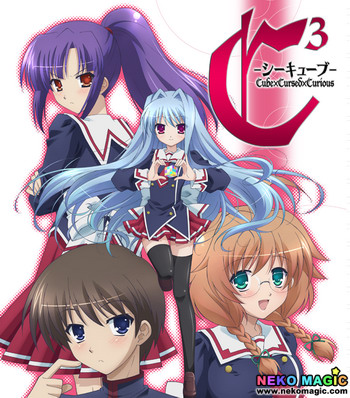 [youtube]uHptwO0-uMU[/youtube]
The TV anime series C³ (C Cube) is created by studio Silver Link, based on a light novel series by Hazuki Minase. The story begins when a high school student named Haruaki Yachi receives a mysterious, super-heavy black cube from his father overseas. That night, Haruaki wakes up to a suspicious noise in the kitchen, and he discovers a "fully naked female thief of rice crackers". The girl, Fear, is the first of several surprises that Haruaki receives.
(April 25, 2012)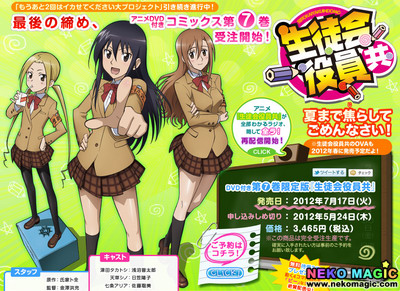 [youtube]xDHDofCSs2Q[/youtube]
The second OVA adaptation Seitokai Yakuindomo follows the 2010 TV anime series and the 2011 OVA series created by studio GoHands, based on a slice-of-life comedy manga by Tozen Ujiie.
(April 26, 2012)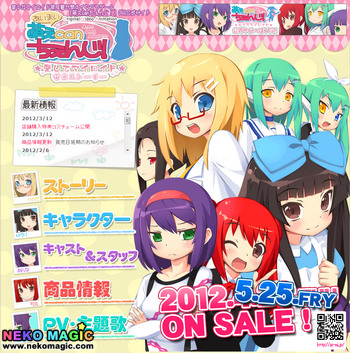 [youtube]XSbyxe2cGVo[/youtube]
The OVA adaptation Moe Can Change! is created by Frontier Works, based on a free-to-play game developed by Ambition for mobile phones. The original "playful bishoujo Miroid-raising / clothes-changing moe game" has the player joining a beta test program for androids, who the player must raise and dress up as girls.
(April 2012)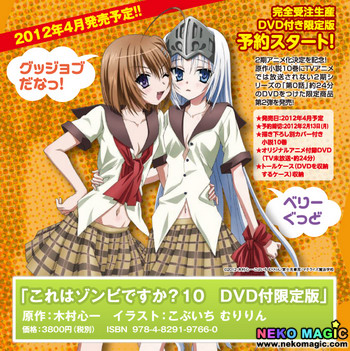 [youtube]1GvzCeCt2ek[/youtube]
The OVA adaptation Kore wa Zombie Desu ka? Ee, Kore ga Saishuukai desu ka? is once again created by Studio Deen, based on a comedy / ecchi / harem light novel series authored by Shinichi Kimura, and illustrated by Kobuichi / Muririn. The OVA's first volume serves as the unaired 13th episode for the 2011 TV anime series, with a second volume later released as "Episode 0". In the OVA's first episode, Haruna is given the task to hold a Spring Festival at the local shrine, in her own magical-warrior-girl way, of course… Seraphim does not want to be a freeloader at Haruna's and Ayumu's place, so she starts cooking… And a concentration-game contest in the school's main assembly hall challenges Ayumu and Orito to their limits…
Release Date: April 2012
Studio: Studio DEEN
Note: ep 0 bundled w/ light novel vol.10
(May 23, 2012)
[youtube]IGuC4Jq4Hlc[/youtube]
The TV anime series Yondemasuyo, Azazel-san. is based on a supernatural gag comedy manga authored by Yasuhisa Kubo, which also received two OVA episodes created by Production I.G in 2010. The story revolves around the detective Akutabe, his assistant Rinko Sakuma, and the various magical demons that Akutaba uses for his cases – including the titular Azazel.
Release Date: May 23, 2012
Studio: Production I.G
Note: ep.3; bundled w/ LE manga vol.8
(May 2012)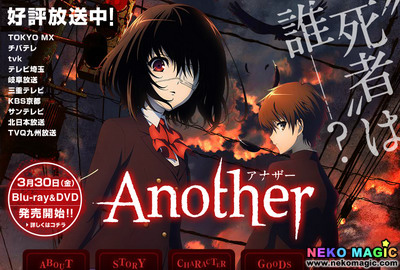 [youtube]yI2VgaTD1wg[/youtube]
Following the TV series Another, this "Episode 0" OVA is being released as a bundle with the "0th" limited-edition volume of Hiro Kiyohara's manga adaptation of Yukito Ayatsuji's original school horror mystery novel. This anime episode depicts a part of the story that is not in the original novel – namely that of the character Mei Misaki, leading up to the main anime series.
(May 2012)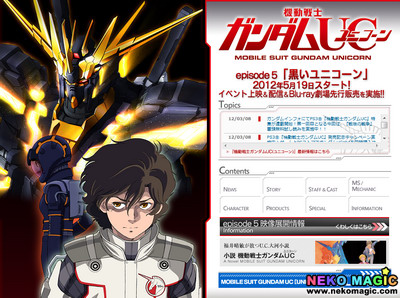 [youtube]wq_SN-0Rlsk[/youtube]
Mobile Suit Gundam Unicorn is a 6-episode OVA produced by studio Sunrise, based on Harutoshi Fukui's mecha novels of the same title. The story is set in the series' original "Universal Century", in the year 0096. The OVA's home video release includes English voices and multi-lingual subtitles, along with the original Japanese audio and subs.

<< TV I | TV II | TV III | TV IV | TV V | OVA I | OVA II | Movie >>