2012 Spring anime Part 4: TV anime IV
Jormungand (TV)
Eureka Seven Ao (TV)
Sakamichi no Apollon (TV)
Tsuritama (TV)
Fate/Zero 2nd Season (TV)
Kore wa Zombie Desu ka? of the Dead (TV)
Acchi Kocchi (TV)
Sankarea (TV)
Kimi to Boku. 2 (TV)

<< TV I | TV II | TV III | TV IV | TV V | OVA I | OVA II | Movie >>

(April 10, 2012 @24:30)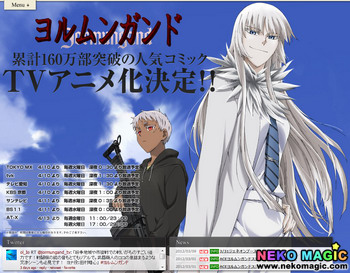 The TV anime series Jormungand is created by studio White Fox (Steins;Gate), based on an action manga by Keitarou Takahashi. The story centers on an underground weapon seller and her accomplices, and it begins when a quiet boy who hates weapons joins the team.
(April 12, 2012@25:55)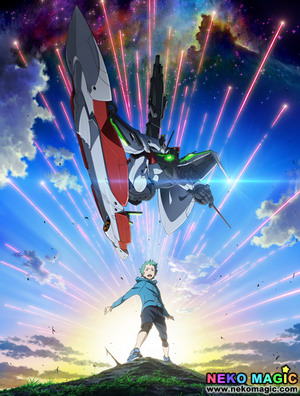 [youtube]AU6NkpLMwes[/youtube]
The TV anime series Eureka Seven Ao (Astral Ocean) is once again created by studio Bones, following their original sci-fi mecha anime series Eureka Seven from 2005, and the 2009 anime film Eureka Seven: Pocket Full of Rainbows. The new story is set in 2025, on Okinawa's isolated island of Iwado, which has seen a growing movement advocating a return to an autonomous government. Ao Fukai, a 13-year-old boy with a missing father, lives on the island with an old doctor named Toshio and is about to enter middle school. Ao's mother was taken away 10 years ago by unknown individuals. Naru Arata, Ao's 13-year-old childhood friend and the story's heroine, lives with her father, older sister, and grandmother. She has a "Yuta" power awakened within her due to an incident when she was young. A mysterious entity called "Secret" suddenly appears and launches an attack on the Scub Coral lifeform on the island. In his fervent desire to protect the island, Ao launches a certain military FP called "Nirvash" aboard a Japanese military transport.
(April 12, 2012@24:45)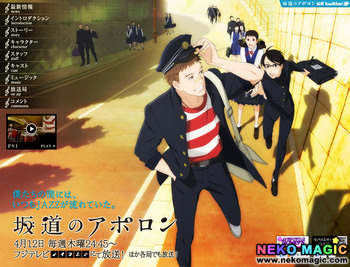 [youtube]nzY6Y-AHEaw[/youtube]
The TV anime series Sakamichi no Apollon (Kids on the Slope) is co-created by studio MAPPA and Tezuka Productions, based on a slice-of-life manga by Yuki Kodama. The coming-of-age story of "love, friendship, and music" follows a naive boy and a scruffy boy in a provincial town in Nagasaki Prefecture in the late 1960s. In the early summer of 1966, Kaoru transfers to the local high school from Yokosuka. Thanks to his family's nearly constant cycle of moving from town to town, Kaoru has only known school as a difficult place for readjusting everytime. However, on his first day at this new school, he meets a boy and begins a new direction in life. As he gets closer to the class president Mukae Ritsuko and the "bad boy" Kawabuchi Sentaro, the three of them find common ground in music – namely jazz – and Kaoru finds himself actually enjoying the new town.
(April 12, 2012 @25:15)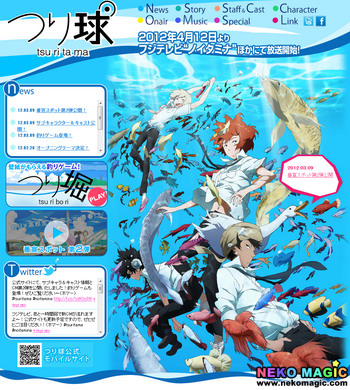 [youtube]QTqNjtnfVH8[/youtube]
The TV anime series Tsuritama is created by A-1 Pictures, with an original story set on the island of Enoshima, in the Shounan area south of Tokyo. The "SF" story (as in "seishun fishing", meaning "youth fishing") follows four idiosyncratic youths: the one-quarter French, uncommunicative high school student Yuki, the fishing enthusiast and self-proclaimed alien Haru, the island native Natsuki, and the mysterious Indian Akira with his constant duck companion Tapioca.
(April 2012)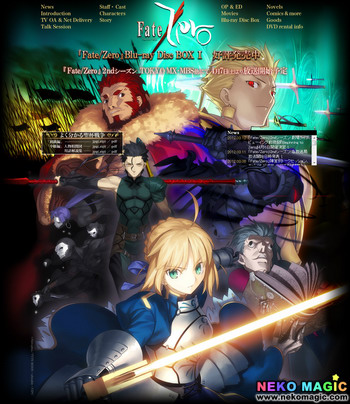 [youtube]uSpDlCJ3_9I[/youtube]
The second season of Fate/Zero continues this TV anime series created by studio ufotable, based on the prequel novel by Gen Urobuchi (Nitroplus) for Type-Moon's games franchise Fate/stay night. The story is set 10 years prior to the original game's events, and reveals the 4th Holy Grail War that sets the stage for the war in the (ero)game series.
(April 2012)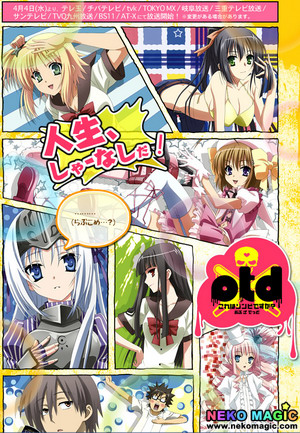 [youtube]6rEY2jwMO54[/youtube]
The second season of the TV anime series Kore wa Zombie Desu ka? is once again created by Studio Deen, based on the comedy / ecchi / harem light novel series authored by Shinichi Kimura, and illustrated by Kobuichi / Muririn. The story revolves around a lazy high school boy named Ayumu Aikawa who loses his life to a serial killer and is later resurected as a zombie by a necromancer girl named Yuu (Eucliwood Hellscythe). Ayumu then finds himself in a world of mahou shoujo where he is ordered by a magical girl warrior named Haruna to fight against the anti-mahou shoujo system "Megalo".
(April 2012)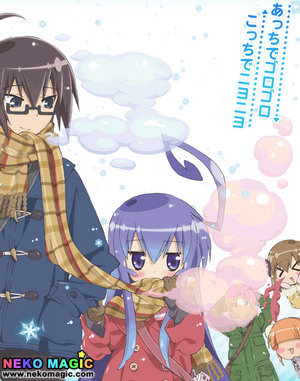 [youtube]GCyfS1RjBpg[/youtube]
The TV anime series Acchi Kocchi is created by studio AIC, based on Ishiki's romantic comedy 4-panel manga also known as Place to Place. The story of the original four-panel manga follows a tsundere girl named Tsumiki, the most unsociable eyeglasses-wearing boy named Io, and their classmates.
(April 2012)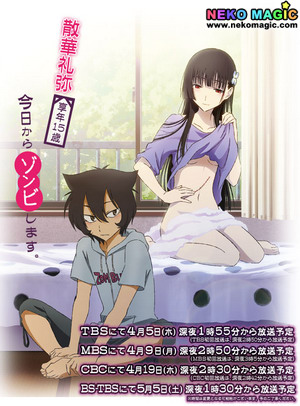 [youtube]PCCz4kTWgsA[/youtube]
The TV anime series Sankarea is created by Studio Deen, based on Mitsuru Hattori's "zombie moe adolescent romantic comedy" manga that revolves around Chiharu Furuya – a high school freshman who is obsessed with zombies. Even his dream is to "kiss a zombie girl". Through an unexpected set of circumstances, Chiharu gets to know an elegant, pretty girl named Rea Sanka, and together, they try to revive Chiharu's pet cat Baabu who died in an accident. Chiharu discovers that Rea wants to get away from her many responsibilities by becoming a zombie herself.
(April 2012)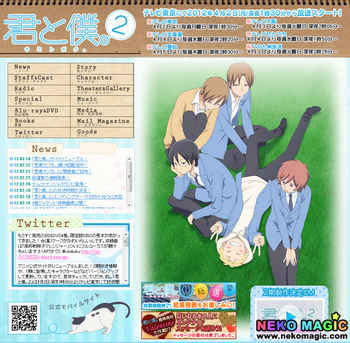 The second season of the TV anime series Kimi to Boku. is once again created by studio J.C. Staff, based on an adolescent comedy manga by Kiichi Hotta. The original story revolves around four teens – the good-looking twins Yuta and Yuki Asaba, the effeminate Shun Matsuoka, and the class head Kaname Tsukahara – who have known each other since early childhood. While they are not necessarily good or bad friends, they continue to hang out well into high school. The half-Japanese transfer student Chizuru Tachibana joins the circle of friends in this comedy about the everyday life of adolescence.

<< TV I | TV II | TV III | TV IV | TV V | OVA I | OVA II | Movie >>