2012 Spring anime Part 3: TV anime III
Jewelpet Kira☆Deko! (TV)
Upotte!! (TV)
Nazo no Kanojo X (TV)
Baku Tech! Bakugan (TV)
Kikansha Thomas (TV)
Cardfight!! Vanguard: Asia Circuit Hen (TV)
Phi Brain: Kami no Puzzle 2nd Season (TV)
Saki: Achiga-hen episode of side-A (TV)
Tasogare Otome x Amnesia (TV)

<< TV I | TV II | TV III | TV IV | TV V | OVA I | OVA II | Movie >>

(April 07, 2012 @09:30)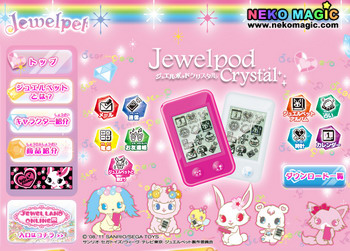 The fourth season of Jewelpet continues this kids' anime series, which Studio Comet is adapting from Sanrio and Sega Toys' franchise. In the original story, each Jewelpet is a stuffed animal named after jewels, who belonged to magicians in "Jewelland" and can use magic themselves, thanks to their jewel eyes. They study every day to learn how to use magic. The rabbit Ruby accidentally gets sent over to the human world and becomes the partner of a second-year middle school girl named Rinko Kougyoku.
(April 07, 2012 @24:00)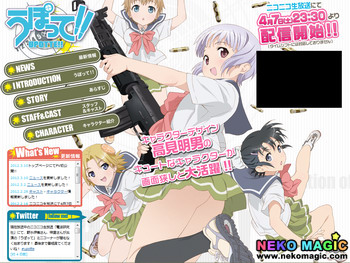 [youtube]t5lxYW4ipRo[/youtube]
The web-anime Upotte!! is created by studio Xebec, based on a 4-panel military school comedy manga by Kitsune Tennouji. In the original story, a newly hired teacher discovers that the female students at his new school all have excellent marksmanship skills – and happen to be anthropomorphized assault rifles.
(April 07, 2012 @25:30)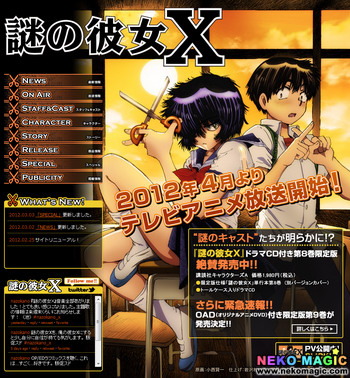 The TV anime series Nazo no Kanojo X is created by studio Hoods Entertainment, based on Riichi Ueshiba's romantic comedy manga series also known as Mysterious Girlfriend X. The "unidentifiable love" story revolves around Akira Tsubaki, who one day notices the anti-social transfer student Mikoto Urabe drooling on her desk while she is sleeping. As he goes to waker her up, he accidentally tastes her drool… and gets hooked on it! Eventually, he starts going out with her and gets to know her better. Her second hobby, as it turns out, is carrying around scissors in her panties and cutting paper into flowers.
Release Date: April 07, 2012 @25:30
Studio: Hoods Entertainment
(April 07, 2012 @08:45)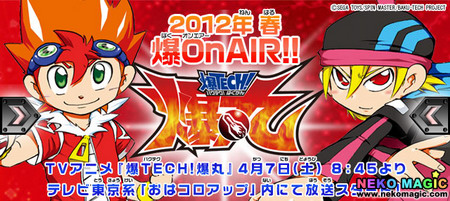 The TV anime series Baku Tech! Bakugan is based on SHINGO's battle manga, centered around the Bakugan action game of balls that instantly transform, and a boy with the title "Baku Tech" – due to his almost peerless skills.
(April 08, 2012 @10:00)

The second season of the TV anime series Cardfight!! Vanguard continues this adaptation created by TMS Entertainment, based on a trading card game created by game maker Bushiroad, as a collaboration between Yu-Gi-Oh! R manga creator Akira Ito, the original Duel Masters technical advisor Satoshi Nakamura, and Bushiroad President Takaaki Kidani.
(April 08, 2012 @17:30)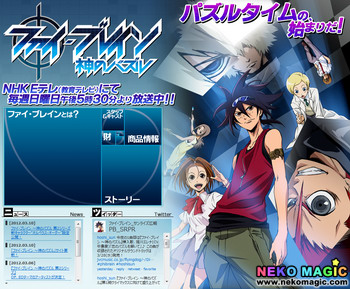 The 2nd season of TV anime series Phi Brain is once again created by studio Sunrise, continuing the original "school adventure" story about a high school boy named Kaito who loves puzzles. In the second season, the story continues to revolve around the Orpheus bangle and Phi Brain, but the puzzle battles heat up. A new enemy, a group of boys named Orpheus Order, appears before Kaito and the others, and the battles begin anew.
(April 08, 2012 @25:05)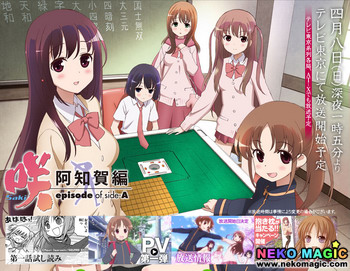 [youtube]yYlj1zY6pF0[/youtube]
The TV anime series Saki Achiga-hen episode of side-A is created by Studio Gokumi, based on a spin-off manga written by Ritz Kobayashi (who also created the original Saki manga that spawned a 2009 anime series) and illustrated by Aguri Igarashi. The new story follows Shizuno Takakamo and the other mahjong players at the all-girls school Achiga. The Achiga Girls' Academy in Nara once defeated regional mahjong powerhouse Bansei High School. It advanced into the national team semifinals but lost to the eventual champion, and the mahjong club was later disbanded. Six years later, elementary school student Shizuno Takakamo befriends transfer student Nodoka Haramura. The two eventually enter Achiga Girls', but Nodoka transfers out of the school in the second year. When Shizuno sees Nodoka on television the following year as the national middle school individual mahjong champion, she decides to revive Achiga's mahjong club.
(April 08, 2012 @24:30)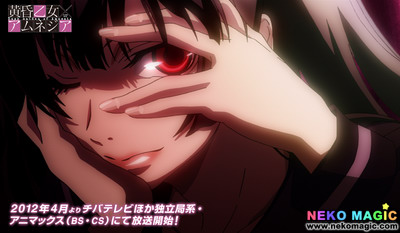 [youtube]cDeQ2YYeINI[/youtube]
The TV anime series Dusk Maiden of Amnesia is created by studio Silver Link, based on Maybe's ghostly school manga released in Japan as Tasogare Otome x Amnesia. The story is set at a private academy that has a history of hauntings by spirits, including a ghost girl named Yuuko. For some mysterious reason, first-year middle school student Teiichi Niiya is the only person who can see Yuuko. She has no memory of her death, much less who or what caused it. Yuuko and Teiichi create an investigation club to find the truth about her death and the other mysteries of the school.

<< TV I | TV II | TV III | TV IV | TV V | OVA I | OVA II | Movie >>