2012 Spring anime Part 2: TV anime II
Ginga e Kick off!! (TV)
Arashi no Yoru ni. Himitsu no Tomodachi (TV)
Medaka Box (TV)
Sengoku Collection (TV)
Shirokuma Café (TV)
Natsuiro Kiseki (TV)
Accel World (TV)
Pretty Rhythm Dear My Future (TV)
Kuroko no Basuke (TV)

<< TV I | TV II | TV III | TV IV | TV V | OVA I | OVA II | Movie >>

(April 03, 2012 @09:30)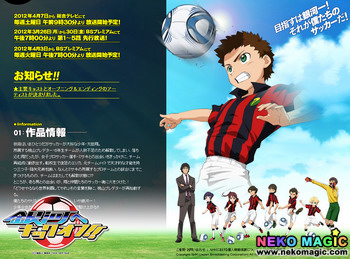 The story follows a boy who was in a soccer team, but it was disbanded due to not enough players. However, after the boy meets a female professional soccer player, he aims to bring his soccer team back.
The anime is an adaptation of the 2006 soccer novel Ginga no World Cup (Galactic World Cup) by Hiroto Kawabata.
(April 04, 2012 @17:30)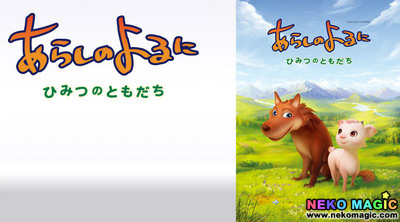 [youtube]kktRCGLBU3I[/youtube]
The TV anime series Arashi no Yoru ni: Himitsu no Tomodachi is created by the Singapore-based studio Sparky Animation, in collaboration with a few Japanese companies, including Bandai Visual. The adaptation is based on a Kimura Yuuichi's book Arashi no Yoru ni (One Stormy Night…) which also spawned a 2005 anime film.
Release Date: April 04, 2012 @17:30
Studio: Sparky Animation
Note: 52 episodes
(April 04, 2012 @25:50)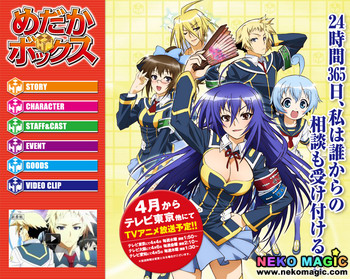 [youtube]wD7JsfLaKww[/youtube]
The TV anime series Medaka Box is created by studio Gainax, based on a school fighting comedy manga written by NisiOisin and illustrated by Akira Akatsuki. In the story, Medaka Kurokami, the strongest girl in Hanokiwa Academy, leads the school's student council. The student body can submit pleas for help, 24 hours a day and 365 days a year, into the suggestion box that Medaka installed. Together with council members Zenkichi, Akune, and Kikaijima, Medaka takes on the challenges in the school that range from mundane tasks to supernatural battles.
(April 05, 2012 @25:45)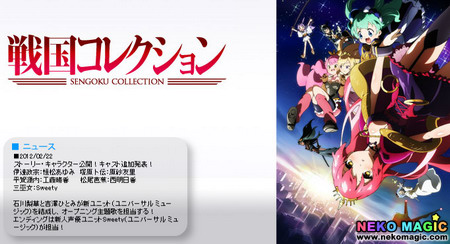 The TV anime series Sengoku Collection is created by studio Brains Base, based on Konami's social networking service game of the same name. The story is set in the tumultuous Sengoku Era of historical Japan, when military masters circle the figurative throne of Japan's first shogunate. In the game, "God of War Cards" have been sealed in six hidden treasures, and fighting breaks out among those who seek the treasures. As a new military master, the player embarks on a journey to obtain the treasures by clearing quests and fighting bosses. The anime's main character is a female re-imagining of the great warlord Oda Nobunaga, with another major character being the female version of Tokugawa Ieyasu, the first shogun of Japan.
(April 05, 2012 @17:30)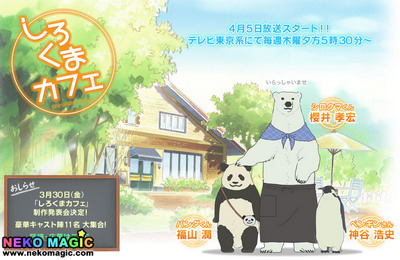 The TV anime series Shirokuma Café is based on Aloha Higa's gag comedy manga about the daily life of penguins, grizzly bears, and other animals at a café run by a polar bear.
Release Date: April 05, 2012 @17:30
Studio: Pierrot
(April 05, 2012 @26:25)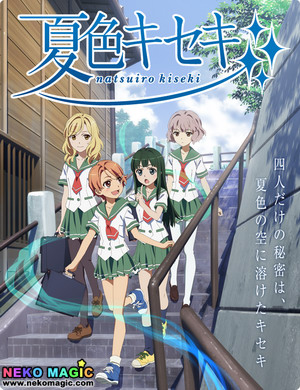 [youtube]PZr_TCrYvoE[/youtube]
The TV anime series Natsuiro Kiseki is created by studio Sunrise, starring four school girls played by the voice actress group Sphere.
(April 06, 2012 @24:30)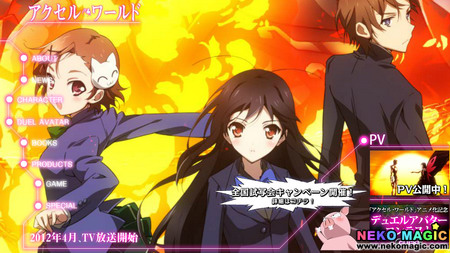 [youtube]VHOiqv3Xw1o[/youtube]
The TV anime series Accel World is created by studio Sunrise, based on a light novel series by Reki Kawahara. The "future teen" story revolves around a bullied middle school boy named Haruyuki. One autumn day in 2046, he has an encounter with Kuroyukihime (Black Snow Princess), the prettiest girl in his school, that changes his life. Through a mysterious piece of software from Kuroyukihime, Haruyuki learns of the existence of the virtual "Accel World". In that moment, the lowest of the "school caste" becomes "Burst Linker", a knight defending a princess.
(April 07, 2012 @10:00)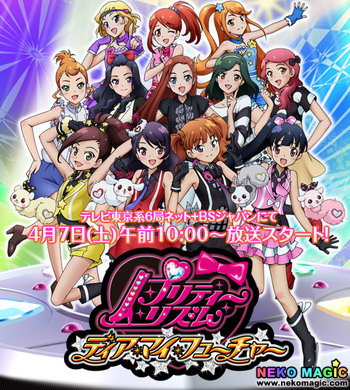 [youtube]AJGgVu_ro0Y[/youtube]
The TV anime series Pretty Rhythm: Dear My Future is the second season adapted by Tatsunoko Production, based on Takara Tomy's rhythm / fashion arcade game for girls, Pretty Rhythm Mini-Skirt. The new anime features a five-member Korean girl group, appearing as animated characters. The first anime's star characters Aira, Mion, and Rhythm have grown up and now tutor the aspiring idols in the new anime's story. The series will also animate the 4-member Japanese girl group Prizmmy.
Release Date: April 07, 2012 @10:00
Studio: Tatsunoko Production
(April 07, 2012 @25:58)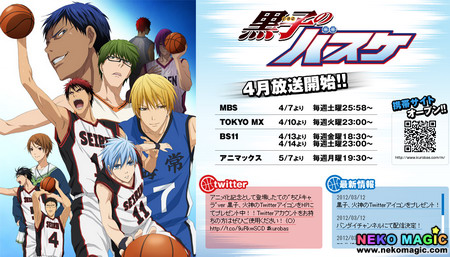 [youtube]KfZlmm4TjdY[/youtube]
The TV anime series Kuroko no Basuke is created by Production I.G, based on Tadatoshi Fujimaki's basketball manga. In the story, Taiga Kagami has just enrolled into Seirin High School when he meets Tetsuya Kuroko of the school's basketball team. Kuroko happens to be the shadowy sixth member of the legendary "Generation of Miracles" basketball team. Together, Kagami and Kuroko aim to take their team to the inter-high school championship – against Kuroko's former teammates.

<< TV I | TV II | TV III | TV IV | TV V | OVA I | OVA II | Movie >>