2012 Spring anime Part 1: TV anime I
Ozuma (TV)
Furusato Saisei Nippon no Mukashibanashi (TV)
Saint Seiya Omega (TV)
Uchuu Kyoudai (TV)
Shiba Inuko-san (TV)
Zetman (TV)
Pabu & Mojizu (TV)
Naruto SD: Rock Lee no Seishun Full-Power Ninden (TV)
Gakkatsu! (TV)

Welcome to the new anime season! Compared to the last season, we have so many TV anime this time. There are there are tons of anime that I'm very interested in (Sengoku Collection, Accel World, Upotte!!, Nazo no Kanojo X, Saki, Tasogare Otome x Amnesia, Jormungand, Fate/Zero, Kore wa Zombie Desu ka? of the Dead, Acchi Kocchi, Sankarea, Hyou-ka, Haiyore! Nyaruko-san, Shining Hearts, Yurumates, QB Rebellion). Hopefully I can have time to watch them all. =D

<< TV I | TV II | TV III | TV IV | TV V | OVA I | OVA II | Movie >>

(March 16, 2012 @24:00)
The six-episode TV anime series is based on "an illusive unreleased scenario" by 73-year-old manga and anime creator Leiji Matsumoto (Space Pirate Captain Harlock, Space Battleship Yamato, Galaxy Express 999). The sci-fi story is set on a future Earth that has gone to ruins in a sea of sand, after an anomaly on the sun devastates the atmosphere and damages the ecosystem. The deterioration of DNA has reduced the birth rate drastically, which forces the government to make clones named "IC" (Ideal Children), as well as a new government body for IC. Sam Coin, one of the so-called "Sand Pirates" who trades in the desert, is looking for the unidentified gigantic object, "Ozuma", which did his brother harm. One day, Sam rescued a beautiful girl, Maya, who was being chased by a sand destroyer ship owned by IC's army "Shishiasu". He took her with him to the Sand Pirates' ship, Barudanosu, sitting on the Port of Oaaze. However, the Barudanosu is under seige by the sand destroyer ship and its overwhelming military might. The theme of the story is "to fight the limited timespan of life".
Release Date: March 16, 2012 @24:00
Studio: LandQ Studios
Note: 6 episodes
Homepage: http://ozuma.jp/
(April 01, 2012 @09:00)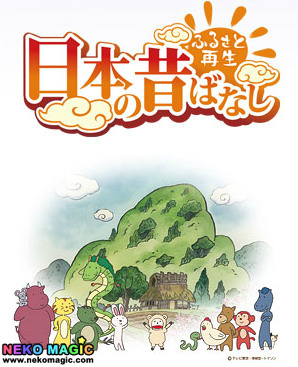 The TV anime series Furusato Saisei Nippon no Mukashibanashi is created by studio Tomason, as a collection of Japanese folklore stories. Each episode tells different folklore, myth, legend, and festival origin stories from across Japan. The story of the first episode, which comes from Japan's Tohoku region, will revolve around an elderly couple who receive a mysterious dog who brings them good fortune. The couple's neighbors then become jealous and kidnap the dog.
Release Date: April 01, 2012 @09:00
Studio: Tomason
(April 01, 2012 @06:30)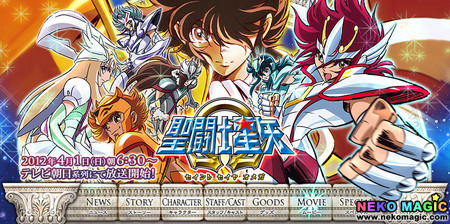 [youtube]Yv7T34InFwU[/youtube]
The TV anime series Saint Seiya Omega marks the first television anime adaptation in this mythical fantasy franchise, since the airing of the original series between 1986-1989. Saint Seiya Omega embarks fans on an original action-adventure story, not based on Masaki Kurumada's mythical fantasy manga, instead featuring an all-new generation of characters led by the protagonist Kouga – a 13 year-old bronze saint, who was raised by the goddess Athena. He admires the legendary gold saint Seiya and fights against the evil Mars, who tries to rule the world by abducting Athena.
(April 01, 2012 @07:00)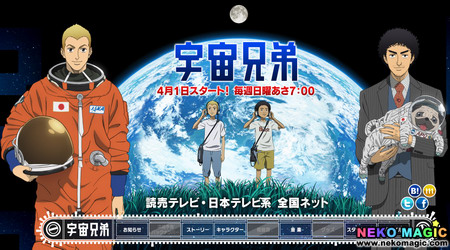 [youtube]eUB4ebxoYLI[/youtube]
The TV anime series Uchuu Kyoudai (Space Bros.) is created by studio A-1 Pictures, based on Chuuya Koyama's manga about two brothers – Mutta and Hibito – who made a vow as kids to travel to space. The younger brother Hibito did become an astronaut, but not Mutta. However, Mutta's life changes one fateful day…
(April 01, 2012 @22:27)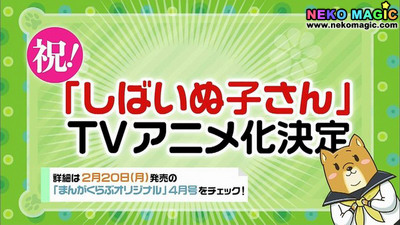 The TV anime series Shiba Inuko-san is based on a four-panel manga authored by Uzu. Inuko Shiba acts like a seemingly ordinary middle school student, but her friend Chako Ishibashi always wonders if Inuko is a dog. Still, to maintain their friendship, Chako does not voice her doubts out loud.
(April 02, 2012 @26:38)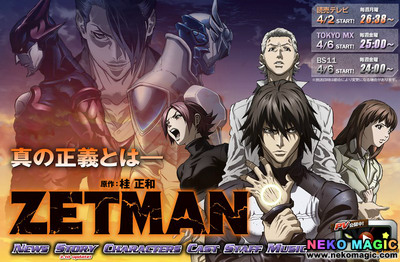 [youtube]-9P4UPbLHu4[/youtube]
The TV anime series Zetman is created by TMS Entertainment, based on Masakazu Katsura hero action manga. The story centers around Jin, a homeless boy whose true form is the new superhuman lifeform "ZET", and an industrial magnate's heir named Kouga with his own secret.
(April 02, 2012 @07:15)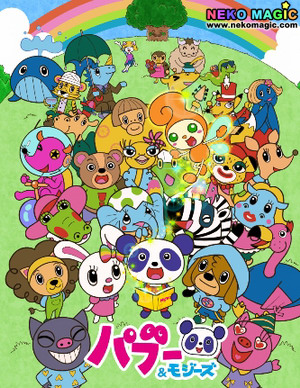 Pabu & Mojizu is a TV anime series for kids, created by studio We've, based on a Sega Toys franchise.
Release Date: April 02, 2012 @07:15
Studio: Zero-G
(April 03, 2012 @18:00)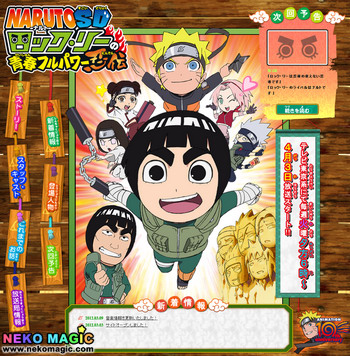 [youtube]Z9nsLuwK7aw[/youtube]
The TV anime series Rock Lee no Seishun Full-Power Ninden is based on a Naruto spinoff manga by Kenji Taira. The gag comedy manga centers around the secondary Naruto character Rock Lee. The super-deformed anime is directed by Masahiko Murata, the director of several Naruto Shippuuden anime films.
(April 03, 2012 @21:55)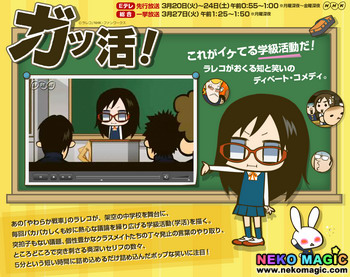 [youtube]8TnwUrvgqSk[/youtube]
Gakkatsu! is a series of anime shorts co-produced by NHK and Fanworks, with Flash animator Rareko (Yawaraka Sensha, Chi-Sui Maru) directing, writing the screenplay, and creating music for this "debate comedy" anime. The story centers on a junior high school class where students discuss strange topics as part of their classroom activities. In the first episode, the class president Chiho Takachiho asks her classmates what "pokkori" is, and they discuss various opinions on the subject. Every 5-minute episode features the unique classmates' views on a diffe
rent bizarre topic.

<< TV I | TV II | TV III | TV IV | TV V | OVA I | OVA II | Movie >>