2012 Winter Part 4: OVA/OAD I
Manyuu Hikenchou (SP)
IS: Infinite Stratos Encore: Koi ni Kogareru Sextet (OVA)
Kyousogiga (ONA)
Itsuka Tenma no Kuro Usagi x Legend of the Legendary Heroes (OAD)
R-15 (OAD)
Usagi Drop (SP)
Ikoku Meiro no Croisée: Yune & Alice (SP)
Kakko-Kawaii Sengen! (DVD)
Black Jack Final (OVA)
Major (OVA)
Hoshizora e Kakaru Hashi (OVA)
Toradora! (BD)

<< TV I | TV II | TV III | OVA I | OVA II | OVA III | Movie >>

(December 02, 2011; January 07, 2012)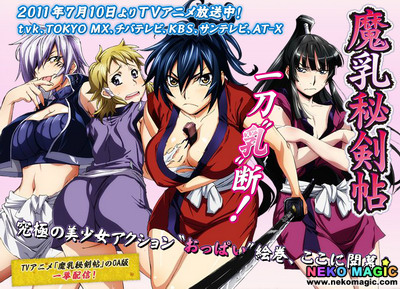 [youtube]WynlIlFZoJE[/youtube]
The TV anime series Manyuu Hiken-chou is created by Hoods Entertainment, based on Hideki Yamada's loosely historical (and highly ecchi) manga set in a parallel Taihei Edo period, in which breasts mean everything: if you have them, you are guaranteed wealth and popularity. If you lack them, you are rarely considered "human". Members of the Manyuu Clan help raise the future big breasts. Written on a secret scroll possessed by the clan, there is said to be various techniques on how to grow big and beautiful breasts. Chifusa – an amply porportioned sword fighter – is to be successor of the clan. However, she takes the secret scroll and runs away with it, hoping to fight against the cruel world that the Manyuu Clan has created.
Release Date: December 02, 2011;
January 07, 2012
Studio: Hoods Entertainment
Note: 3rd and
4th of 4 BD anime shorts
Homepage: http://oppaidaisuki.jp/
(December 07, 2011)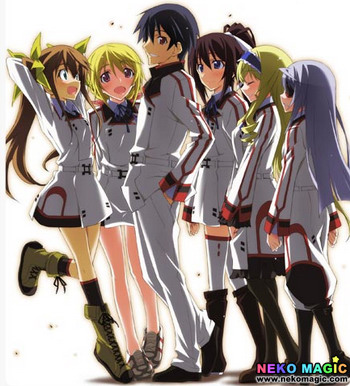 [youtube]ZZy9SoXjPvo[/youtube]
The Infinite Stratos Encore OVA follows the 2011 TV anime series IS: Infinite Stratos, created by studio 8bit, based on Izuru Yumizuru's light novel series shortly known as IS. The "popular high-speed school battle romantic comedy" centers around the IS Academy: a school for training the pilots of the Infinite Stratos weapon system, which can only be used by females. Candidates plucked from girls from countries all over the world are brought here – as well as one boy named Ichika Orimura. As it turns out, Ichika is "the only male in the world who can use the IS".
Release Date: December 07, 2011
Studio: 8bit
(December 10, 2011)

[youtube]NYdamQA1Bxw[/youtube]
The web anime Kyousogiga is created by studio Toei Animation and co-produced by toy maker Banpresto. Three kids are stuck in a strange city causing massive mayhem through the land. They are searching for an atypical rabbit in order to return home. Koto, the eldest of the three, seems to have some sort of connection to this weird place ruled by a monk, a demon, and a priest.
(December 10, 2011)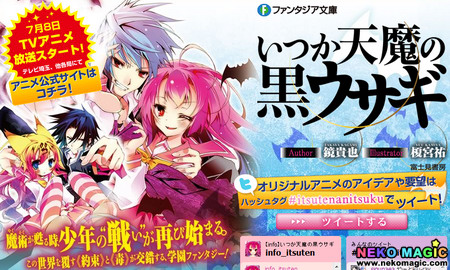 [youtube]i21zE2PxoHY[/youtube]
Unaired 13th ep. Bundled with light novel Vol. 9. An animated crossover between Itsuka Tenma no Kuro-Usagi and Densetsu no Yuusha no Densetsu Fantasy story.
(December 15, 2011)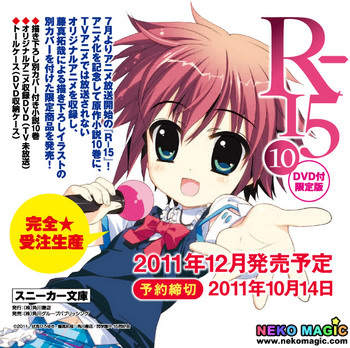 [youtube]AfdhobSCyvs[/youtube]
The R-15 OVA is bundled with the 10th volume of the light novels which it's based upon, originally by Hiroyuki Fushimi and Takuya Fujima. The story follows a student with a secret: he is a talented pornographic novelist with a newspaper-serialized work. Having enrolled in a school that only accepts geniuses, he must now chase his dream and direct his classmates to win an interclass competition. All while trying to create the prefect harem.
Release Date: December 15, 2011
Studio: AIC
Note: bundled w/ LE manga vol.10
(December 16, 2011; January 27, 2012)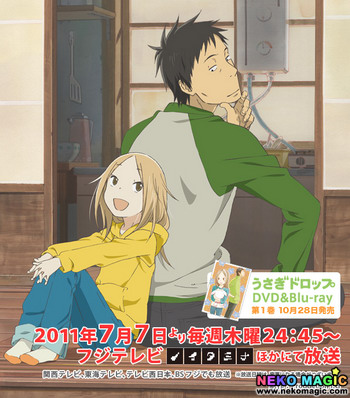 [youtube]jmkK6TZlZgo[/youtube]
The TV anime series Usagi Drop is created by Production I.G, based on Yumi Unita's comedy / slice-of-life manga otherwise known as Bunny Drop. Going home for his grandfather's funeral, 30-year-old bachelor Daikichi is floored to discover that the old man had an illegitimate child with a younger lover! The rest of his family is equally shocked and embarrassed by this surprise development, and not one of them wants anything to do with the silent little girl, Rin. In a fit of angry spontaneity, Daikichi decides to take her in himself! But will living with this overgrown teenager of man help Rin come out of her shell? And hang on, won't this turn of events spell doom for Daikichi's love life?!
Release Date: December 16, 2011; January 27, 2012
Studio: Production I.G.
Note: ep 6.5 bundled w/ BD vol.3; ep 8.5 bundled w/ BD vol.4
Homepage: http://www.usagi-drop.tv/
(December 16, 2011; January 25, 2012; February 22, 2012)
[youtube]lv0rQ2NBy20[/youtube]
The TV anime series Ikoku Meiro no Croisee is created by studio Satelight, based on a drama / romance manga also known as La croisée dans un labyrinthe étranger, written and illustrated by Hinata Takeda (who also illustrated Gosick). The story follows a girl named Yune who finds herself all alone in the lower-class neighborhoods of Paris, in the last half of the 19th century. There, she ends up working at a shopping district with a boy named Claude.
Release Date: December 16, 2011; January 25, 2012; February 22, 2012
Studio: Satelight
Note: 4th, 5th and 6th of 7 BD anime shorts
Homepage: http://ikokumeiro.com/
(December 16, 2011)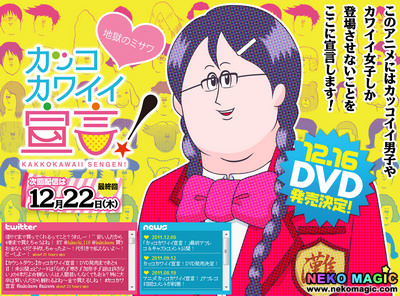 [youtube]Ac1vMkleYIQ[/youtube]
All-new episode bundled with the series' DVD. The anime adapts Jigoku no Misawa's gag comedy manga of the same name that runs in Shueisha's Jump Square Magazine.
(December 16, 2011)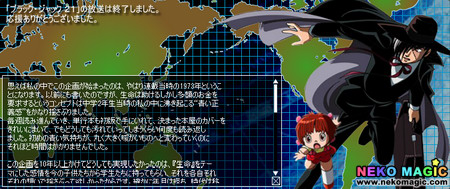 [youtube]eA4Sh_cWskk[/youtube]
The original Black Jack 10-episode video anime series adaptation of Osamu Tezuka's manga ran from 1993 to 2000. For the two new episodes, Akio Ohtsuka and Yuko Mizutani reprised their respective voice roles of Black Jack and Pinoko during a recording session streamed live on the Nico Nico Douga website in May.
(December 16, 2011)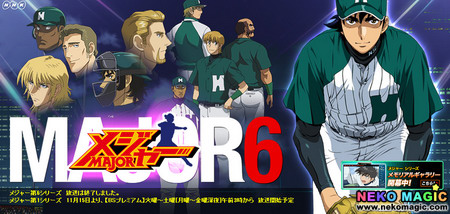 Related to the Major series. Bundled with first new special compiled book volume of the manga. The OVA project will adapt the thus-far-unanimated world series arc and the story's illusive final matchup.
(December 21)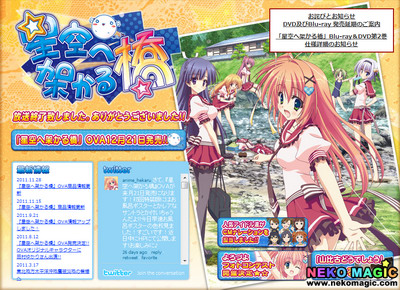 [youtube]RrBmvo20GKY[/youtube]
The TV anime series Hoshizora e Kakaru Hashi (A Bridge to the Starry Skies) was created by studio Dogakobo (Koihime Musou, 11eyes), based on an eroge originally developed by Feng and released in October 2010. In the game, the protagonist Kazuma Hoshino is a boy whose family moves to a new town for the sake of his younger brother's health. Kazuma gets lost on his way to his new school, but he unexpectedly encounters a girl named Ui Nakatsugawa. Ui guides him, but when Kazuma trips, he accidentally bumps into Ui and kisses her. Plus, Ui's close friend Ibuki Hinata happens to see the accidental kiss. Kazuma eventually meets Madoka Koumoto (the daughter of a priest at the local shrine), a third-year girl named Tsumugi Toudou, and Tsumugi's spirited younger sister Koyori.
(December 21, 2011)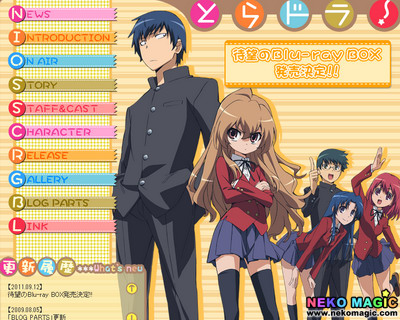 [youtube]uQtIGtdfwj4[/youtube]
King Records' Starchild label announced that it will release the Blu-ray Box of the Toradora! anime on December 21 with an all-new episode. The sixth and final disc of the box will feature the new episode along with the super-deformed series Toradora! S.O.S. ~Kuishinbō Banbansai, and the Toradora! Taikenki series with the cast.
Release Date: December 21, 2011
Studio: J.C. Staff
Note: BD box exclusive ep

<< TV I | TV II | TV III | OVA I | OVA II | OVA III | Movie >>