2012 Winter Part 3: TV anime III
Rinne no Lagrange (TV) (*12 episodes)
Danshi Koukousei no Nichijou (TV)
Another (TV) (*12 episodes)
Ano Natsu de Matteru (TV) (*12 episodes)
Papa no Iu Koto wo Kikinasai! (TV) (*26 episodes)
Inu x Boku SS (TV)
Danball Senki W (TV)
Black★Rock Shooter (TV) (*8 episodes)
Smile Precure (TV)
Gokujyo. (TV)

How time files! It is December now and the new anime season just started! There are so many anime that I want to watch. They are
Baby, Please Kill Me (I like the manga a lot!)
Zero no Tsukaima F (Finally it's over)
Nisemonogatari (There is no way I would skip this)
Ano Natsu de Matteru (You gonna like this if you like Onegai Teacher/Onegai Twins)
Papa no Iu Koto wo Kikinasai! (Never read the novel but I love the manga!)
Black★Rock Shooter (8 eps is kinda short, hopefully it is good)
Smile Precure (finally a new Precure! I really don't like the current one)
If I have time, I would watch these 2
High School DxD (The manga is good, but for some reasons the anime turns into an ero anime???)
Another (Didn't read the novel but I like the manga. But it's too many anime coming in Winter, I'll watch it if I have time)
And I'll try to watch 1-2 episodes of these and see if I like them or not
Senhime Zesshou Symphogear
Mouretsu Pirates
Aquarion EVOL
Rinne no Lagrange

<< TV I | TV II | TV III | OVA I | OVA II | OVA III | Movie >>

(January 08, 2012 @22:00 )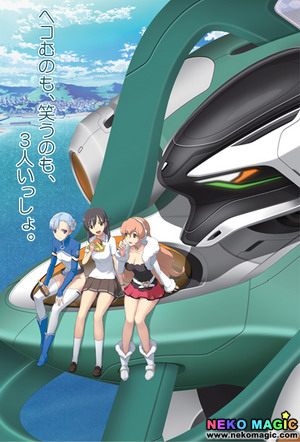 [youtube]TKBM4kGvcVQ[/youtube]
The TV anime series Rinne no Lagrange is created by studio Xebec, with an original story by Production I.G about a 17-year-old beach-loving girl named Madoka, and her ambition to help out if there is trouble in her seaside hometown of Kamogawa (Chiba prefecture). At first she is the only member of her "Kamo-Girl Jersey Club" created for this purpose, but she manages to snag a beautiful yet puzzling girl named Ran, and mysterious transfer student Muginami.
Release Date: January 08, 2012 @22:00
Studio: XEBEC
Note: 12 episodes
Homepage: http://lag-rin.com/
(January 09, 2012 @26:00)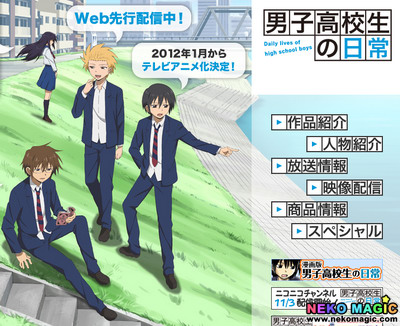 [youtube]H6HRr6DRHP8[/youtube]
The TV anime series Daily Lives of High School Boys is created by studio Sunrise, based on Yasunobu Yamauchi's gag comedy web-manga better known as Danshi Koukousei no Nichijou, which follows the humorous yet "realistic" everyday life of Tadakuni, Hidenori, Yoshitake and other students at a boys' high school.
(January 09, 2012 @25:35)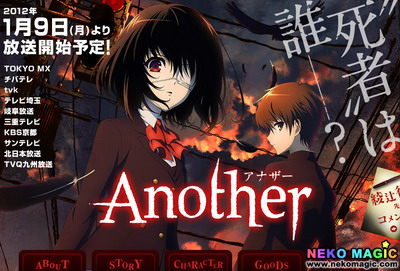 [youtube]12tJBLJ9uQA[/youtube]
The TV anime series Another is created by studio P.A. Works, based on a school horror mystery novel by Yukito Ayatsuji, and features original character designs by Noizi Ito (Shana, Suzumiya Haruhi). The story centers around a school class that has a curse, and the string of unavoidable deaths that befall the boys and girls in that class. 26 years ago, in a third-year classroom of a middle school, there was a student named Misaki. As an honors student who was also good at sports, the charming girl was popular with her classmates. When she suddenly died, her classmates decided to carry on as if she was still alive until graduation. Then, in the spring of 1998, a boy named Kouichi Sakakibara transfers to that classroom, and he grows suspicious of the fearful atmosphere in that classroom. In particular, there is a beautiful, aloof girl named Misaki Mei who wears an eyepatch and is always alone drawing pictures.
(January 09, 2012 @25:30)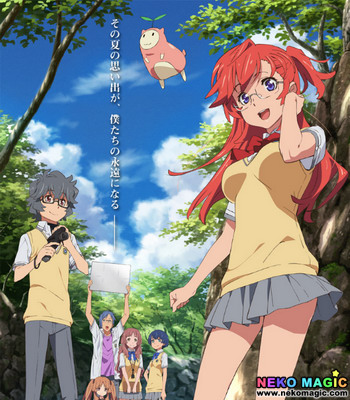 [youtube]M-TgHFESl-8[/youtube]
The TV anime series Ano Natsu de Matteru is an adolescent romantic comedy coming from story creator Yousuke Kuroda (Onegai Teacher, Onegai Twins) and character designer Taraku Uon (Onegai franchise). The anime's three main characters are the two girls Ichika Takatsuki and Remon Yamano, and the boy Kaito Kirishima.
(January 10, 2012 @25:30)
[youtube]k-gu-nzdbqk[/youtube]
[youtube]-E0-fnVyfu8[/youtube]
[youtube]8sYMXHq7d2o[/youtube]
The anime adaptation Papa no Iukoto o Kikinasai! is created by studio Feel, based on a "slapstick at-home romantic comedy" light novel series authored by Tomohiro Matsu and illustrated by Youhei Takemura. The story follows Segawa Yuta, a university student who has to live with three sisters that are not from his family: a 14-year-old tsundere, a 10-year-old little demon, and a 3-year-old small girl. After losing his parents when he was small, Yuta was raised by his sister Yuri. He has been living alone since Yuri got married to a middle aged man, back when Yuta was a junior high student. One day, Yuri visits Yuta's apartment and asks him to take care of her three daughters while Yuri and her husband go on a trip. He unwillingly accepts the job, but the plane Yuri took goes missing. In order to prevent the daughters from being adopted separately by the relatives, Yuta decided to take in all the three girls. A life of a strange family in a tiny apartment begins.
Release Date: January 10, 2012 @25:30
Studio: Feel
Note: 26 episodes
(January 12, 2012 @26:00)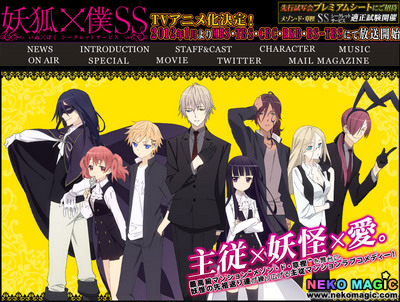 [youtube]V15x7hBqn3c[/youtube]
[youtube]eCnfpYXBFBE[/youtube]
The TV anime series Inu x Boku SS is based on Cocoa Fujiwara's supernatural shounen manga that began serialization in May 2009. The Shirakiin house's daughter, Shirakiin Riricho, who has a complex about being unable to live independently and unprotected, feels the need to move out and live on her own under the condition of residing in the mansion named "Ayakashi Kan". Only those who have cleared a very strict examination could reside in this mansion, and for each resident, they are accompanied with one agent of the Secret Service (S.S.). Although Riricho has rejected the company of the S.S., while residing in the mansion she finds out that the agent dedicated to protecting her is actually the Fox Spirit whom she previously rescued.
(February 02, 2012 @24:45)
[youtube]I-_bUtuA6S8[/youtube]
The TV anime series Black Rock Shooter is once again animated by studio Ordet, like they did with the 2010 OVA based on huke's original character illustrations, which also inspired ryo's Vocaloid song of the same title.
(February 05, 2012 @08:30)
The ninth Precure magical girl television anime series.
Release Date: February 05, 2012 @08:30
Studio: Toei Animation
(Winter 2012)
The "silly, slightly risque" comedy is set in the halls of a high school girls' dormitory where there are no rules and anything goes. A beautiful girl named Minami Kuribayashi transfer to the girls' high school Gokurakuin ("Gokujyo") from Los Angeles, and she plans to rule Gokujyo with her cuteness as her weapon. However, a girl named Aya Akabane confounds Minami's plans on her first day there, and Mionami deals with the unpredictable life on this campus.

<< TV I | TV II | TV III | OVA I | OVA II | OVA III | Movie >>