2012 Winter Part 2: TV anime II
Senhime Zesshou Symphogear (TV) (*13 episodes)
Area no Kishi (TV)
Nichijou ETV ver. (TV)
Zero no Tsukaima F (TV) (*12 episodes)
Mouretsu Pirates (TV)
Brave10 (TV) (*12 episodes)
Nisemonogatari (TV) (*13 episodes)
Poyopoyo Kansatsu Nikki (TV)
Aquarion EVOL (TV)

How time files! It is December now and the new anime season just started! There are so many anime that I want to watch. They are
Baby, Please Kill Me (I like the manga a lot!)
Zero no Tsukaima F (Finally it's over)
Nisemonogatari (There is no way I would skip this)
Ano Natsu de Matteru (You gonna like this if you like Onegai Teacher/Onegai Twins)
Papa no Iu Koto wo Kikinasai! (Never read the novel but I love the manga!)
Black★Rock Shooter (8 eps is kinda short, hopefully it is good)
Smile Precure (finally a new Precure! I really don't like the current one)
If I have time, I would watch these 2
High School DxD (The manga is good, but for some reasons the anime turns into an ero anime???)
Another (Didn't read the novel but I like the manga. But it's too many anime coming in Winter, I'll watch it if I have time)
And I'll try to watch 1-2 episodes of these and see if I like them or not
Senhime Zesshou Symphogear
Mouretsu Pirates
Aquarion EVOL
Rinne no Lagrange

<< TV I | TV II | TV III | OVA I | OVA II | OVA III | Movie >>

(January 06, 2012 @23:00)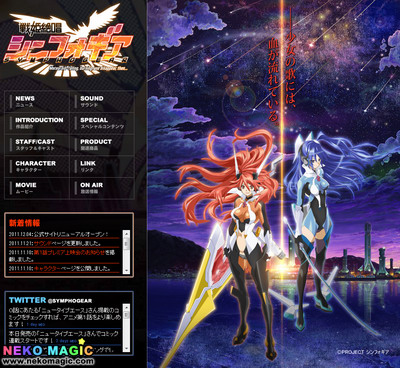 Humans have been menaced by mysterious monsters called "Designated Aberrant Disaster: Noise". Tsubasa and Kanade are a popular vocal unit "Twei Wing". They wear the new weapon "Symphogear" and fight against Noise to save the earth.
(January 07, 2012 @06:00)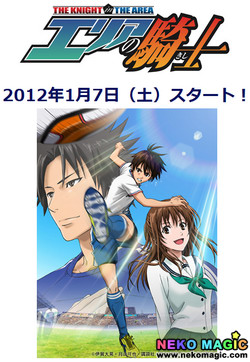 Believing himself to be useless at soccer, Aizawa Kakeru opts to become the manager of his schooll's soccer team, while his brother Suguru is its ace, and is even good enough to represent Japan. However, Kakeru may be harbouring a strong talent within himself that only Suguru can see, and the two often get into arguments over Kakeru's denial of his skills. Things are made more complicated with the return of Nana, an old playmate of them that Kakeru has a crush on.
(January 07, 2012 @17:55)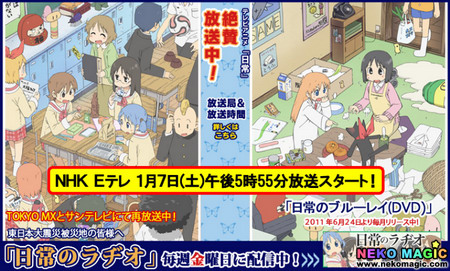 [youtube]NpmxMPhWCbY[/youtube]
A re-run of the Nichijou TV series, re-edited into a 12-episode version for NHK's ETV channel.
The ordinary life of the peculiar students from class 1-Q and their odd acquaintances.
While the title suggests a story of simple, everyday school life, the contents are more the opposite. The setting is a strange school where you may see the principal wrestle a deer or a robot's arm hide a rollcake. However there are still normal stories, like making a card castle or taking a test you didn't study for.
(January 07, 2012 @08:30)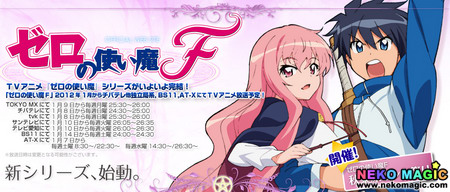 [youtube]W2A-pmzpqfA[/youtube]
The TV anime series Zero no Tsukaima F is created by studio J.C. Staff as the fourth and final season of the Zero no Tsukaima anime series, featuring the pink-haired tsundere loli Louise.
(January 07, 2012 @24:30)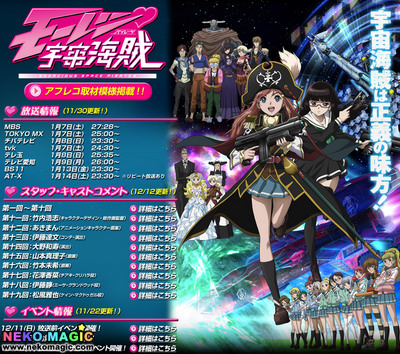 [youtube]6B6CaszcJ6k[/youtube]
The TV anime series Mouretsu Pirates (Violent Pirates) is adapted by studio Satelight (Macross Frontier), based on the space-opera adventure novels Mini-Skirt Uchuu Pirates originally authored by Yuichi Sasamoto and illustrated by Noriyuki Matsumoto. The story centers around a spirited high school girl named Marika. She keeps herself busy with the space yacht club and her part-time job at a high-class retro cafe. One day, two men suddenly appear and claim to be subordinates of her dead father. They demand that she assume command of the space pirate ship Benten Maru. A privateer ship's compact was made during a war of independence a century ago, and according to that compact, the ship must be inherited by the captain's next direct descendant. Marika finds herself embarking on a new life as a space pirate.
Release Date: January 07, 2012 @24:30
Studio: Satelight
(January 07, 2012 @26:00)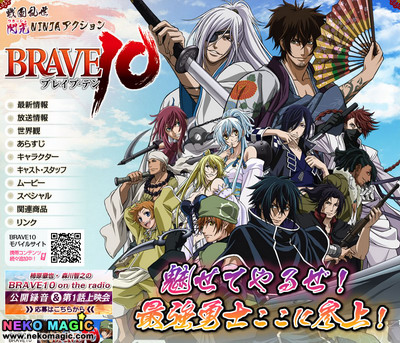 [youtube]ivfeVWKWLpc[/youtube]
The TV anime series Brave10 is based on Kairi Shimotsuki's manga sequel Brave10 S (Spiral). The story reimagines the legendary adventures of the 10 brave warriors assembled by the warlord Sanada Yukimura in the year 1600, in the middle of Japan's tumultuous Sengoku (Warring States) era.
Release Date: January 07, 2012 @26:00
Studio: TMS Entertainment
Note: 12 episodes
Homepage: http://www.brave10.com/
(January 07, 2012 @24:00)
[youtube]Eu203n756MA[/youtube]
The TV anime series Nisemonogatari is created by studio Shaft, based on NisiOisin's light novels with a story set in the early 21st century, as a sequel to Bakemonogatari (likewise adapted into anime, in 2009), and centering around the "Fire Sisters" Tsukihi and Karen Araragi.
(January 08, 2012 @07:24)
The TV anime series Poyopoyo Kansatsu Nikki is based on a Ruu Tatuki's 4-koma slice-of-life manga about a mysterious "spherical cat" named Poyo, its family, and the people in Poyo's everyday life.
(January 08, 2012 @25:35)
[youtube]N1onzPrdTac[/youtube]
Aquarion Evol is the second TV anime series in the Aquarion franchise, which also spawned an OVA and anime film in 2007, after the first TV series' debut in 2005. Studio Satelight is once again returning to animate the new anime, whose original story takes place in a distant future, when humanity is once again facing the threat of the "Shadow Angels" – mystical creatures who returned after 12.000 years of absence. The story is set in a city modeled after Hong Kong, with a new cast of characters, piloting a new Aquarion robot, fighting enemies from another dimension. It has been hinted that the characters might be reincarnations of Apollo, Silvia and the others from the first series.

<< TV I | TV II | TV III | OVA I | OVA II | OVA III | Movie >>