2012 Winter Part 1: TV anime I
Lupin III: Chi no Kokuin Eien no Mermaid (TV)
Gundam Seed HD Remaster (Web)
Natsume Yuujin-Chou Shi (TV)
New Prince of Tennis (TV)
Recorder to Randoseru (TV)
Tantei Opera Milky Holmes Second Season (TV)
Baby, Please Kill Me (TV)
Amagami SS+ (TV)
High School DxD (TV)

How time files! It is December now and the new anime season just started! There are so many anime that I want to watch. They are
Baby, Please Kill Me (I like the manga a lot!)
Zero no Tsukaima F (Finally it's over)
Nisemonogatari (There is no way I would skip this)
Ano Natsu de Matteru (You gonna like this if you like Onegai Teacher/Onegai Twins)
Papa no Iu Koto wo Kikinasai! (Never read the novel but I love the manga!)
Black★Rock Shooter (8 eps is kinda short, hopefully it is good)
Smile Precure (finally a new Precure! I really don't like the current one)
If I have time, I would watch these 2
High School DxD (The manga is good, but for some reasons the anime turns into an ero anime???)
Another (Didn't read the novel but I like the manga. But it's too many anime coming in Winter, I'll watch it if I have time)
And I'll try to watch 1-2 episodes of these and see if I like them or not
Senhime Zesshou Symphogear
Mouretsu Pirates
Aquarion EVOL
Rinne no Lagrange

<< TV I | TV II | TV III | OVA I | OVA II | OVA III | Movie >>

(December 02, 2011 @21:00)
[youtube]T_kFnuQm5yI[/youtube]
Arsene Lupin III is the grandson of the master thief Arsene Lupin. With his cohorts Daisuke Jigen and Goemon Ishikawa XIII and his love interest Fujiko Mine, he pulls off the greatest heists of all time while always escaping the grasp of Inspector Koichi Zenigata.
(December 23, 2011)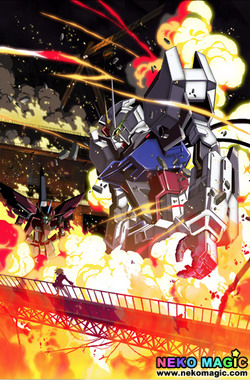 [youtube]2m4084QAKa8[/youtube]
In honor of the 10th anniversary of the Mobile Suit Gundam Seed television anime, a high-definition "remaster project" is launching. It will stream on the Bandai Channel website in Japan on December 23. It will then start running on the BS11 satellite channel on January 1 at 7:30 p.m., before airing on the Tokyo MX station on January 3 at 10:29 p.m. Finally, the three Blu-ray Boxes will ship next year on March 23, June 22, and September 21, respectively.
(January 02, 2012 @25:30)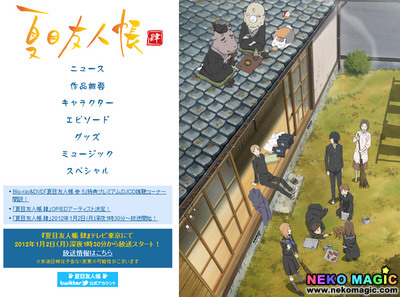 4th season of Natsume Yuujin-chou. Natsume is a boy who has been able to see ghosts since he was little. Unfortunately, humans hun him, and there is not much fondness between him and ghosts either. One day, he inherits a Yuujin-chou (book of friends) from his grandmother. The book is actually full of contracts that his grandmother made to trap ghosts. As one ghost after another shows up, Natsume tries to release or help them – even while many of them seek vengeance on him.
Release Date: January 02, 2012 @25:30
Studio: Brains Base
(January 04, 2012 @25:50)

The 2012 TV anime series The New Prince of Tennis is based on Takeshi Konomi's manga of the same title. The story begins several months after the national tennis tournament that ended the original Prince of Tennis manga.
Release Date: January 04, 2012 @25:50
Studio: Production I.G
(January 05, 2012 @25:00)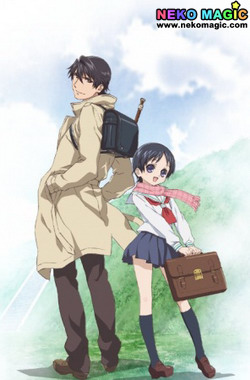 The TV anime series Recorder to Randoseru is based on Meme Higashiya's 4-koma manga about Atsushi Miyagawa and his sister Atsumi Miyagawa. Atsushi looks like an adult at 180 centimeters (71 inches) tall, but he is actually an elementary school boy. Atsumi looks like a little girl at 137 centimeters (54 inches) tall, but she is actually in high school.
Release Date: January 05, 2012 @25:00
Studio: *TBA
(January 05, 2012 @23:00)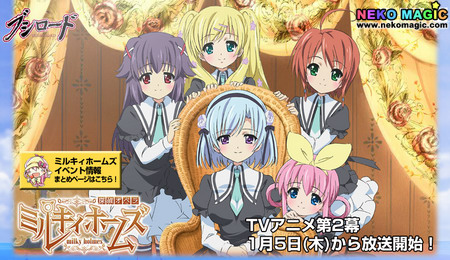 [youtube]BJHz3otMxDo[/youtube]
[youtube]jrp_81y3taA[/youtube]
The second season of TV anime series Tantei Opera Milky Holmes is once again based on a card- and video-games franchise developed by Bushiroad, featuring a moe team of loli detectives. The original story is set in a future world where Sherlock Holmes-like detectives compete with their arch-nemesis, great thieves like Arsène Lupin. Some of those are gifted with supernatural powers called "toys". Milky Holmes is a team of four aspiring girl detectives attending the Holmes Detective Academy, each of them gifted with a different "toy".
(January 05, 2012 @25:25)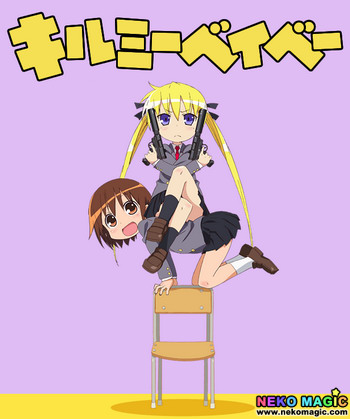 [youtube]Kcg34GCOh2w[/youtube]
The TV anime series Baby, Please Kill Me! is created by studio J.C. Staff, based on a 4-koma slice-of-life comedy manga by Kaduho, also known as Kill Me Baby. The manga follows Sonya, an assassin girl who goes to school between missions, and her fearless yet not-so-smart friend Yasuna. Joining them is Agiri, a ninja in Sonya's organization.
(January 05, 2012 @25:55)
[youtube]cajK0u-egNM[/youtube]
Second season of Amagami SS. Each of the six heroines will be featured in a two-episode chapter in an omnibus format and the direct sequels to the first season will be animated. The new director Kobayashi Tomoki said he will put the anime-original elements forward in the second season.
(January 06, 2012 @11:00)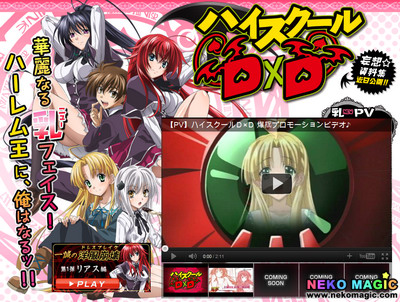 [youtube]JpXSf5R3CMM[/youtube]
[youtube]bsyhvWTHXf4[/youtube]
The TV anime series High School DxD is created by studio TNK, based on a light novel series authored by Ichiei Ishibumi and illustrated by Miyama-Zero. The story follows Issei Hyoudou, a dim-witted, lecherous second-year high school student who is killed by a girl on his first date ever. Issei is reincarnated as a devil, and from that day forward, he serves as an underling of Riasu, a high-level devil who is also the prettiest girl on Issei's campus.

<< TV I | TV II | TV III | OVA I | OVA II | OVA III | Movie >>