2011 Fall anime Part 7: Movie
Mardock Scramble: The Second Combustion (Film)
Prince of Tennis: Eikokushiki Teikyuu Shiro Kessen! (Film)
Tekken: Blood Vengeance (Film)
Hotarubi no Mori e (Film)
Toaru Hikuushi e no Tsuioku (Film)
Movie Suite Precure♪: Torimodose! Kokoro ga Tsunaku Kiseki no Melody♪ (Film)
This is the last part for the 2011 Fall anime report! I hope you enjoy the new Fall anime season! =D
<< TV I | TV II | TV III | OVA I | OVA II | OVA III | Movie >>
September 03, 2011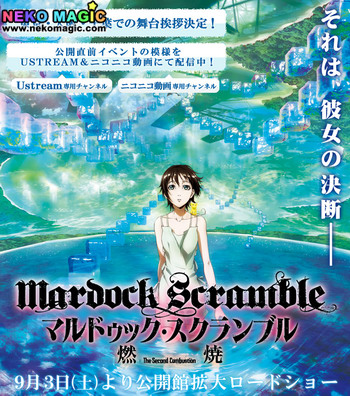 [youtube]oc8Usq79CYs[/youtube]
The second anime film in the Mardock Scramble trilogy project adapted by studio GoHands, based on Tow Ubukata's sci-fi novel series. The original novel is about a girl who dies as her body is burned by "the bad guy". However she resurrects as a powerfully advanced cyborg, and sets herself on a path for revenge.
September 03, 2011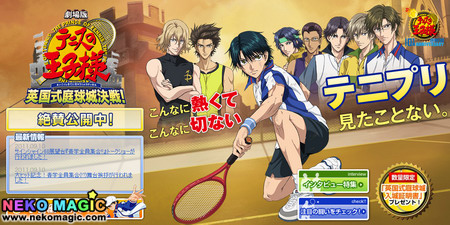 [youtube]upmKQ2QQ594[/youtube]
The anime film The Prince of Tennis: Eikoku-shiki Teikyuu-jou Kessen is co-created by M.S.C. and Production I.G, with an all-original story in which the cast of Takeshi Konomi's original manga and subsequent anime franchise head to Wimbledon in England for a junior tennis tournament.
September 03, 2011
[youtube]http://tekken-bloodvengeance.com/[/youtube]
The 3D CG animated film Tekken: Blood Vengeance is created by Digital Frontier, based on Namco Bandai's ass-kicking games franchise Tekken. The story is set between the events of Tekken 5 and Tekken 6, and follows Ling Xiaoyu as she is tasked by the G Corporation to infiltrate an international school in Kyoto to gather information on a mysterious student named Kamiya Shin. Before she can make any progress in the investigation, Shin is kidnapped by an unknown assailant. Digging deeper into Shin's background in an attempt to rescue him, Xiaoyu teams up with Alisa Bosconovitch and learns about the frightening underbelly of the Mishima Zaibatsu and the conspiracy behind the Mishima family.
September 17, 2011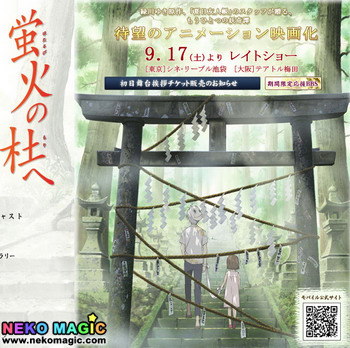 [youtube]qXLSRH31Yao[/youtube]
The anime film Hotarubi no Mori e is created by studio Brains Base, based on a supernatural romance manga by Yuki Midorikawa (Natsume Yuujinchou). The story centers around Hotaru, a little girl who gets lost in an enchanted forest where apparitions reside. A young boy, Gin, appears before Hotaru, but she cannot touch him for fear of making him disappear.
October 01, 2011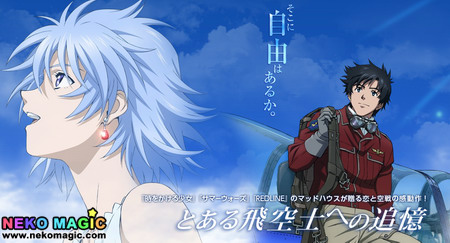 [youtube]8qomwjPIerM[/youtube]
The anime film To Aru Hikuushi e no Tsuioku is adapted by studio Madhouse and co-produced by TMS Entertainment, based on Koroku Inumura's light novels otherwise known as Flashbacks to a Certain Aerial Pilot. The story revolves around Charles Karino, a Revaamu Empire mercenary aerial pilot who mans the twin-seater reconnaissance seaplane Santa Cruz. One day, he receives a preposterous assignment: to fly solo over 12,000 kilometers of enemy waters to protect a girl named Fana del Moral. Fana happens to be the next in line to the empire's throne and a girl possessing beauty "equal to 5,000 beams of light".
October 29, 2011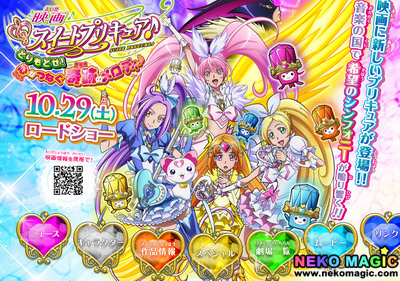 [youtube]7xJXrH35Pl4[/youtube]
The anime film Eiga Suite Precure: Torimodose! Kokoro ga Tsunagu Kiseki no Melody is as usual created by Toei Animation, as the 11th movie in the Pretty Cure magical girls franchise – following the Precure All Stars DX3 anime film from March 2011. The new heroines include the pink-haired Cure Melody (Hibiki Houjou) and the blonde-haired Cure Rhythm (Kanade Minamino). Together with a sprite named Hummy (Hamii) from the musical country of Majorland, these two childhood friends will "save the world with music!".
<< TV I | TV II | TV III | OVA I | OVA II | OVA III | Movie >>