2011 Fall anime Part 6: OVA/OAD III
Hidamari Sketch x SP (Special) (*1 of 2 eps; TV pre-air)(*2 of 2 eps; TV pre-air)
Deadman Wonderland (OAD) (*bundled w/ LE manga vol.11)
Yozakura Quartet: Hoshi no Umi (OAD) (*bundled w/ LE manga vol.11)
Mobile Suit Gundam Unicorn (OVA) (*4 of 6 eps)
Seitokai Yakuindomo (OAD) (*bundled w/ LE manga vol.6)
Scryed Alteration (OVA) (*special recap of TV series)
Eiyuu Densetsu: Sora no Kiseki The Animation (OVA)
IS: Infinite Stratos Encore: Koi ni Kogareru Sextet (OVA)
Saiyuki Gaiden (OVA) (*2 of 3 eps)
Kiss×sis (OAD) (*7th ep; bundled w/ LE manga vol.9)
<< TV I | TV II | TV III | OVA I | OVA II | OVA III | Movie >>
October 29, 2011 @25:30 (ep 1)
November 05, 2011 (ep 2)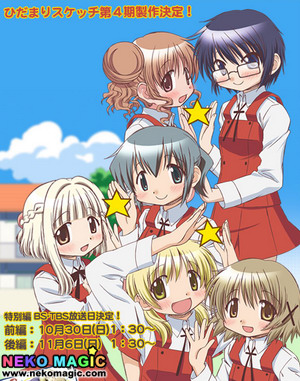 [youtube]1VURrOaybfI[/youtube]
The fourth special edition anime for the Hidamari Sketch franchise is scheduled to air in October and November, followed by a home video release in November. The first two episodes included in the set will air in Japan on Saturday, October 29, and the second two episodes will be broadcast the following week on November 5. This collection of four additional episodes will then be available in a limited edition Blu-ray Disc edition, as well regular and limited edition DVD versions.
October 2011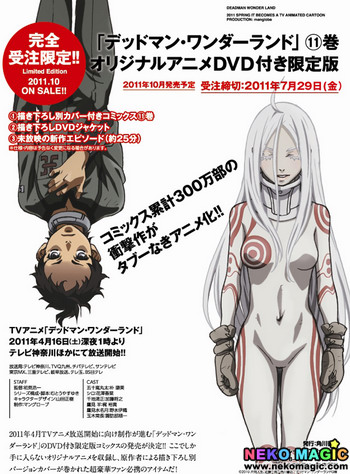 [youtube]GzBZU1hKIzg[/youtube]
The story is set after the destruction of most of Tokyo by an earthquake, and it centers on Ganta Igarashi, a middle school student framed for the murder of his classmates. Igarashi is sentenced to Deadman Wonderland, a bizarre privatized prison that is one part incarceration and one part public spectacle for tourists.
Release Date: October 2011
Studio: Manglobe
Note: Bundled w/ LE manga vol.11
November 09, 2011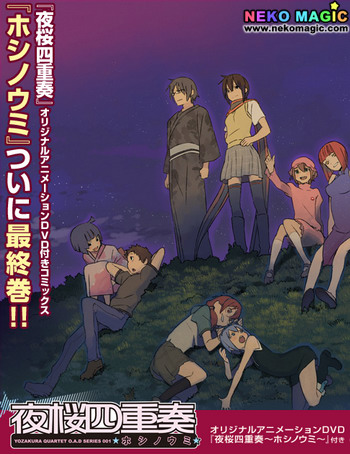 [youtube]X_9kFoEXhbE[/youtube]
The OVA adaptation Yozakura Quartet: Hoshi no Umi is created by Tatsunoko Production – unlike the 2008 TV anime series created by studio Nomad. Also unlike the TV series, the OVA will completely follow Suzuhito Yasuda's original supernatural action manga. The original cast, however, are returning for this project.
November 12, 2011
[youtube]jivmp5yy_OQ[/youtube]
Mobile Suit Gundam Unicorn is a 6-episode OVA produced by studio Sunrise, based on Harutoshi Fukui's mecha novels of the same title. The story is set in the series' original "Universal Century", in the year 0096. The OVA's home video release includes English voices and multi-lingual subtitles, along with the original Japanese audio and subs.
November 17, 2011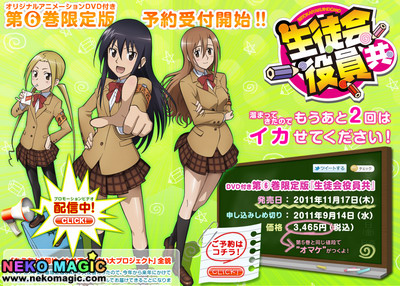 [youtube]gmaGLKZgHcE[/youtube]
The OVA adaptation Seitokai Yakuindomo follows the 2010 TV anime series created by studio GoHands, based on a slice-of-life comedy manga by Tozen Ujiie, and is bundled with some of the manga's limited edition volumes.
November 19, 2011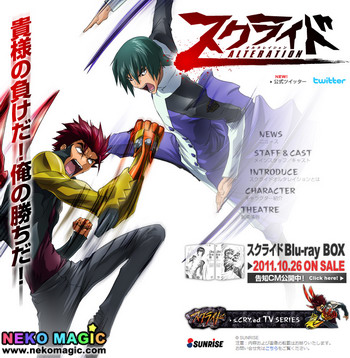 [youtube]oxpOa9a-smw[/youtube]
The official website of the Scryed television anime series confirmed on Friday that the planned special edition of the anime will include new footage. Scryed Alteration will re-edit the 26-episode anime into two volumes with all-new audio recordings, digital remastering, and some new footage. The special edition is part of the Scryed 10th Anniversary Project; the science-fiction series first aired in Japan in July of 2001.
November 25, 2011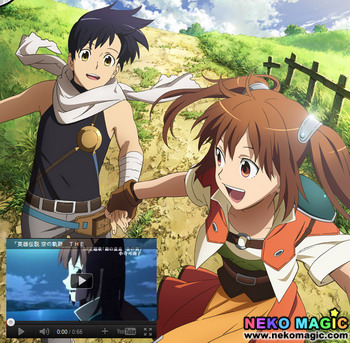 [youtube]qyBDhENM674[/youtube]
The anime adaptation Eiyuu Densetsu: Sora no Kiseki is created by Kinema Citrus, based on Nihon Falcom's fantasy role-playing game trilogy also known as The Legend of Heroes: Trails in the Sky.
November 25, 2011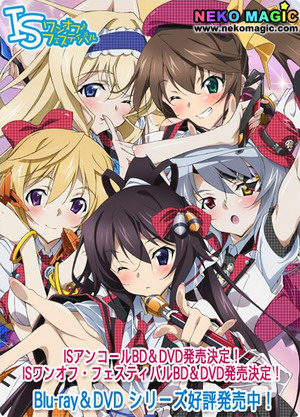 [youtube]T4kjPpy3C1A[/youtube]
The anime franchise adapts Izuru Yumizuru's "popular high-speed school battle romantic comedy" light novel series. The story centers around the IS Academy: a school for training the pilots of the Infinite Stratos weapon system, which can only be used by females. Candidates plucked from girls from countries all over the world are brought here — as well as one boy named Ichika Orimura.
November 25, 2011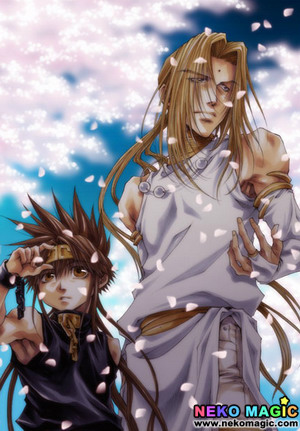 [youtube]l7YhMRdB9iE[/youtube]
The three-episode OVA Saiyuuki Gaiden is created by studio Anpro, based on a fantasy / adventure manga by Kazuya Minekura that serves as a prequel to the Saiyuuki series, by the same author. The story takes place in Heaven, 500 years before the first Saiyuuki series. The plot is based around that series' four main characters in their past lives, and details exactly what it was they did to get thrown out of heaven.
November 30, 2011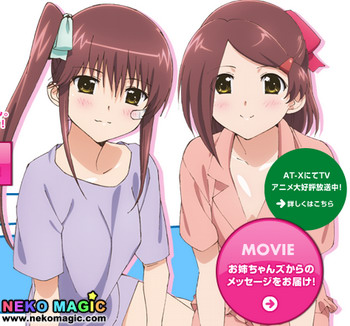 [youtube]je-LkKo363I[/youtube]
The OVA series Kiss x Sis is based on Bow Ditama's manga about sisterly love. And not just any kind of sisterly love, but a double step-sisterly love. The original "romantic incest comedy" manga centers on Keita – a third-year middle school boy studying for his high school entrance exams. His two twin stepsisters Ako and Riko Suminoe – with no blood relation to him – help him prepare for the exams, but life gets too cozy between Keita and the girls.
<< TV I | TV II | TV III | OVA I | OVA II | OVA III | Movie >>