2011 Fall anime Part 4: OVA/OAD I
Astarotte no Omocha! EX (OVA)
Kami nomi zo Shiru Sekai: Yonin to Idol (OAD) (*bundled w/ LE manga vol.14)
+Tic Nee-san (ONA) (*episode 3)(*episode 4)
Hourou Musuko (Special) (*bundled w/ BD vol.6)
Baka to Test to Shoukanjuu: Sore ga Bokura no Nichijou (Special) (*bundled w/ BD vol.1)
Kimi ni Todoke (OAD) (*bundled w/ Blu-ray LE box)
Ikoku Meiro no Croisée: Yune & Alice (Special) (*SD short; bundled w/ BD vol.1)
Ah! My Goddess (OAD) (*bundled w/ LE manga vol.43)
Boku wa Tomodachi ga Sukunai (OAD) (*bundled w/ LE novel vol.7)
Higurashi no Naku Koro ni Kira (OVA) (*2 of 4 eps)(*3 of 4 eps)
<< TV I | TV II | TV III | OVA I | OVA II | OVA III | Movie >>
September 07, 2011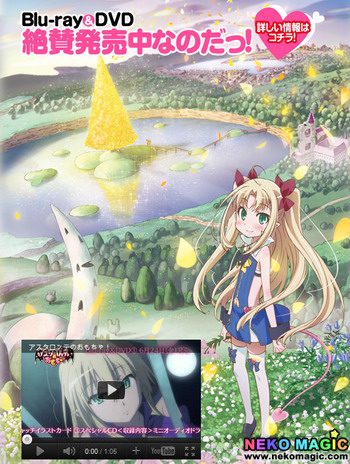 [youtube]6W_rT4LSPdw[/youtube]
The OVA adaptation Astarotte's Toy! EX is once again based on Yui Haga's manga about Naoya – a youngster who is brought to a fantasy world, as a candidate for the male harem of the kingdom's loli succubuss princess, Astarotte Ygvar. The OVA features side stories not shown in the earlier TV anime series.
September 14, 2011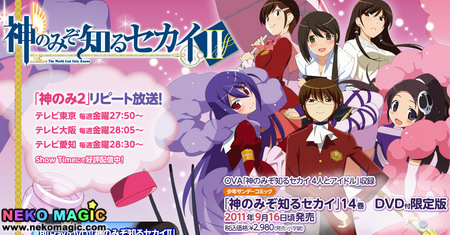 [youtube]TGYPVxYGJB4[/youtube]
The single-episode OVA Kami Nomi zo Shiru Sekai: Yonnin to Idol (The World God Only Knows: Four People and an Idol) is bundled with the 14th volume of Tamiki Wakaki's manga series, on which this second OVA adaptation is likewise based. Studio Manglobe adapted the original story about a high school boy who is known as the "Capturing God", for his success at romance simulation games. However, thanks to a contract with a devil, he now has to capture the hearts of real girls to catch the runaway spirits hidden in those hearts.
September 16 & 24, 2011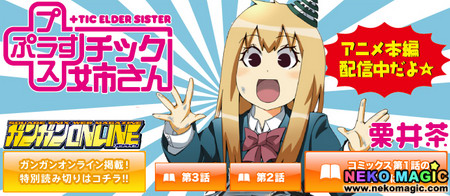 [youtube]vJdak5yCGwQ[/youtube]
The TYO Animations project follows a third-year high school girl who likes building plastic models in a model-making club. Mari Kanou, Marina Inoue and Yumi Uchiyama play the club members Neesan, Makimaki, and Okappa, respectively.
Release Date: September 16, 2011 (episode 3), September 24, 2011 (episode 4)
Studio: TYO Animations
Note: episode 3 & 4
September 21, 2011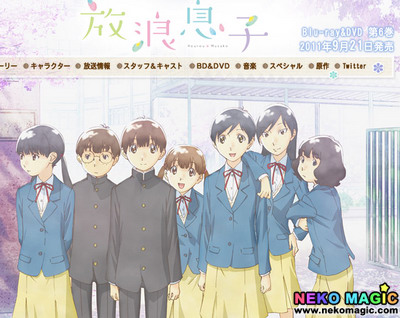 [youtube]pejectC1SVU[/youtube]
The TV anime series Hourou Musuko (Wandering Son) is adapted by studio AIC, based on a slice-of-life manga created by Takako Shimura (Aoi Hana / Sweet Blue Flowers). The story centers around an effeminate 5th-grade boy named Shuuichi Nitori. On the first day at his new school, he is mistaken for his 6th-grade sister. He happens to sit next to Yoshino Takatsuki, a masculine girl who – much like him – has secrets she cannot tell anyone. Simply put: he wants to be a girl, and she wants to be a boy. And boy, does she show it! Or is it "and girl, does he show it"?
September 21, 2011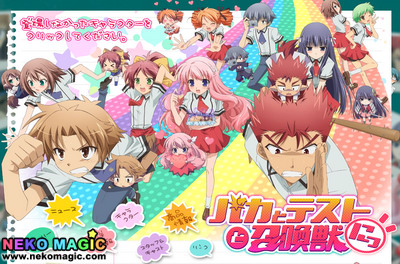 [youtube]E1KroZp-HP4[/youtube]
The second season of Baka to Test to Shoukanjuu continues this TV anime adaptation created by studio Silver Link, based on Kenji Inoue's fantasy / romance / comedy light novels of the same idiotic title, starring an equally idiotic dude. And, more importantly, a smart dudette with pink hair.
September 21, 2011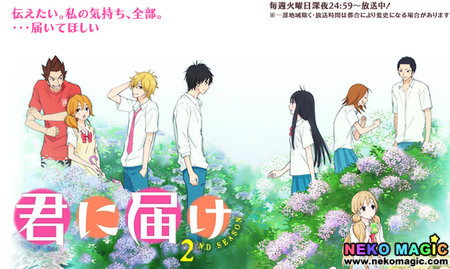 [youtube]OyWMNvxRWsU[/youtube]
A Blu-ray Disc box of both seasons of the Kimi ni Todoke anime will ship on September 21 with a new anime short as a bonus extra. Production I.G, the studio that adapted Karuho Shiina's Kimi ni Todoke manga into anime, is producing a new "Mini-Todo Gekijō: Romeo to Juliet 3D" (Mini-Todo Theater: Romeo & Juliet 3D) anime exclusively for the limited first-pressing BD-Box of the entire anime series. The complete series box, which will cost 42,000 yen (US$527), will also have an audio bonus extra called "Mini-Todo Gekijō: Romeo to Juliet, Sore Kara…" (Mini-Todo Theater: Romeo & Juliet, and Then…)
September 21, 2011 (Yune & Alice short 1)
October 26, 2011 (Yune & Alice short 2)
November 25, 2011 (ep 4.5)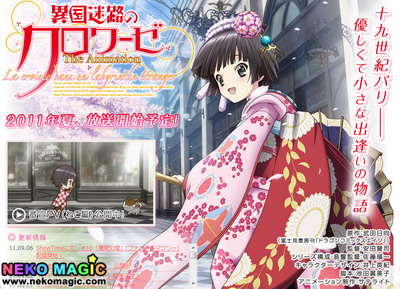 [youtube]h9qEz_0eyuA[/youtube]
The TV anime series Ikoku Meiro no Croisee is created by studio Satelight, based on a drama / romance manga also known as La croisée dans un labyrinthe étranger, written and illustrated by Hinata Takeda (who also illustrated Gosick). The story follows a girl named Yune who finds herself all alone in the lower-class neighborhoods of Paris, in the last half of the 19th century. There, she ends up working at a shopping district with a boy named Claude.
Release Date: September 21 (Short 1), October 26 (Short 2), November 25 (Short ep 4.5)
Studio: Satelight
Note: SD shorts bundled w/ BD vol.1 & 2, ep 4.5 bundled w/ BD vol.3
Homepage: http://ikokumeiro.com/
September 22, 2011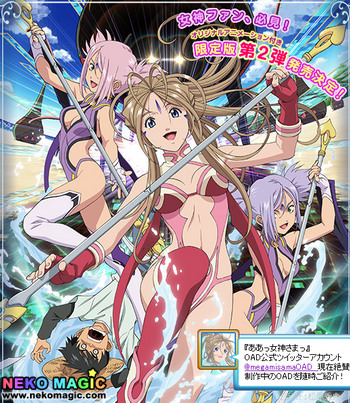 [youtube]jPmsomfyxPA[/youtube]
The 43rd volume of Kousuke Fujishima's Aa Megami-sama (Ah! My Goddess/Oh My Goddess!) manga will ship in a limited edition with the manga's second original animation DVD (OAD) on September 22. Hiroaki Gohda is once again directing the new anime. Kodansha's Monthly Afternoon magazine is making the announcement in the April issue on Friday, and more information will be provided in future issues.
September 22, 2011
[youtube]Um-YvY44BZA[/youtube]
The single-episode OVA adaptation Boku wa Tomodachi ga Sukunai is created by studio AIC Build (Oreimo), based on a romantic school comedy light novel series written by Yomi Hirasaka and illustrated by Buriki, and is bundled with the light novels' 7th special-edition volume. The story revolves around Kodaka Hasegawa, a half-Japanese / half-British transfer student whose delinquent-like blonde hair scares people, and a seemingly perpetually sullen girl named Yozora Mikazuki. The two decide to form Rinjinbu, a club for people with hardly any friends.
Release Date: September 22, 2011
Studio: AIC Build
Note: Bundled w/ LE novel vol.7
September 22, 2011 (ep 2)
November 23, 2011 (ep 3)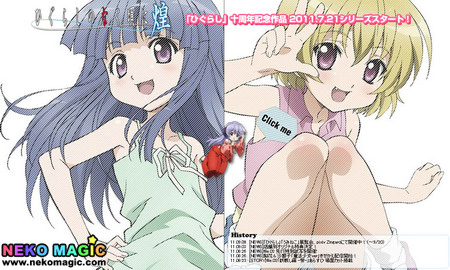 [youtube]Jlv7Cq8Vxec[/youtube]
The 4-episode OVA Higurashi no Naku Koro ni Kira is the fourth anime project in the loli-horror series based on 07th Expansion's games franchise (celebrating its 10th anniversary in 2012), and is once again animated by Studio DEEN. The first episode adapts the original game's Batsukoishi-hen chapter, while the remaining episodes will have all-new stories. The four volumes are released in Japan every couple of months, between July 21, 2011 and January 25, 2012.
<< TV I | TV II | TV III | OVA I | OVA II | OVA III | Movie >>