2011 Fall anime Part 3: TV anime III
Chibi Devi! (TV)
Un-Go (TV) (*11 episodes)
Guilty Crown (TV) (*22 episodes)
Ad Lib Anime Kenkyuusho (TV)
Fujilog Second Season (TV)
Fate/Zero (TV) (*25 episodes)
Sekai-ichi Hatsukoi 2 (TV) (*12 episodes)
Ben-To (TV) (*12 episodes)
Zero no Tsukaima Kessakusen (TV) (*recap of previous 3 seasons)
Maji de Watashi ni Koi Shinasai!! (TV)
C³ (TV) (*12 episodes)
Lupin III 2011 (TV)

Last but not least, here is TV anime Part III. "Fate/Zero" is a must for me. "Un-Go", "Guilty Crown", and "C³" look good too. Will try to watch "Ben-To" and "Maji de Watashi ni Koi Shinasai!!". Might try to watch "Zero no Tsukaima Kessakusen" (not really into recap thingy) if I still have time. =]
<< TV I | TV II | TV III | OVA I | OVA II | OVA III | OVA I | OVA II | Movie >>
October 13, 2011 @24:45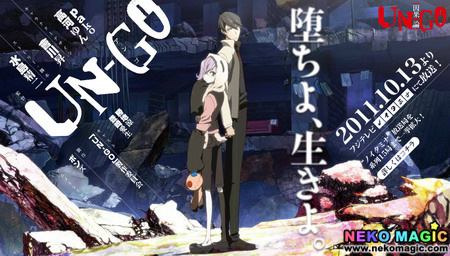 [youtube]cvRsOrgDj7I[/youtube]
The TV anime series Un-Go is created by studio Bones, based on the works of Ango Sakaguchi, a post-World War II Japanese novelist and essayist. In the anime's story, the two main characters – Shinjuurou Yuuki and Inga – work together to solve mysteries in a near future timeline.
October 13, 2011 @25:15
[youtube]Fyf0XiN8jm8[/youtube]
The TV anime series Guilty Crown is created by Production I.G. After the outbreak of the unidentified virus "Lost Christmas" in 2029, Japan has been under the control of a multi-nation organization called GHQ. Ohma Shu is a 17 year old boy who has a psychic power in his right hand. He can use the power "Ability of King" to extract tools or weapons from his friends. He has been avoiding making trouble for others but his life changes when he meets a girl Yuzuriha Inori, a member of a resistance guerrilla group called "Undertaker", whose members pilot mecha weapons to fight against the government.
Ad Lib Anime Kenkyuusho (TV)
October 15, 2011 @24:30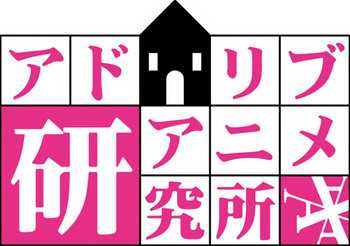 Katou (as "Chief Researcher No. 001"), Fukuhara ("Chief Researcher No. 002"), and a guest star "researcher" will ad lib each weekly episode's script entirely from scratch. Animators will then take the ad-libbed dialogue and create footage based on them — instead of the castmembers voice-acting to existing scripts and footage, as most anime are made. In the first episode, Takahiro Sakurai is the guest voice actor; the guest "researcher" will change in every episode.
Release Date: October 15, 2011 @24:30
Studio: *TBA
October 2011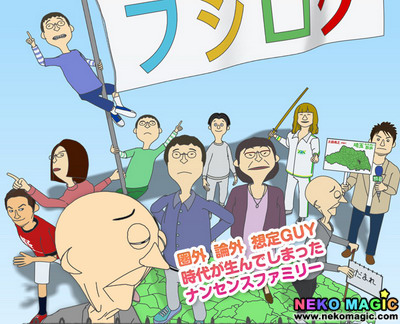 The TV anime series Fujilog was originally conceived by Shigeo Shichiji as a collection of fictional blog videos / CG shorts. The story follows the hapless life of Osamu Fujiyama, a 33-year-old NEET (Not in Education, Employment or Training), with a setting based on Shigeo Shichiji's own surroundings in the Saitama prefecture, directly northwest of Tokyo.
October 2011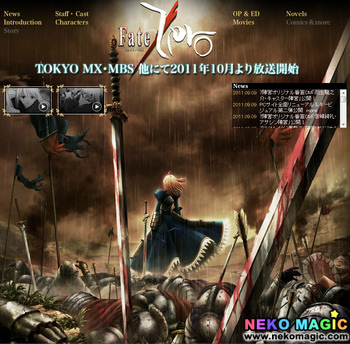 [youtube]pPtOzfE5l5w[/youtube]
The TV anime series Fate/Zero is created by studio ufotable, based on the prequel novel by Gen Urobuchi (Nitroplus) for Type-Moon's games franchise Fate/stay night. The story is set 10 years prior to the original game's events, and reveals the 4th Holy Grail War that sets the stage for the war in the (ero)game series.
October 2011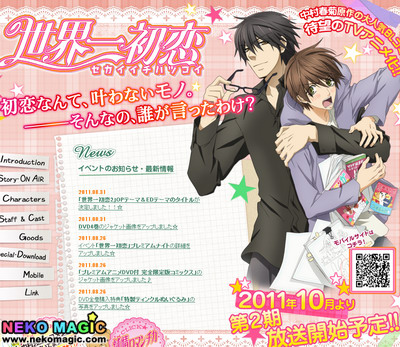 The 2nd season of the TV anime series Sekai-ichi Hatsukoi is once again based on a boys-love manga authored by Shungiku Nakamura. The original story follows the tension between a newly recruited manga editor and his tyrannical editor-in-chief – who happen to share a common past. Nakamura also inserted some characters from Junjo Romantica (one of her previous yaoi manga) into Sekai-ichi Hatsukoi.
October 2011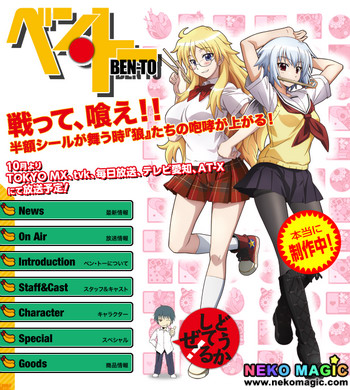 [youtube]DMV9qTyrswg[/youtube]
The TV anime series Ben-To is created by studio David Production, based on a "school serious / gag action" light novel series authored by Asaura and illustrated by Kaito Shibano (Luminous Arc). The story revolves around a poor high school student named You Satou. Satou goes to the supermarket one day and discovers a bentou (boxed meal) on sale at half price. Just as he reaches to grab it, he ends up on the floor unconscious. Satou has just entered the fierce, no-holds-barred "supermarket survival battle" for half-price bentou.
October 2011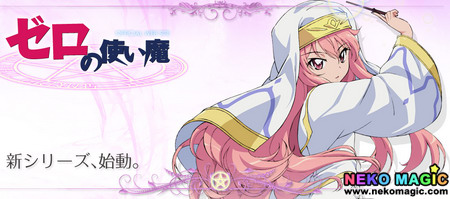 Zero no Tsukaima Kessakusen, selected episodes from previous Zero no Tsukaima anime, will air this October. The story follows a budding magician, nicknamed "Louise the Zero" due to her initial ineptness at magic, who accidentally summoned a boy from Earth as her familiar.
October 2011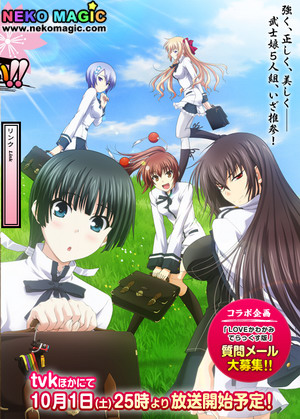 [youtube]UWuGT69p7Bg[/youtube]
The TV anime series Maji de Watashi ni Koi Shinasai! is created by studio Lerche, based on a 2009 school-themed eroge by Minato Soft also known as Majikoi. The original story is set in Kawakami City, a town famous for its dedication to its samurai ancestors, where a strong fighting spirit is always valued, and also important in succeeding in school there. The protagonist Yamato Naoe is a second year student from Kawakami Highschool, who is always with his close friends – four boys and three girls in total – who've known each other since childhood. This close-knit group of seven people is called "Kazama Family" after their leader, and they even have a secret base where they meet. With the new school semester, they welcome two girls into their group and, shortly afterwards, things start to change…
October 2011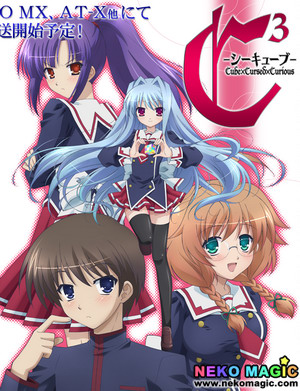 [youtube]wpwTw7E46A4[/youtube]
The TV anime series C³ (C Cube) is created by studio Silver Link, based on a light novel series by Hazuki Minase. The story begins when a high school student named Haruaki Yachi receives a mysterious, super-heavy black cube from his father overseas. That night, Haruaki wakes up to a suspicious noise in the kitchen, and he discovers a "fully naked female thief of rice crackers". The girl, Fear, is the first of several surprises that Haruaki receives.
Fall 2011
The various Lupin III anime projects adapt Monkey Punch's manga about a thief who embarks on his many comic capers while foiling his police nemesis, Inspector Zenigata. Monkey Punch launched the manga in Futabasha's Manga Action magazine in 1967. The manga already spawned three television series, six theatrical films, and an irregular series of two-hour television specials that began in 1989. The Lupin III vs. Detective Conan special aired March of 2009 and earned a 19.5 rating in Kanto.
<< TV I | TV II | TV III | OVA I | OVA II | OVA III | OVA I | OVA II | OVA III | Movie >>