2011 Fall anime Part 1: TV anime I
Shimanchu MiRiKa (TV)
Battle Spirits Heroes (TV)
Shinryaku!? Ika Musume (TV)
Horizon on the Middle of Nowhere (TV) (*12 episodes)
Bakuman. 2 (TV) (*25 episodes)
Working'!! (TV) (*ep1 preview September 03 on Tokyo MX; 23:30)
Cross Fight B-Daman (TV)
Hunter X Hunter 2011 (TV) (*45+ episodes)
Digimon Xros Wars – Toki wo Kakeru Shounen Hunter-tachi (TV)
Phi Brain: Kami no Puzzle (TV) (*25 episodes)
Tamayura ~Hitotose~ (TV)

Wow! The Summer anime season was really boring for me but this Fall anime season looks great! A lot of anime I really want to watch. For the anime here, I'm going to watch "Ika Musume" and "Working'!!" for sure. If I still have time, I'll watch "Tamayura". And I will try "Horizon on the Middle of Nowhere" and "
Phi Brain: Kami no Puzzle". These two sound pretty interesting. =D
<< TV I | TV II | TV III | OVA I | OVA II | OVA III | Movie >>
September 03, 2011 @11:40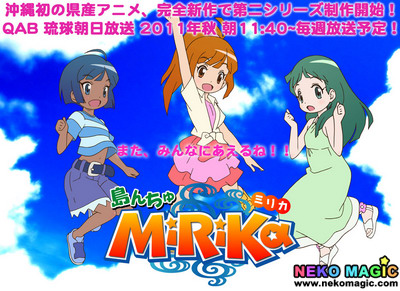 [youtube]3Uq4156-UBU[/youtube]
The anime revolves around three girls — Mai, Ruri, and Kei — who are into music and dance, Ryubu or Okinawan stage productions, and karate. Long-time voice actress Noriko Hidaka (Touch's Minami, Inuyasha's Kikyo, Ranma ½'s Akane, Aim for the Top! Gunbuster's Noriko) plays the title role of MiRiKa — a name coined from Musical, Ryubu, and Karate.
Kyuma Oshita (character designer of Rocket Girls, Hi no Tori, Top Secret ~The Revelation~) and Yasushi Hirano (series script supervisor of 6 Angels, Brave Exkaiser, Dinosaur King, Metal Fighter Miku) are producing and directing the project. Hiroshi Kato (art director of Ah! My Goddess, Blood: The Last Vampire) and Yota Tsuruoka (sound director of Afro Samurai, Appleseed, Inuyasha) are also involved.
September 18, 2011 @07:00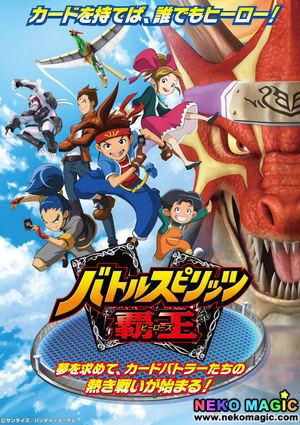 The Battle Spirits anime franchise launched with the 50-episode Battle Spirits: Shōnen Toppa Bashin series on September 7, 2008. The Battle Spirits: Shōnen Gekiha Dan follow-up series premiered on September 13, 2009. The anime projects adapt the original trading card game, in which cards represent dragons, demons, birds, insects, and other spirits that the players can control in battles. Bandai imported the game to America in 2009.
Release Date: September 18, 2011 @07:00
Studio: Sunrise
September 26, 2011 @26:00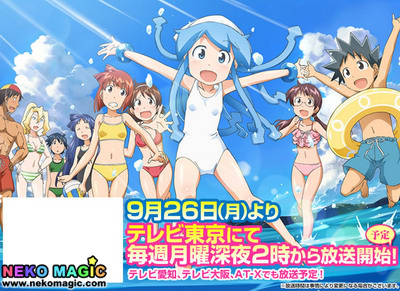 [youtube]Vf_k6FsHXNI[/youtube]
The second season of TV anime series Shinryaku! Ika Musume is once again adapted by studio Diomedea, based on Masahiro Anbe's manga otherwise known as Invasion! Squid Girl. The comedy centers arounds a squid girl who vows to invade the beaches of mankind since humans have polluted the seas. However, her invasion is less than successful, and she ends up on dry ground.
October 01, 2011 @26:58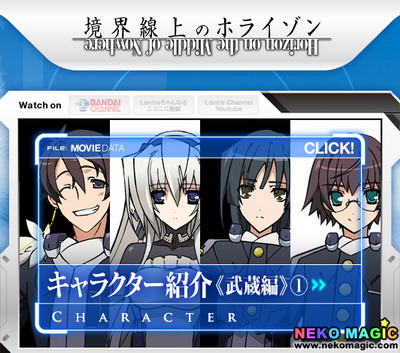 [youtube]OKkGcuPx_50[/youtube]
The TV anime series Kyoukai Senjou no Horizon (Horizon on the Middle of Nowhere) is created by studio Sunrise, based on Minoru Kawakami's school fantasy light novels set in a distant future, when Japan is divided into feudal territories and conquered by other countries. There is a floating city named Musashi that is composed of eight ships in the skies. A war that will determine the fate of the world will be fought by students on the Musashi.
October 01, 2011 @17:30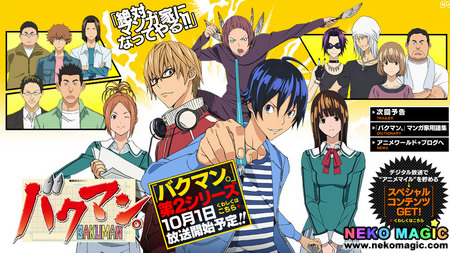 [youtube]uWV7YJljLOc[/youtube]
The second season of the TV anime series Bakuman. is once again adapted by studio J.C. Staff, based on a shounen manga by Tsugumi Ohba and Takeshi Obata.
October 01, 2011 @23:30
[youtube]rZ8V4rNT5zY[/youtube]
The second season of the TV anime series Working!! is once again adapted by studio A-1 Pictures, based on Karino Takatsu's 4-koma comedy / slice-of-life manga set in a family restaurant named Wagnaria in the northern Japanese prefecture of Hokkaido. The main character is a high school freshman named Souta Takanashi, who works part-time among the restaurant's high-spirited, mysterious, yet cool staffers.
October 02 , 2011@10:55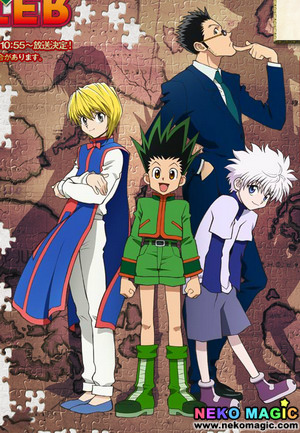 [youtube]Lk4onM-E_gM[/youtube]
The 2011 TV anime series Hunter x Hunter is created by studio Madhouse, based on Yoshihiro Togashi's fantasy manga, as a remake of the original series that retells the manga's story from the beginning (pretty much ignoring all previous OVA adaptations and the 1999 TV series).
October 02, 2011 @06:30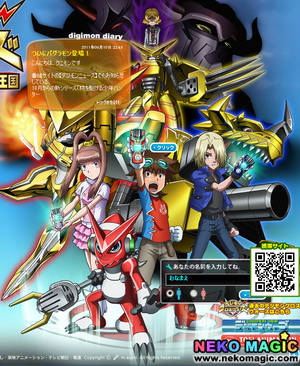 This third season of the TV anime series Digimon Xros Wars continues Bandai's popular franchise of animated "digital monsters", and is once again created by Toei Animation.
October 02, 2011 @17:30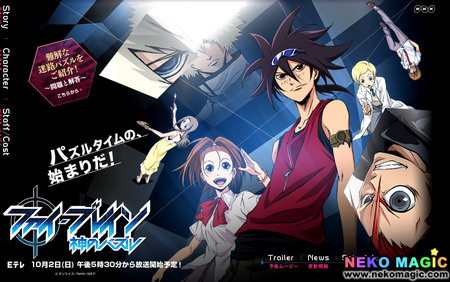 [youtube]MbTwfPbR5jc[/youtube]
The TV anime series Phi Brain is created by studio Sunrise, with an original "school adventure" story about a high school boy named Kaito who loves puzzles. One day, the president of the student council at his school gives him a mobile device, which leads him to an underground ruin near the school. Together with his girlfriend Nonoha, he tackles an "insolvable puzzle" there, which turns out to be the deadly "philosopher's puzzle" created by the dark society known as "POG". After managing to solve the puzzle and thus becoming a "Solver", he joins other Solvers in their battle with POG's puzzles all over the world.
October 03, 2011 @09:00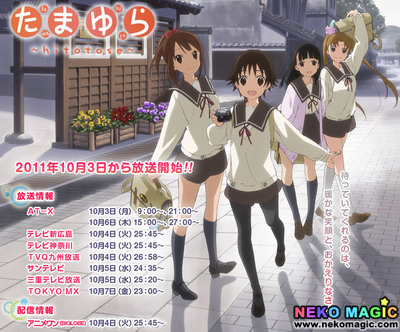 [youtube]POPgKpvwdok[/youtube]
The TV anime series Tamayura follows the 2010 OVA that marked the third "healing anime" directed by Junichi Sato (Aria, Umi Monogatari), and produced by Hal Film Maker. The story's heroine is Fuu Sawatari, a girl who lives in a waterside town near the Seto Inland Sea and likes photography.
<< TV I | TV II | TV III | OVA I | OVA II | OVA III | Movie >>