2009 Winter anime Part 1:
Shikabanehime Kuro
Maria-sama ga Miteru 4
Akikan!
White Album
Maria+holic
Minami-ke Okaeri
Zoku Natsume Yuujinchou
Here we have the list for the anime in2009 Winter! =D
(Jan 01) Shikabanehime Kuro
http://www.starchild.co.jp/special/shikabanehime2/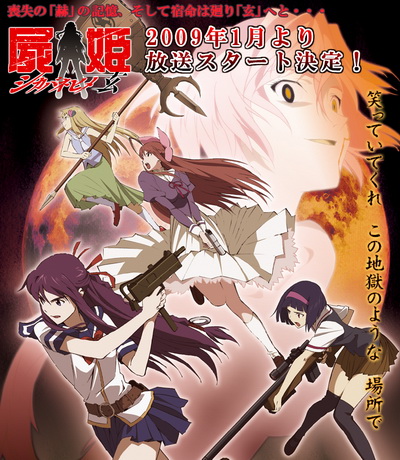 Sequel to the first series that aired in Fall 08
Makina Hoshimura is a Skikabane – people who cheat death due to a strong dying wish. With her contractor, she is given the task of hunting and killing other Shikabane who endanger living humans.
(Jan 03) Maria-sama ga Miteru 4th Season
http://www.gokigenyou.com/

Maria-sama ga Miteru summary:
Yumi attends Lillian School For Girls, an exclusive all girl's catholic school, and is the soeur or "little sister" of Sachiko. As a member of the Roses, the school's student council, Yumi discovers both her own relationship with Sachiko and the relationships of other Soeurs.
(Jan 03) Akikan!
http://www.melomelomelon.com/
Kakeru Daichi buys a can of melon juice soda from a vending machine, which then suddenly transforms into a girl that he nicknames "Melon". Other "Akikan" ("empty can") girls appear, however the need to be infused with carbon dioxide from kissing to survive.
(Jan 03) White Album
http://www.whitealbum-tv.com/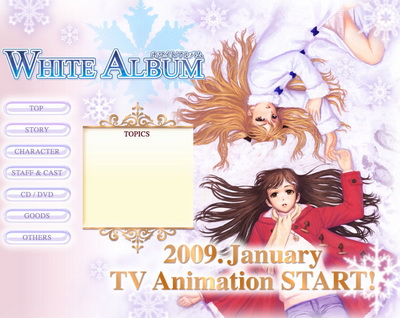 Toya Fuji, a college student is dating a rising idol singer name Yuki Morikawa. There are numerous challenges to the couple's relationship from the other people at Fuji's college, Morikawa's work, and elsewhere.
(Jan 04) Maria+holic
http://www.mariaholic.com/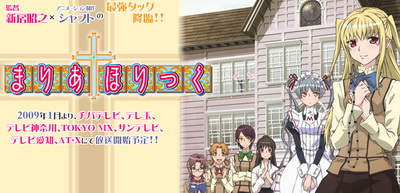 A sophomore named Kanako enrolls in all-girls school due to her phobia of men, and wants to find her destined yuri partner. She meets a captivating freshman named Mariya except her seemingly ideal mate happens to be a sadistic cross-dressing boy.
(Jan 04) Minami-ke Okaeri
http://www.starchild.co.jp/special/minami-ke/3/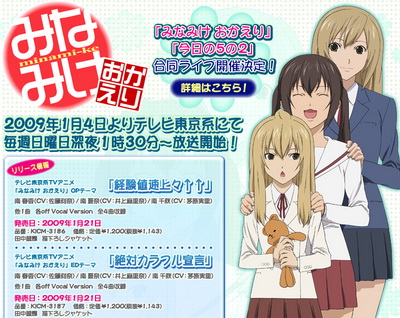 (Jan 05) Zoku Natsume Yuujinchou
http://www.natsume-anime.jp/
Sequel to the first series that aired in Summer 08
Natsume is the grandson of Natsume Reiko, a lonely girl who used her "Book of Friends" to bind the spirits who lived around her. Natsume decides to undo the problems she caused the local spirits.
via Denizen's Blog