2011 Summer anime Part 6: OVA/OAD III
Higurashi no Naku Koro ni Kira (OVA)
Pretty Rhythm Aurora Dream (DVD Only)
Maria†Holic Alive (BD Only)
Hellsing Ultimate (OVA)
Carnival Phantasm (OVA)
Kuttsukiboshi (OVA)
VitaminX Addiction (OVA)
Hakuouki Hekketsu-roku (OVA)

I really really want to watch Carnival Phantasm! I like both of the characters from Fate/Stay Night and Tsukihime and I love the Take moon manga a lot! =D
<< TV I | TV II | TV III | OVA I | OVA II | OVA III | Movie >>
(July 21, 2011)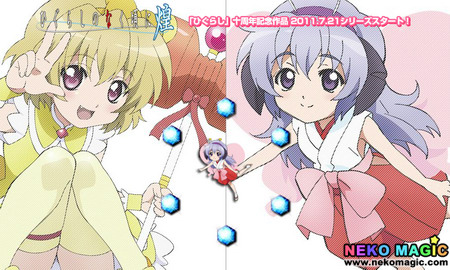 [youtube]_RaUPlVeD2E[/youtube]
Related to the Higurashi no Naku Koro ni series. It will be 4 episodes long (file 01 to 04). The story revolves around murders that coincide with an annual festival in a quiet rural village.
Release Date: July 21, 2011
Studio: Studio Deen
Note: 1 of 4 eps
(July 22, 2011)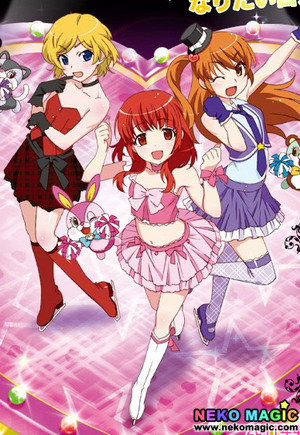 [youtube]28sm2MWW7NI[/youtube]
The TV anime series Pretty Rhythm is based on Takara Tomy's rhythm / fashion arcade game for girls, Pretty Rhythm Mini-Skirt. In the game, a girl named Rizumu Amamiya aspires to compete in Prism Show, a new sport that combines skating and dancing. Players can collect heart-shaped Prism Stones by winning in the game.
Release Date: July 22, 2011
Studio: Tatsunoko Production
Note: DVD-exclusive anime shorts
(July 27, 2011)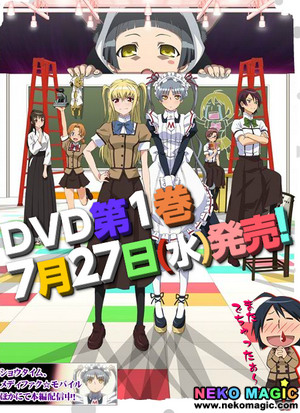 [youtube]nVuw54s-ePY[/youtube]
The TV anime series Maria Holic Alive is the second season of the 2009 anime Maria Holic, once again adapted by studio Shaft. The series is based on a romantic comedy manga by Minari Endou, about the love of two "girls" from an all-girls school – one of which is actually a sadistic cross-dressing boy in disguise. While the real girl has a phobia of men and wants to find her destined yuri partner.
Release Date: July 27, 2011
Studio: SHAFT
Note: vol.1 BD unaired ep1 scene
(July 27, 2011)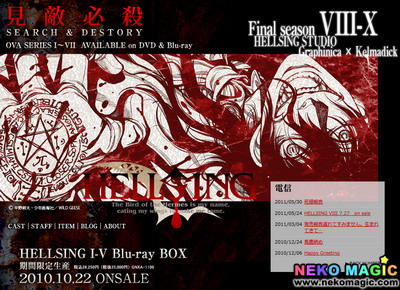 [youtube]GfEqnc7MMFQ[/youtube]
Vampires exist. It is the duty of Hellsing, an organization sponsored by the British government, to hide that frightening fact and protect the blissfully unaware populace. Along with its own personal army, Hellsing also has a few secret weapons. Alucard, an incredibly powerful vampire, has been controlled by Hellsing for years. Although he dislikes being a servant to the Hellsing family, he certainly enjoys his job as Hellsing's vampire exterminator. Seras is a fledgling vampire and a former police woman. Although reluctant to embrace her new self, she is still a valuable member of the organization. Integra Hellsing, the current leader, is usually fully capable of fulfilling her duty, but lately, vampire activity has been on the rise. Unfortunately, the cause is more alarming than anything she could have imagined…
Release Date: July 27, 2011
Studio: Graphinica & Kelmadick
Note: 8 of 10 eps
(July 2011)
The OVA adaptation Carnival Phantasm is created by LARC, based on Eri Takenashi's Take Moon manga, featuring characters from Type-Moon's franchises Fate/Stay Night and Tsukihime.
Release Date: July 2011
Studio: Larc
(July 2011)
Kuttsukiboshi ova 01 part 1/3
[youtube]ZPwbie5pjrk[/youtube]
Kuttsukiboshi is the third anime project released by Primastea (after Isshoni Sleeping / Training with Hinako), planned as a two-part OVA. "Part I" is directed, written and animated by Naoya Ishikawa (Binchou-tan, Docchimo Maid), with music by Shunsuke Morita, and centers around two girls' "risky" summer vacation together, yuri style.
Release Date: July 2011
Studio: Primastea
Note: 2 of 2 eps
(July 2011)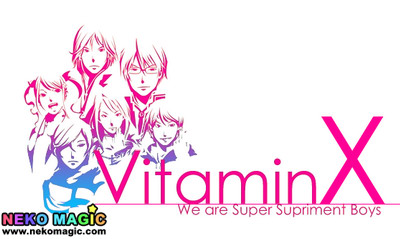 [youtube]WsPh32_TsZc[/youtube]
The OVA adaptation Vitamin X is based on the otome game of the same title, originally developed by HuneX and released by D3 Publisher for the PlayStation 2 in 2007, and later followed by several more titles, most notably VitaminZ in 2009. In the games, the protagonist is a female teacher assigned to a problem class full of dumb guys (yet she has no problem with "enjoying romance" with them).
Release Date: July 2011
Studio: MAD
Note: 1 of 3 eps
(August 05, 2011)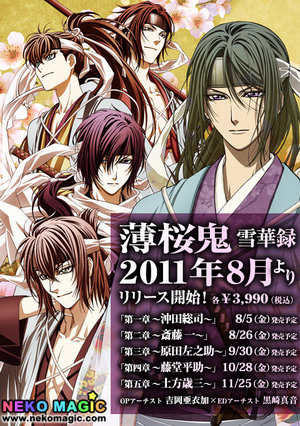 [youtube]4ogllX8oecM[/youtube]
The second season of Hakuouki continues this TV anime based on a series of yaoi'ish games released by Idea Factory for the PlayStation 2 and PSP. The first game's story centers around a female protagonist and the historical Shinsengumi samurai group in Kyoto during the 19th century. Yukimura Chizuru has come to Kyoto looking for her father, a doctor who has gone missing. While there, she witnesses a fight between Rasetsu and the Shinsengumi. Taking her into custody, the Shinsengumi debates on what to do with Chizuru when they discover that she is the daughter of the doctor they are also looking for. The Shinsengumi then takes Chizuru along on their search after the missing doctor, from adventures to adventures.
Release Date: August 05, 2011
Studio: Studio Deen
Note: 1 of 5 eps
<< TV I | TV II | TV III | OVA I | OVA II | OVA III | Movie >>