2011 Summer anime Part 5: OVA/OAD II
Ao no Exorcist (BD Only)
Softenni (BD Only)
Yurumates Huh? (OVA)
Saiyuki Gaiden (OVA)
Nichijou (BD only)
Valkyria Chronicles 3: Ta ga Tame no Juusou (OVA)
Appleseed XIII (OVA)
Onii-chan no Koto nanka Zenzen Suki Janain Dakara ne!! (BD Only)

Beside Saiyuki Gaiden and Appleseed XIII, I think I'll watch everything here in this part. Come to think of it, I still haven't watch Valkyria Chronicles 3 episode 1. =P
<< TV I | TV II | TV III | OVA I | OVA II | OVA III | Movie >>
(June 22, 2011)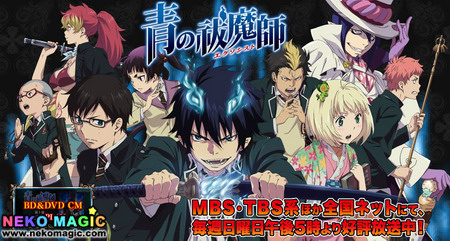 [youtube]kZxOlxq2IrA[/youtube]
Bonus episode bundled with BD Vol.1, and title "Ura Eku" ("B-side Exorcist"). Rin Okumura is a boy who bears the curse of being Satan's illegitimate son. His foster father sacrificed himself to save him from demons. To avenge his father's death as well as to prove himself, Rin decides to follow the path of an exorcist.
Release Date: June 22, 2011
Studio: A-1 Pictures
Note: vol.1 BD bonus ep; "Ura Eku"
(June 22, 2011)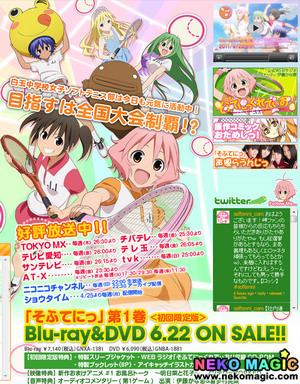 [youtube]kyqZaTbBeC4[/youtube]
Bonus episode bundled with BD Vol.1. A tennis comedy which centers around the members of a female middle school soft tennis team and the twists and turns that their lives take as they aim for the nationals.
Release Date: June 22, 2011
Studio: Xebec
Note: vol.1 BD bonus ep
(June 24, 2011)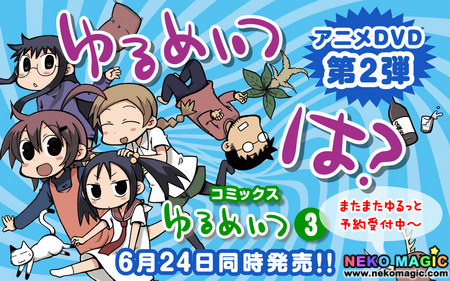 [youtube]y1sj5nCkA6k[/youtube]
The single-episode OVA Yurumates wa? is the second anime adaptation of saxyun's 4-koma gag comedy manga about Yurume, an 18-year-old rounin – a high school graduate who has yet to be accepted into college. Yurume moves to the outskirts of Tokyo to study for the next entrance exams. She ends up living in Maison du Wish, an apartment complex full of aimless "veteran rounin" who have been out of school for years.
Release Date: June 24, 2011
Studio: Indeprox
Note: 2 of 2 eps
(June 24, 2011)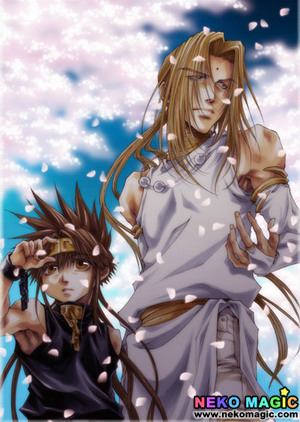 [youtube]MxPAX9vF_dQ[/youtube]
The three-episode OVA Saiyuuki Gaiden is created by studio Anpro, based on a fantasy / adventure manga by Kazuya Minekura that serves as a prequel to the Saiyuuki series, by the same author. The story takes place in Heaven, 500 years before the first Saiyuuki series. The plot is based around that series' four main characters in their past lives, and details exactly what it was they did to get thrown out of heaven.
Release Date: June 24, 2011
Studio: Anpro
Note: 2 of 3 eps
(June 24, 2011)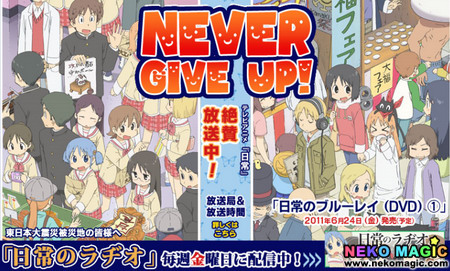 [youtube]9NQjv-ngX9E[/youtube]
The TV anime series Nichijou is adapted by Kyoto Animation (Suzumiya Haruhi, Lucky Star, K-ON!), based on Keiichi Arawi's gag comedy manga of the same title. A title which, despite its meaning of "everyday life", packs a series of insane happenings that are anything but ordinary. The setting is a strange school where you may see the principal wrestle a deer, or a robot's arm hide a rollcake. Although there are still normal stories, like making a card castle or taking a test you didn't study for.
Release Date: June 24, 2011
Studio: Kyoto Animation
Note: vol.1 BD bonus ep; "Tanken Nichijou no Machi Part 1
(July 26, 2011)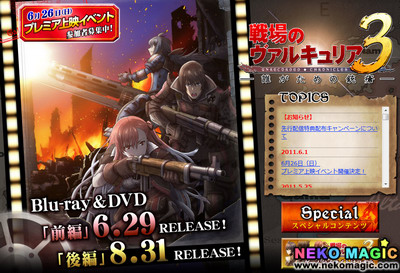 [youtube]ikDUViSBe8I[/youtube]
The two-episode OVA Senjou no Valkyria 3: Dare ga Tame no Juusou is created by studio A-1 Pictures, and follows the release of Sega's PSP game sequel Valkyria Chronicles 3: Unrecorded Chronicles. The game is once again set in a war-torn Gallia from an alternate history Europe in 1935, but this time tells a different story, about the Gallian Army squad 422, also known as the Nameless (since all its members are referred to by number, rather than by name).
Release Date: June 29, 2011
Studio: A-1 Pictures Inc.
Note: 1 of 2 eps
(July 06, 2011)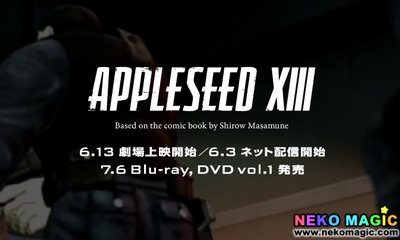 [youtube]bHIfg14Jfm4[/youtube]
The 3D CG anime series Appleseed XIII is created by Jinni's Animation Studios, in cooperation with Production I.G, as a new retelling of Masamune Shirow's manga (as opposed to being a sequel to the two earlier anime films). Following a world war that killed half the world's population, the city-nation of Olympus stands as a beacon of hope in a world of chaos and conflict. The utopian metropolis is governed by Gaia, a vast artificial intelligence, and administered by genetically engineered humanoids known as Bioroids. Although Olympus seems like a peaceful city on the surface, racial (human vs. bioroids vs. cyborgs), religious, and political conflicts lurk underneath – threatening to overturn the delicately balanced "peace". Security threats such as terrorists and anti-government criminals abound, so the use of force becomes a necessary evil even in this so-called "utopia". Deunan, a young female warrior, and Briareos, a veteran cyborg-soldier, are both partners and lovers, as well as members of ES.W.A.T., the elite special forces serving Olympus. They are deployed wherever trouble strikes. Conspiracy, terrorism, deadly military weapons technology, greedy corporations, and power-hungry politicians – these are just some of the threats that Deunan and Briareos must contend with as they fight to protect Olympus and save mankind from plunging into another war.
Release Date: July 06, 2011
Studio: Production I.G
Note: 1-3 of 13 eps
(July 06, 2011)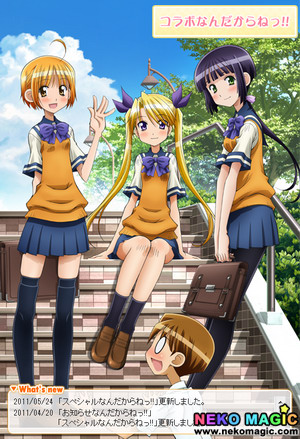 [youtube]Wh7rR7c161M[/youtube]
A trailer for today's starting TV anime series Oniichan Konazen – as in Onii-chan no Koto Nanka Zenzen Suki Janain Dakara ne!! (I Don't Like You at All, Big Brother!). The anime is adapted by studio Zexcs, based on Kouichi Kusano's ecchi / comedy manga about the "slightly dangerous" relationship between Shuusuke – a boy who likes risque books and DVDs – and his younger sister Nao, who has developed a rather strong brother complex and is determined to make him see her as a woman. So determined, that she goes as far as invading his room to throw away all his non-incest related porn. But as she's looking for his porno stash, she finds a photo album… and she's not in any of his childhood pictures. What is going on?
Release Date: July 06, 2011
Studio: Zexcs
Note: vol.5 BD bonus ep
<< TV I | TV II | TV III | OVA I | OVA II | OVA III | Movie >>