2011 Summer anime Part 4: OVA/OAD I
Kore wa Zombie desu ka? (OAD)
Appleseed XIII (Net)
Baby Princess 3D Paradise 0 [Love] (OVA)
Fairy Tail: Yousei Gakuen: Yankee-kun to Yankee-chan (OAD)
Air Gear: Kuro no Hane to Nemuri no Mori – Break on the Sky ~ Trick 3 (OAD)
kiss x sis (OAD)
Katte ni Kaizou (OVA)
Black Lagoon: Roberta's Blood Trail (OVA)

I'm so looing forward to the "Kore wa Zombie desu ka?" OAD!! And finally the Roberta's Blood Trail OVA is coming to the end, wow! =D
<< TV I | TV II | TV III | OVA I | OVA II | OVA III | Movie >>
(June 03, 2011)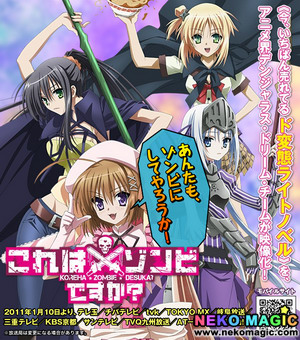 [youtube]b64ZXAZG8oc[/youtube]
Related to the Kore wa Zombie desu ka? series, bundled with light novel vol.8. The OAD will feature an unaired 13trh episode, which will run about 24 minutes long.
Release Date: June 03, 2011
Studio: Studio Deen
Note: bundled w/ LE manga vol.8
(June 03, 2011)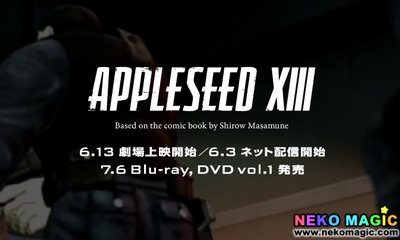 [youtube]qEQPEFHnzDU[/youtube]
The 3D CG anime series Appleseed XIII is created by Jinni's Animation Studios, in cooperation with Production I.G, as a new retelling of Masamune Shirow's manga (as opposed to being a sequel to the two earlier anime films). Following a world war that killed half the world's population, the city-nation of Olympus stands as a beacon of hope in a world of chaos and conflict. The utopian metropolis is governed by Gaia, a vast artificial intelligence, and administered by genetically engineered humanoids known as Bioroids. Although Olympus seems like a peaceful city on the surface, racial (human vs. bioroids vs. cyborgs), religious, and political conflicts lurk underneath – threatening to overturn the delicately balanced "peace". Security threats such as terrorists and anti-government criminals abound, so the use of force becomes a necessary evil even in this so-called "utopia". Deunan, a young female warrior, and Briareos, a veteran cyborg-soldier, are both partners and lovers, as well as members of ES.W.A.T., the elite special forces serving Olympus. They are deployed wherever trouble strikes. Conspiracy, terrorism, deadly military weapons technology, greedy corporations, and power-hungry politicians – these are just some of the threats that Deunan and Briareos must contend with as they fight to protect Olympus and save mankind from plunging into another war.
Release Date: June 03, 2011
Studio: Production I.G
Note: 13 episodes
(June 15, 2011)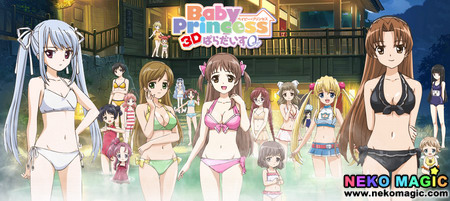 [youtube]TzhqO6UntKE[/youtube]
The OVA adaptation Baby Princess 3D Paradise 0 (Love) is created by Studio Comet, based on a Dengeki G's Magazine project about a family of 19 sisters – from a newborn baby to a graduating high school senior. In the novel version, a high school senior named Youtarou thought he was an only child – until he met his real mother and discovered that she has 19 daughters; so he ends up living with his "true family".
Release Date: June 15, 2011
Studio: Studio Comet
(June 17, 2011)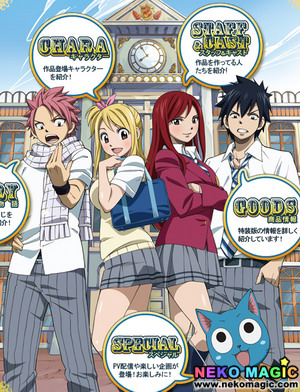 [youtube]ScNUrvld1jA[/youtube]
The two-episode OVA Fairy Tail is co-created by A-1 Pictures and Satelight, based on Hiro Mashima's fantasy adventure manga – namely its side story "Youkoso Fairy Hills!!" (Welcome to Fairy Hills!). The episodes were bundled on DVD with the manga's 26th and 27th volume, respectively. In the story, the Fairy Tail mage guild member Lucy comes across a mysterious written request. The client is looking for an object that is in Fairy Tail's female dormitory, Fairy Hills. To verify the request, Lucy visits Fairy Hills, and discovers that the client is Hilda, the dormitory head who is looking for a shining treasure. Meanwhile, Natsu and the other guild members are cleaning their pool.
Release Date: June 17, 2011
Studio: Satelight
Note: bundled w/ LE manga vol.27
(June 17, 2011)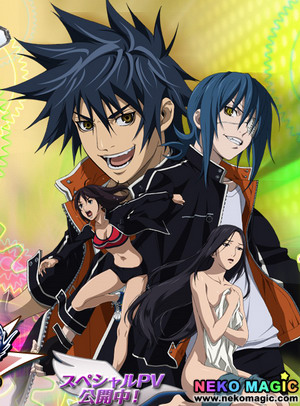 [youtube]veTMtxxyhfs[/youtube]
The Air Gear OVA – titled Air Gear: Kuro no Hane to Nemuri no Mori – Break on the Sky (Air Gear: The Black Wings and the Sleeping Forest – Break on the Sky) – is created by studio Satelight, with a different staff than that of the first TV anime series from 2006. Its first episode was released in November 2010 as a bundle with the limited edition Volume 30 of the original manga created by Oh! Great (Ougure-Ito), and featured the "Ikki vs. Ringo" face-off from the manga's 16th volume. Episodes 2 and 3 followed in March 2011 and June 2011, respectively.
Release Date: June 17, 2011
Studio: Satelight
Note: bundled w/ LE manga vol.32
(June 22, 2011)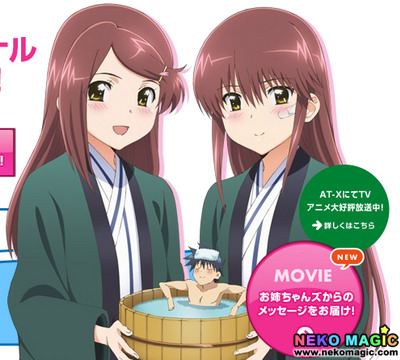 [youtube]iFEaFlYyHIA[/youtube]
The OVA series Kiss x Sis is based on Bow Ditama's manga about sisterly love. And not just any kind of sisterly love, but a double step-sisterly love. The original "romantic incest comedy" manga centers on Keita – a third-year middle school boy studying for his high school entrance exams. His two twin stepsisters Ako and Riko Suminoe – with no blood relation to him – help him prepare for the exams, but life gets too cozy between Keita and the girls.
Release Date: June 22, 2011
Studio: Feel
Note: 5th OAD; bundled w/ LE manga vol.8
(June 22, 2011)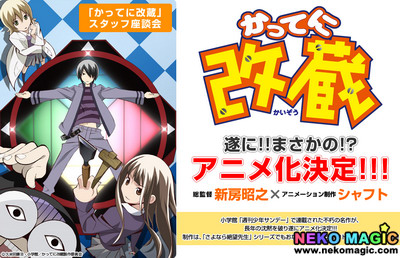 [youtube]Wr54SYbvKzs[/youtube]
The anime adaptation Katteni Kaizou is created by studio Shaft, based on a gag manga by Kouji Kumeta (Sayonara Zetsubou Sensei) featuring another nutjob of a character: Kaizou Katsu, whose idiotic insanity is the result of a whack on the head, after getting kicked off a jungle gym during childhood. He later nearly blew up his school, and nowdays believes he is a cyborg. Some of the other derranged characters include his childhood friend Umi (who caused Kaizou's childhood "accident", and will slowly reveal her dark side), Suzu and Chitan (fellow science club members), and an angry mob of former classmates hell-bent on payback for the explosion caused by Kaizou, that forced their school to shut down at the time.
Release Date: June 22, 2011
Studio: SHAFT
Note: 2 of 3 eps
(June 22, 2011)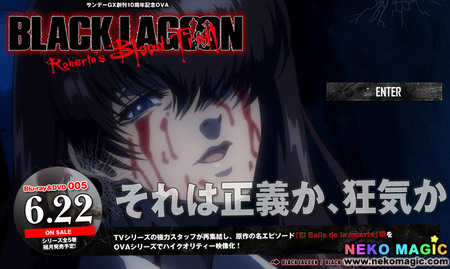 [youtube]aintaoPNP4Y[/youtube]
Black Lagoon: Roberta's Blood Trail is the third anime adaptation based on Rei Hiroe's action manga. Studio Madhouse is once again producing it, only this time as a 5-episode OVA series for Blu-ray and DVD. The new story marks the return of former guerrilla assassin Roberta to the fictional criminal's city of Roanapur, Thailand. Black Lagoon is known for its hard-boiled storytelling, clever dialogue and its ultra-violent and stylized gun fight sequences, often compared to Hong Kong noirs and Hollywood action films.
Release Date: June 22, 2011
Studio: Madhouse Studios
Note: 5 of 5 eps
<< TV I | TV II | TV III | OVA I | OVA II | OVA III | Movie >>